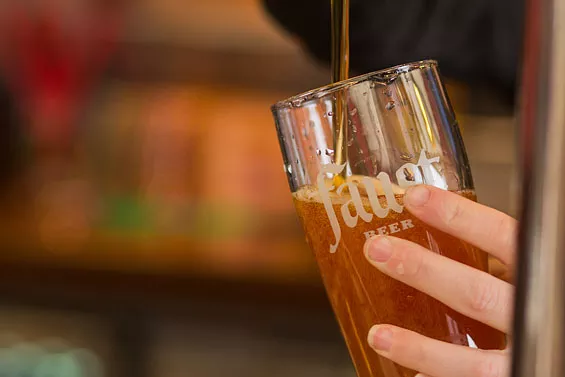 Faust beer, originally brewed in 1884, is only available on tap, and only in St. Louis. | Tom Carlson
At a long wooden table, Tracy Lauer spreads out a collection of artifacts from a bygone era. An archivist for Anheuser-Busch for the last sixteen years, she's seated in the cavernous brewery beergarden on the southernmost edge of Soulard as dozens of tourists sip their tiny free samples behind her. On the table are a series of beautiful, ornate postcards from between 1900 and 1908, only slightly yellowed, the colors still bright on the thick paper.
One depicts a grand restaurant dining room, awash in a glow from old-fashioned globe lamps. A turn-of-the-century illustration shows a two-story brick building topped with a golden dome; another gives a peek inside at the white tablecloths and lush greenery. In the corners, there's a black-and-white portrait of a square-headed, mustachioed proprietor wearing an inscrutable half smile.
A middle-aged tourist in a bright yellow windbreaker approaches the table, pointing at the postcards. His English is poor, but he knows to ask one thing.
"How much?"
See also: Bottled Wisdom: An Oral History of St. Louis' Craft-Beer Movement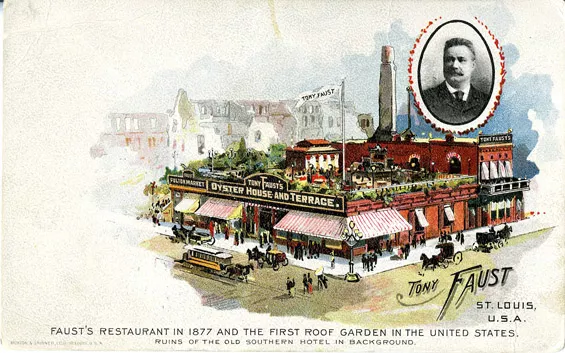 A postcard circa 1900 featuring Tony Faust's Oyster House. | Courtesy Anheuser-Busch
Lauer hesitates, surprised by the question. "These actually aren't for sale," she says apologetically. "They're antiques." The man shakes his head, seeming to believe she hadn't understood him.
"How much?" he repeats more forcefully. After several failed attempts to explain, even with assistance from his more fluent daughter, the tourist storms off angrily."There are postcards you can buy in the gift shop over there," Lauer calls after him.
Apparently, even non-St. Louisans are instinctively drawn to the man on the postcard: Anthony (or Tony) Faust, Oyster King. Faust was a restaurateur, not a brewer, but he, the Anheuser-Busch family and the history of St. Louis itself became inextricably linked in the late nineteenth and early twentieth centuries. In 1884, Adolphus Busch himself brewed a beer named Faust Pale Lager after his favorite drinking buddy. For many years, it existed only in the documentation in A-B's massive archives.
Senior St. Louis brewmaster Joel Boisselle, a 26-year veteran of the company in a bright blue Bud Light polo shirt, joins the table, swirling a tall glass of amber beer. He's holding a pint of Faust -- not a 130-year-old Faust, thankfully, but one from a batch brewed just recently, using the old recipes in the archives and the same strain of yeast that has been creating Budweiser lager since its inception. Boisselle also used dry hopping to hit what he calls "the sweet spot."
"It's as close as you can get. Over time, hop varieties change slightly, malt varieties change slightly, and then you've got to scale it up for what we do now," he says. "It's pretty hoppy, with a nice malty sweetness, maybe caramel undertones. It's a real full-bodied beer." Last year A-B debuted Faust, but it was only available to those visiting the brewery or Ballpark Village. This year, it will be on tap at about 100 local bars.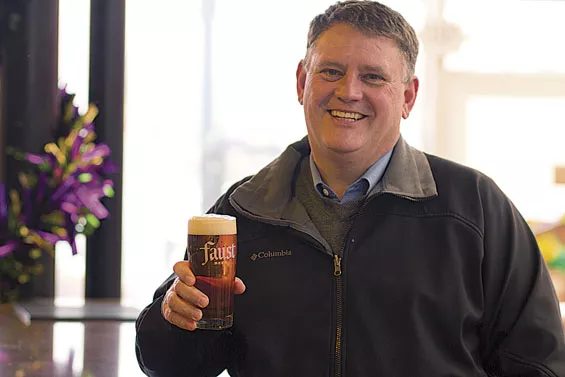 Senior brewer Joel Boisselle, who oversees the St. Louis brewery, says Faust is about as close as you can get to Adolphus Busch's original recipe. | Tom Carlson
Some might be surprised that A-B, best known for dominating the market with Bud Light and its more recent successes with the sugary pre-mixed margarita line, would be interested in its head brewer fiddling around with a dark ale. The St. Louis brewery produces about 5,000 barrels of Budweiser per day; in contrast, Boisselle has brewed only about 2,000 barrels of Faust so far. Skeptics might be equally surprised to hear Faust is gaining acceptance from St. Louis' beer enthusiast community, some of whom may typically scoff at the idea of drinking an A-B beer.
"Faust is a really nice lager, but it's not what most people would be used to when they think of lager. It's not that real crisp, light beer -- it's definitely more malty. It's what you would've seen 100 years ago, pre-Prohibition with beer," says Mike Sweeney, moderator of the STL Hops site and forum. "It's a really unique kind of beer, because it does give you a taste of what beer would've tasted like 120 years ago."
The beer's revival coincides with St. Louis' 250th anniversary, but there are other, more strategic reasons for Faust's resurrection. Light lager sales have been stagnant, if not declining, in recent years, says Bart Watson, staff economist at the Brewers Association.
"The large brewers are smart companies. They see where the growth is, they see where the demand is: for fuller-flavored products and beers that have that local connection that small brewers can provide," says Watson. "When you look at surveys for why people are buying craft beers, taste and flavor is almost always at the top, but often a close second is some version of, 'I want to buy local products.'"
The re-brewing of Faust hits all the right notes -- not only is it a richer, darker brew with a heftier 5.5 percent ABV, but behind the beer is the man: Tony Faust, a larger than life character whose story is steeped in local history.
"Adolphus Busch and Tony Faust were both these ostentatious Germans, and they lived lavishly and they were snubbed by St. Louis society," says historian Elizabeth Terry, author of Oysters to Angus: Three Generations of the St. Louis Faust Family. "They didn't shy away from being badasses."
A postcard featuring a photograph of Faust's Restaurant around 1908, two years after Tony died while vacationing with Adolphus Busch in Germany. | Courtesy Anheuser-Busch
The beer would have never been brewed in the first place if Tony Faust hadn't been shot in the leg.
He was just seventeen when he arrived in New York from Germany in 1853. He had intended on a career as an ornamental plasterer, but in 1861, a month after the beginning of the Civil War, a riot broke out in St. Louis between Southern sympathizers and the Missouri Volunteer Militia (which included volunteers Eberhard Anheuser and his new son-in-law, Adolphus Busch). As the "traitors" were being marched through the streets to Camp Jackson, a soldier accidentally dropped his gun, and Faust -- who was just there to watch -- was shot in the leg. He decided after his recovery that barkeeping was a less physically taxing occupation.
"So great was his success that he always afterward referred to 'Camp Jackson Day' as his lucky day and never allowed the anniversary to pass without showing the bullet hole to his friends," read his New York Times obituary.
In less than a year, he opened a small café at 295 Carondelet Road in what was then known as Frenchtown. He registered for the Union forces in 1863, and after he returned, his little bar thrived and was rechristened Tony Faust Oyster House & Saloon after it moved to Broadway and Elm in 1870.
"We don't know where Tony Faust got his seed money to begin his restaurant, but it just blossomed. Personally, I think it may have been his charisma," says Terry.
Faust was a short man with a ruddy complexion, bushy mustache and an ever-present bowler hat, and he quickly became a fixture around St. Louis. The newly constructed Eads Bridge allowed him to ship in oysters from north and south using the Mississippi River, plus fish, lobsters, crabs and clams, and wild game and cheeses from Europe.
As his restaurant became more luxe, Faust's antics as proprietor kept pace. Every Faust employee was allowed to drink as much beer as he pleased throughout the workday (Adolphus Busch had a similar policy at the brewery -- both hired mostly German immigrants like themselves), and Faust constantly flouted city laws he found repressive. When a St. Louis law tried to stop Sunday liquor sales, Faust took out an ad in the Saturday Post-Dispatch promising "Bock Beer! Bock Beer! Bock Beer!" would be sold all weekend.
Faust's became a place of opulence and pageantry -- it was the first building in St. Louis to install electric lights. After an 1877 fire, Faust rebuilt even grander, with lofted ceilings, marble floors and counters, and polished walnut cases. The Post-Dispatch declared that "no Western city has anything like it."
Faust's offered the finest wines, fresh game and even a so-called Millionaire's Table, but violent bar fights were commonplace. Skirmishes involved the wait staff, doctors brandishing guns and, at least once, August A. Busch, son of Adolphus. One night he was holding court at his father's table when a typewriter salesman named Samuel Levy skipped his turn to buy a round. Busch called Levy a "cheap screw," a brawl broke out, and Busch ended up punching Levy in the face so hard he was carried to the Planter's House Hotel unconscious. Levy was well enough, though, to file a $10,000 lawsuit against Busch the next morning. "Tony was not just a jovial host for his guests in their finery," Terry writes. "He rolled out the red carpet for all patrons, even those who used their fists to resolves disputes."
Faust probably fell in with the Anheuser-Busches by meeting Eberhard Anheuser first, through the restaurant. They became drinking buddies and bonded over their status as prominent German American St. Louisans. Anheuser once joked that Faust was looking to get into the beer business himself, but Faust supposedly told reporters, "Just tell your readers I am buying the breweries a glass at a time."
Anheuser's partner, Adolphus Busch, soon ate at Faust's nearly every day. "But he never drank beer," says Cameron Collins, author of the blog Distilled History. "Only wine." In fact, Busch often conducted his famous wine test at Faust's: He would bet anyone $100 that he could name any vintage just by tasting it.
"He rarely made a mistake, and whether he won or lost, he paid for all the bottles which had been opened and bought drinks for the crowd," according to the book Under the Influence: The Unauthorized Story of the Anheuser-Busch Dynasty.
Most famous were Faust's New Year's Eve bashes. In 1887, Terry writes, "guests each received a card with a caricature of Tony getting out of bed on New Year's Day with cherubs blowing trumpets with salutatory messages in both French and German." One year, he emerged at midnight in a red Mephistopheles costume (the devil in Goethe's Faust who bargains for the title character's soul), complete with a feather-plumed hat -- the same character that would someday be featured on his beer label.
Since Faust was never bottled, Anheuser-Busch provided glasses like this one to restaurants and bars serving the popular brew. | Tom Carlson
Faust had been serving Anheuser-Busch beer in his restaurant for years, but in 1884 Adolphus Busch concocted a brew just for his friend. "There's not a lot of written documentation on exactly how it came to fruition," says A-B archivist Lauer. "I'm sure they worked together in that business arrangement. We brewed the beer and provided it to him for sampling, and then they decided on the beer. I think the main idea was that it would really pair well with the restaurant, being an oyster company."
In 1897, the two families became even closer when Faust's son Edward married Busch's daughter Anna in an extravagant celebration. When they returned from a five-month honeymoon through Europe and Africa, Adolphus gave the couple a mansion (as was his custom) and had a second vice-president job ready for Eddie at Anheuser-Busch. Busch and Faust were instrumental in bringing the 1904 World's Fair to St. Louis. Busch had finally overtaken his rival Frederick Pabst in beer production in 1901, which solidified his prominence outside of the St. Louis area and helped garner his position as fair director. He made sure Faust benefitted as well.
"I request the sole bar and restaurant privileges during construction of fair buildings for my friend Tony Faust, the most experienced man in the business, who will lend it dignity and give thorough satisfaction for all," Busch wrote to the World's Fair committee in 1902. "That he will sell the only beer it is needless for me to say." The committee obliged.
Faust co-operated the fair's largest restaurant, which served bratwurst, wiener schnitzel, Champagne and Anheuser-Busch beer to an estimated 20,000 diners a day. The Faust beer gained many new fans during the fair, and A-B began increasing its distribution.
"Faust expanded outside of the St. Louis area in select markets -- some of the larger areas like New York and Chicago," Lauer says. Along with Budweiser, Faust became a flagship brew in a portfolio of seventeen different beers, and one of its highest-performing products. The Fausts were staying at the Busch mansion in Germany in 1906 when the carriage Faust was riding in lost control owing to a spooked horse. The then-70-year-old barman jumped and cleared the accident, but was severely injured. He died several weeks later. Adolphus Busch was devastated.
"He lined the box which held the steel sarcophagus with leaves and branches from forests at Waldfriede [Germany], where the two men had spent many happy times together," recounts Under the Influence. The beer far outlived the man, but due to family strife, war and Prohibition, its days were numbered, too.
Eddie and Anna Faust and their children soon moved out of the mansion at 1 Busch Place to the fashionable West End. The Busches lived near the brewery in the heavily German south city, and with the advent of World War I, the younger Faust was anxious to distance himself from his German heritage and the plebeian occupations of barkeep and brewer. He left his job at Anheuser-Busch sometime between 1914 and 1916 and closed his father's restaurant. By the time the war began, Faust had disassociated himself from his wife's family. She herself stopped talking to her brother August, probably over a dispute about Adolphus' will. Despite this, Faust beer continued to be brewed.
"Then when Prohibition hit, it was discontinued, but so many people liked it that they reintroduced it after Prohibition," Lauer says. In fact, Faust, Budweiser and Michelob (a "fancier" beer that was only available at finer restaurants and hotels) were the only beers Anheuser-Busch reintroduced after Prohibition ended in 1933. But due in part to wartime grain rationing, production of Faust finally ended in 1942.
Adolphus and Tony's grandson Leicester Faust was a director at Anheuser-Busch throughout the Depression and in the years following, under his cousins Gussie and Adolphus Busch III. But he was far more interested in farming the land his mother purchased for him in what is now named Faust Park in Chesterfield.
"Regarding the fame that the Busches have retained, while the Fausts are relatively unknown, I think it has to do with consistency. The iconic brewery has remained largely unchanged since the late nineteenth century, both as a landmark and a legacy. The Faust restaurant, however, fizzled out in 1916," Terry says. "Leicester Faust worked at the brewery, but he preferred the quiet life of his farm. He never measured up to his cousin Gussie's gusto, and he never wanted to."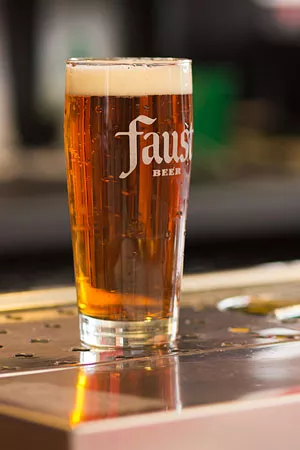 Faust's amber color comes from Boisselle's use of malt. | Tom Carlson
Bartender Lindsay Arens pulls on a red tap handle and fills a glass with Faust at the dimly lit bar at Cicero's in University City. The beer has been on tap for about three months. It's a pretty pour, copper-colored with a substantial head of foam, and it tastes nothing like Bud Light. It is bitter, complex, easy to drink.
"People usually get really excited that we have it. I like it better, actually, than Bud or Bud Light. It's much more interesting," says Arens. "It's not bad," adds a patron who characterizes himself as a hop-head.
"It's a good starter beer. Even though it's not technically a craft beer, I'll still let people try it," Arens says. "Since it's one of the oldest beers they have, it's one of their better ones. It's got so much more going on."
Faust is now on tap at 100 different bars and restaurants in the St. Louis metro area including Cicero's, International Tap House, Mike Shannon's and Helen Fitzgerald's. Unfortunately, there are no imminent plans to bottle it.
Whether or not drinkers will embrace Faust is also in question. While it currently has a respectable 3.3 score on the beer-rating app Untappd, this is actually the second time A-B has tried to resurrect it.
The first was 1995, for a short-lived series called American Originals. Production halted in 1999 -- just before the craft-beer revolution really took off. "I think everything goes in cycles. Hop-forward beers are gaining popularity," says A-B brewer Boisselle. While hesitant to say more about the future of Faust or about a changing brewing philosophy at A-B, Boisselle says throwbacks could be the future.
"We've got a lot of things in the background," he says. "Some of it's new, innovative things, and some of it's old things we've tried in the past or had in the past and we said, 'Let's try this and see what happens with it.'"
In the meantime, locals will be able to belly up and get a literal taste of St. Louis history. "It's a really great beer -- it has a lot of flavor," says Lauer. "And it's fun to think about what it would have been like to sit in Tony Faust's restaurant."
Gut Check is always hungry for tips and feedback. E-mail the author at [email protected].
Follow Nancy Stiles on Twitter:
---