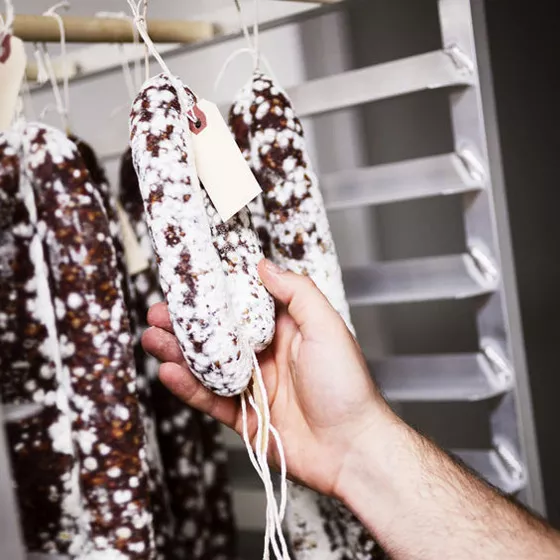 Cured meats at Salume Beddu. | Jennifer Silverberg
It's going to be really cold this week (that's an understatement), but nothing will make you feel better like a belly full of good food and good wine. Celebrate the real Mardi Gras or learn about German riesling. Continue on for our food-related recommendations.
See also: Wine Chat: Angela Ortmann is St. Louis' Wine Girl
Monday (Feb. 16):
Salume Beddu Nose-to-Tail Dinner @ Local Harvest Cafe
After this weekend's Pork Shop butchery workshop, Salume Beddu is hosting a nose-to-tail pork dinner at LHC. From 7 to 10 p.m. Tickets are $50 per person or $80 with win pairings. It's currently sold out, but try 314-353-3100 for cancellations.
German Wine Class @ the Wine & Cheese Place
Advanced Sommelier James Hallett will show you the wonders of German riesling. The tasting will include 2006 JJ Prum Bernkasteler Badstube Beerenauslese and 2012 Schaefer Froilich Bockenauer Felseneck Grosse Gewachs among others. From 7 to 8:30 p.m. Tickets are $20 per person. Reservations required; call 314-727-8788.
Tuesday (Feb. 17):
Soulard Fat Tuesday Pub Crawl @ Soulard
The Soulard Mardi Gras pub crawl is back for the first time in years this week. Pick up a souvenir cup and passport at the Cat's Meow, Nadine's Gin Joint or Soulard's Restaurant and get stamped at each of the 30+ locations. You'll also be entered to win a 42-inch TV. From 6 to 11 p.m. Admission is free, drinks available for purchase.
Wine 101: The Basics and Beyond @ Local Harvest Cafe
Katie DeBonis-Everett will teach you the basics of wine drinking. There's no shame in picking a bottle because of its cute label, but you can do better. You'll sample wines, learn to choose for your palette and learn how to taste wine. There will also be simple food pairings. From 6 to 8 p.m. $25 per person; call 314-865-5260 to register.
Wednesday (Feb. 18):
Cheese, Glorious Cheese @ Dierbergs Bogey Hills
Who can turn down a good wine and cheese pairing? Dierbergs' Chef Girl (Marianne Moore) and STL Wine Girl (Angela Ortmann) are teaching their second in a series of wine and cheese classes. From 6:30 to 8:30 p.m. Register here.
Thursday (Feb. 19):
The Four Seasons @ Kitchen Conservatory
Join Tony's pastry chef Helen Fletcher in this demonstration class as she makes an indoor winter picnic. There will be barbecue ribs with honey-chipotle barbecue sauce, epicurean potato salad with black and green olives and dill, cabbage-red pepper-zucchini coleslaw and lemon-raspberry bars. From 6 to 9 p.m. This class is currently sold out, but you can call 314-862-2665 to be put on a waitlist. Fletcher is also doing another class March 19.