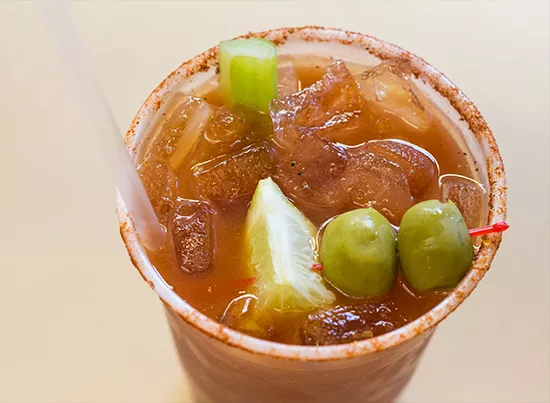 A Cajun bloody mary from Norton's Cajun Corner, lined with Norton's Cajun spice. | Photos by Mabel Suen
"I'm just excited to be back here cooking again," says Pat Norton, clad in a green apron and matching Mardi Gras beads. The self-taught chef owned and operated Norton's Cafe in Soulard from 1985 until its closure in 2009. Last January, the flavors of the old restaurant returned under a new guise: Norton's Cajun Corner (730 Carroll Street; 314-546-8382) inside the Soulard Farmers' Market. The stand fills the space previously occupied by Schmitz's Concessions and offers grab-and-go gumbo, jambalaya, bloody marys and more.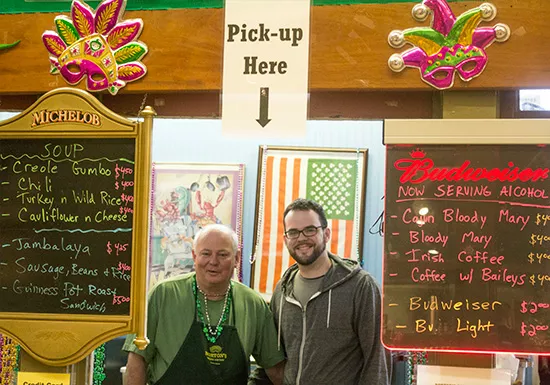 Owner Pat Norton and his son.
The business is a family affair. Depending on the day, visitors can find Norton in the kitchen, his son of the same name behind the counter, and co-owner Tom Norton (his brother) dispensing hot bags of popcorn beside the stall. Green and purple meet Mardi Gras masks on the facade, while more telltale bead necklaces dangle inside the ordering window. Festive flavors come in all manner of containers ready to carry away at a moment's notice.
Choose from house specialties including Norton's jambalaya ($4.25), Creole gumbo ($4.50), grits and etouffee, or opt for sandwiches including Guinness pot roast ($5), hot dogs, bratwurst and sausages. Additional options can include chili, beans with rice, and soups such as turkey with wild rice or cauliflower with cheese.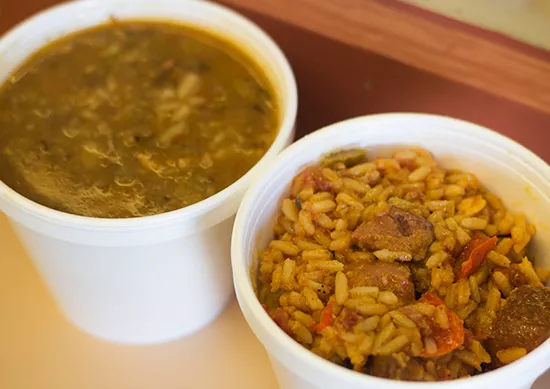 Cups of gumbo and jambalaya.
To wash it all down, choose from Budweiser or Bud Light, Irish coffee, coffee with Baileys and a Cajun bloody mary rimmed in Norton's own twelve-spice blend of Cajun seasoning -- also available for sale in individual red-topped shakers. Norton's Cajun Corner's current hours are Wednesday through Saturday from 8 a.m. to 5 p.m. For more information, follow Norton's Cajun Corner on Facebook.
Click through for more photos.
Gus' Pretzels also available.
Some sweets to choose from.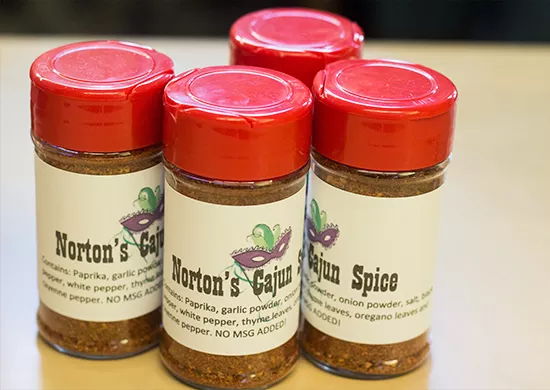 "Norton's Cajun Spice" blend for sale.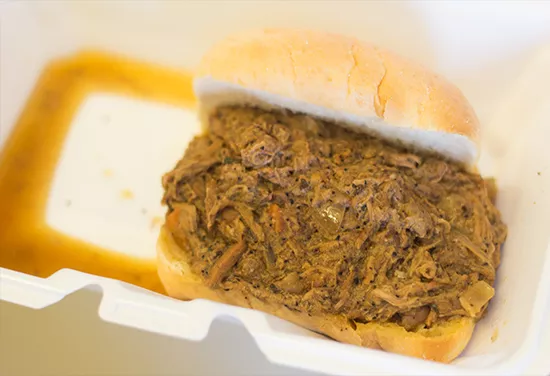 A Guinness pot-roast sandwich to go.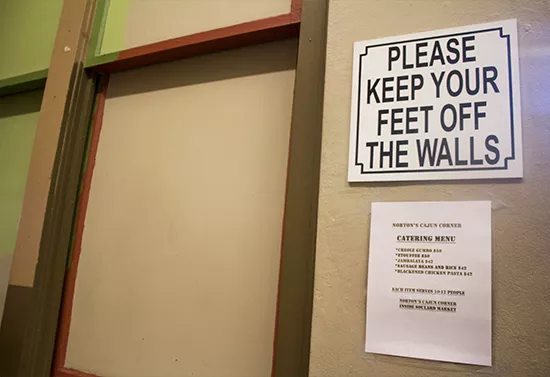 A catering menu is also available.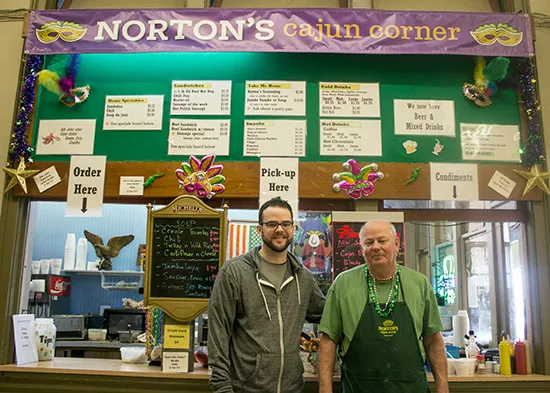 Now open inside the Soulard Farmers' Market.
See also: - First Look: Spring Center Gourmet - First Look: Juniper (New Menu) - First Look: Seoul Q
Gut Check is always hungry for tips. E-mail us!