Monty's "Slider Trio" with pulled pork, hand-carved turkey and pastrami. | Photos by Mabel Suen
The Place: Monty's American Grill (15850 Manchester Road; 636-220-3333)
The Hours: Happy hour is offered Monday through Friday from 3 to 6 p.m.
The Deals: Half-off appetizers, $2 domestic bottles, $6 wines, $3 rail drinks and $3 draft beers.
See also: Happy Hour at Prasino
The dining room and bar at Monty's.
The Scene: Monty's American Grill opened in late January, offering up salads, wraps, sandwiches, burgers and more in Ellisville. The concept comes from the owners of Monty's Sandwich Company located in downtown St. Louis, and features many of the favorites from its flagship along with appetizers, entrees and a full bar. The large dining room has a contemporary red, gray and black theme with plenty of booths and tables to accommodate individuals to large groups. A few TVs occupy corners between neutral-colored paintings. All in all, the vibe comes off as low key and family friendly.
"Vampire Hunter" loaded fries with garlic, Parmesan cheese, pepperoni and pepperoncinis.
The Food: The half-off food selection includes everything from the appetizer menu except for the "Southwest Crab Cakes." Choose from toasted ravioli, chicken strips, chicken wings, a shrimp cocktail, beer-battered onion straws, spinach-artichoke dip, a slider trio, and four different kinds of loaded fries.
Did Monty's make the grade? Find out on the next page.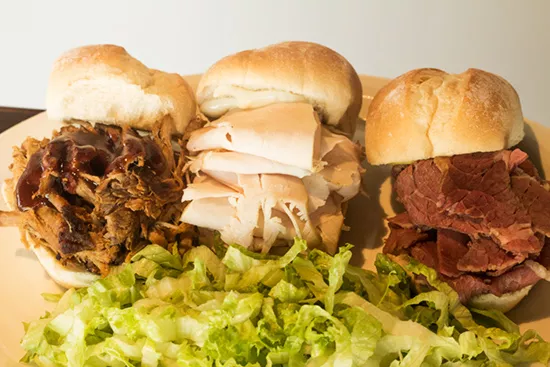 Another look at the "Slider Trio."
The Verdict: The "Slider Trio" seemed like a fair introduction to Monty's, considering its sandwich-happy specialty. The plate features $3 rolls filled with generous portions of pulled pork, sliced turkey breast and pastrami. Each of the meaty fillings were tender and flavorful but came with bare-bones counterparts -- bland, untoasted white bread, a bed of plain lettuce and some barbecue sauce here, a dollop of mustard or mayonnaise there. The straightforward centerpiece of each sandwich excelled in its simplicity, but some more attention to the accompaniments would make all the difference in boosting this dish from good to great.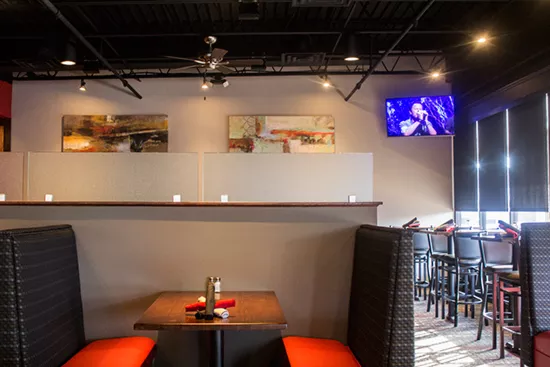 To go with our sliders, we ordered some loaded fries. The "Vampire Hunter" came with garlic, Parmesan cheese, pepperoni and pepperoncini. The hot plate satisfied all those standard happy-hour cravings that the sliders didn't quite excel at: the desire for salty, crispy and cheesy components with an added tang from sliced, acidic peppers.
Other fry options include a chili-cheese; "Atomic," with cajun seasoning, ranch, buffalo sauce, jalapenos and sweet habanero jam; and "Porky's Revenge," with pulled pork, housemade cheese sauce, jalapeno and green onion. All in all, Monty's prices were affordable, with a decent selection to choose from, friendly service and an innocuous atmosphere to enjoy it all in.
The Rating: On a scale of one to five...

Previously on Happy Hour Handbook: - Prasino - Tamm Avenue Grill - BaiKu Sushi Lounge - Van Goghz - Frazer's Restaurant & Lounge - The King & I - Sasha's - Nadine's Gin Joint - Juniper - United Provisions - Hammerstone's - Ranoush - Siam - SOHA Bar & Grill - Modesto - Square One Brewery - Cicero's - SqWires - Layla - Five Star Burgers - Central Table Food Hall - Planter's House - Atomic Cowboy - Stella Blues - Triumph Grill - Lola - Basso - Blue Ocean Sushi - Hwy 61 Roadhouse and Kitchen - Gringo - Jax Cafe - Mile 277 Tap & Grill - Sandrina's - Mangia Italiano - Kirkwood Station Brewing Company - Steve's Hot Dogs on the Hill
We're always looking for some more happy hour meal deals. E-mail the author at mabel.suen@riverfronttimes.com