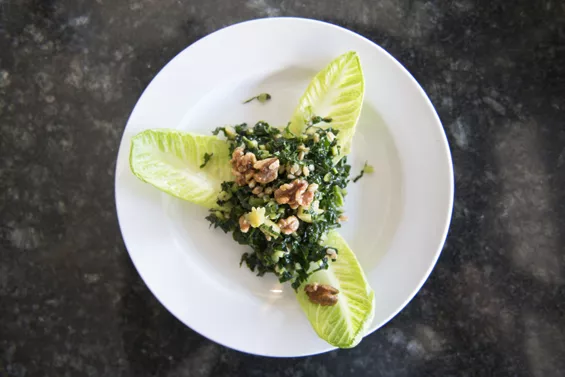 Endive salad. | Corey Woodruff
Avenue (12 North Meramec Avenue, Clayton; 314-727-4141) Mon.-Thurs. 7 a.m.-10 p.m. Fri. 7 a.m.-11 p.m. Sat. 8 a.m.-11 p.m. Sun. 8 a.m.-9 p.m.
Chef Bryan Carr didn't necessarily want to shutter his beloved pair of restaurants, Pomme Restaurant and Pomme Café & Wine Bar. Initially, he had hoped to merge the two complementary concepts (Pomme Restaurant was more upscale, Pomme Café was a casual breakfast, lunch and dinner spot) into one at the original location on North Central Avenue, but it proved logistically impossible. When the former Roxane space in Clayton opened just a few blocks away, Carr saw it not only as an ideal fit, but also as an opportunity for reinvention. His new concept, Avenue, gently nudges patrons in a new direction while giving them many of Pomme's familiar comforts.
See also: Review: Bonefish Grill's Seafood Cuisine Drifts Way Off Course
Carr walks this fine line in different ways. Pomme's signature avocado green paint colors the walls, yet the dining room is much more modern. The floors, walls and fireplace mantel are made of a dark, gray-hued wood. Patrons enter the bar area of Avenue first, then walk down two shallow steps into the main dining room. Floor-to-ceiling pocket doors section off an overflow dining room, with its own separate bar, that doubles as private-event space.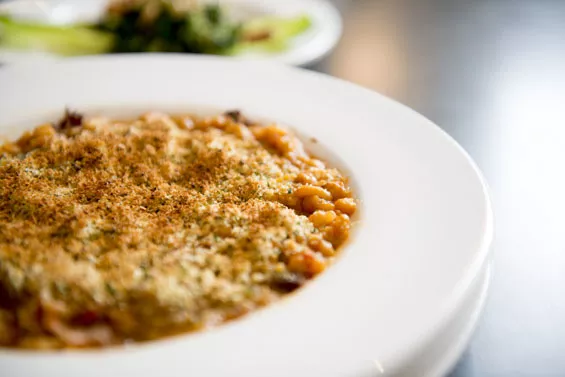 Avenue's menu is a mix of new and old as well, but Carr's classic bistro sensibility remains wholly unchanged. The pumpkin-ravioli appetizer pairs naturally sweet squash with a salty prosciutto topping. The roasted shallots and pine-nut garnish add a bright floral pop. The smoked salmon starter was very fresh, with a nose of melon. Sliced cucumbers and radishes enhanced this flavor profile, along with a horseradish cream cheese and herbed crostini. The sautéed wild mushroom appetizer is served over thick slices of baguette, and a dollop of luscious burrata turns it into a decadent standout.
I was impressed by Avenue's textbook execution of cassoulet. Carr prepares the Southern French staple with perfectly cooked white beans, chunks of duck confit, mild pork sausage, tender pork shoulder and just a hint of tomato. Breadcrumbs sprinkled over the top add crunch to a casserole that tastes too rich to be peasant food. The menu's geography heads slightly east with another hearty entrée, the beef daube. This Provençal dish consists of fork-tender, red-wine-braised beef with a salty kick from black olives. The stew is ladled over fettuccine noodles like a Mediterranean-style beef stroganoff. It is a warm, stick-to-your-ribs choice.
Tender pork schnitzel is another of Avenue's successful entrées. The thin cutlets are lightly coated in herbed breadcrumbs, pan fried and topped with large chunks of brandy-sautéed apples. Paprika-dusted roasted red potatoes and haricot verts accompanied the pork -- simple sides that let the sweet and savory schnitzel shine. The restaurant is equally comfortable with seafood. Avenue's catch of the day, pan-roasted cod, could not have been more expertly cooked. The buttery fish flaked apart in large moist chunks and rested atop a tart stone-ground mustard and tarragon sauce that cut through the richness.
Co-owner Diane Carr. | Corey Woodruff
Dinner at Avenue set a very high bar that lunch did not always rise to. The kale salad with faro, walnuts and roasted apples would have worked, but the apples were mushy and tasted oddly like kumquat. I did not at all care for Avenue's chicken-salad sandwich. The shredded chicken was sparsely tossed in aioli, resulting in a flavorless, pasty mixture. The sole sandwich was better -- its panko breading gave the fish a pleasant crunch, but it needed more tartar sauce and different bread. The Cuban-style toast added to the sandwich's dryness. The same bread worked much better on the grilled roasted ham, melted Gruyère cheese and tangy country-style mustard sandwich -- the best of Avenue's lunchtime offerings.
Pomme Café & Wine Bar was one of my go-to brunch spots, and Avenue will easily replace it. Blueberry pancakes, scented with the slightest hint of lemon, were so thin they were almost crêpe-like. "Eggs Avenue," a fun riff on a Florentine-style Benedict, features two strips of bacon, sautéed spinach, and broiled tomato over a seasoned cheddar grits cake. A poached egg tops the dish, its yolk serving as a rich sauce that ties the components together. I would have preferred something softer than the chewy French bread for the French toast. Thankfully, the caramel-y concoction of apples and bananas spooned over the top softened it slightly. My favorite brunch offering, the ham and egg crêpe, was more like a breakfast wrap, overstuffed with scrambled eggs, ham and gooey cheese.
It might take a while for people to stop comparing the two restaurants, but Avenue demonstrates it can easily become the apple of a Pomme fan's eye.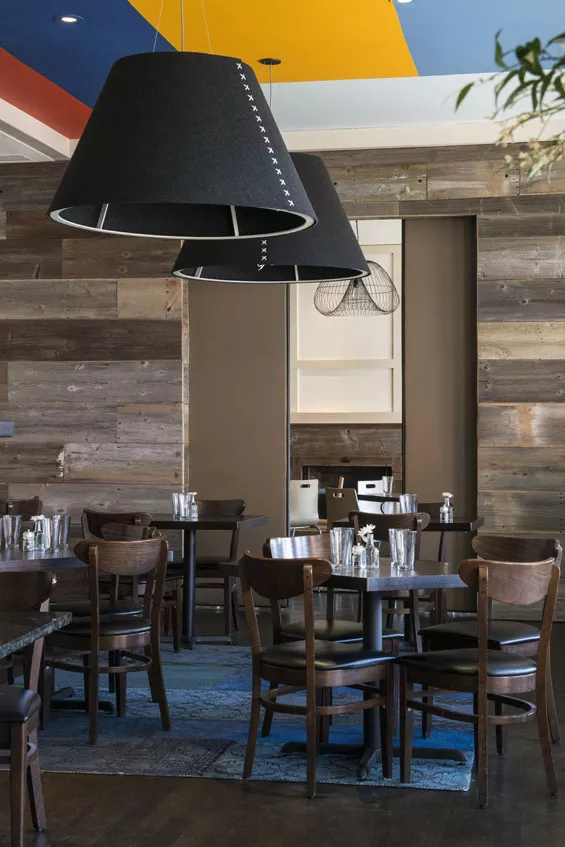 The dining room at Avenue. | Corey Woodruff
Follow Cheryl Baehr on Twitter at @CherylABaehr. E-mail the author at Cheryl.Baehr@RiverfrontTimes.com.
---