Tequila shots at Milagro Modern Mexico | Emily McDonald
A good tequila is meant to be sipped, like a fine scotch, in order to fully appreciate the nuances of its warm, complex flavor -- no lime and salt required. St. Louis has got craft beer down pat and we can boast of some truly top-notch vodka and whiskey bars. But where to go when you want some good tequila? Lucky for you, we've done our research and have assembled this guide to our favorite spots, each one with their own unique take on this distinctive spirit.
The tequila you remember from that one bad night in college was likely the result of a less expensive mixtos (a blend of tequila and sugar) and maybe a worm (a touristy gimmick). Aficionados stick to 100 percent blue agave tequila. To make pure tequila, the agave is fermented in wooden or stainless-steel vats, then distilled and then either bottled as blanco (silver) tequila or aged in oak barrels from two to twelve months for reposado tequila, one to three years for anejo tequila or more than three years for extra anejo. Aged tequilas offer a smoother, more complex taste. In the end, however, the best tequila is always the one that you like.
See also: The 10 Best Wine Bars in St. Louis
Milagro Modern Mexican (20 Allen Avenue, Webster Groves; 314-962-4300)
Milagro Modern Mexican is committed to the tequila tasting experience and focuses on flights that sample many varieties and families of tequila. The menu's broad selection ranges from rustic to the ultra-smooth tequilas and from blanco to extra anejo. Currently, the top-of-the-line brands offered are Don Julio 1942, Milagro Select Barrel Reserve, Cuervo Reserva De Familia, Herradura Suprema and Grand Mayan. Whenever possible, organic tequilas are selected for their clean flavors that result from sustainable and pesticide-free manufacturing processes.
Kah tequila bottles at Rosalita's Cantina | Lori Tisdale
Rosalita's Cantina (1229 Washington Avenue; 314-621-2700)
Perhaps more so than with any other spirit, the craft of the tequila bottle has become an art form in and of itself. Rosalita's Cantina proudly showcases Kah's bottles, inspired by traditional calaveras -- skulls made from sugar used in Mexico's Day of the Dead rituals. Other featured tequilas include Dos Lunas, Patron, Don Julio and Milagro. A tasting menu offers a chance to try a trio of tequilas on the rocks or at room temperature, according to preference. Or, perhaps you'd rather dip your toe in with one of eleven margarita cocktails.
A margarita at Mission Taco | Jennifer Silverberg
Mission Taco Joint (908 Lafayette Avenue; 314-932-5430)
Mission Taco Joint has brought the tastes of California's Latino-infused Mission District to St. Louis. This translates into a cocktail menu based on recipes that use only citrus juices fresh-squeezed in-house for from-scratch flavor. That same passion for quality is applied to the menu's tequila offerings. "Tequila should have a bold agave flavor and also notes of oak or caramel depending on the whiskey, port, or cognac that was previously in the aging barrels. I also try to focus on brands people may not recognize but that exemplify an appreciation for their heritage," says Kyle Harlan, bar manager at the Soulard location. "Tequila Ocho, for example, is one of the few companies that produces its tequila by hand, from field to bottle." Other brands behind the bar include Tapatio and Tres Agave tequila.
The tequila selection at Gringo | Corey Woodruff
Gringo (398 North Euclid Avenue; 314-449-1212)
The tequila menu at Gringo offers something for everyone, from the tequila connoisseur to those just beginning their tequila experience. These are in the form of a margarita or other tequila-based cocktail, chilled over ice or paired with dessert. Selections are offered at multiple price points and from both of the tequila producing regions of Mexico -- herbal, earthy and intense flavors from the lowlands and the smoother and more floral notes of the highlands. Favorites include the house brand, Exótico, Tequila El Mayor (imported by local St. Louis spirit company Luxco) and well-known standards such as El Jimador and Don Julio.
Premium tequilas at Diablito's Cantina | Josh Richardson
Diablito's Cantina (3761 Laclede Avenue; 314-644-4430)
If you're looking for breadth in your tequila tasting options, Diablito's Cantino is the place. The menu boasts around 30 different brands of tequila. Most are priced between $5 to $12 per shot. Higher-end options include Gran Centenario Gran Reserva, Don Julio Real and Herradura Seleccion Suprema. And, if really want to go all-in, a $300 shot of Dos Lunas Grand Reserve might be just what you're looking for. "It's aged in sherry casks for ten years to achieve a certain quality more often associated with fine French cognacs than tequila," says bar manager Josh Richardson. "The agave plants are handpicked for the batch and there were only a thousand bottles made."
The "Scorched Earth" cocktail at Taste | Gerard Craft
Taste (4584 Laclede Avenue; 314-361-1200)
The tequila selection at Taste is small, but well-curated and purposeful. Due to the lack of shelf space, only three brands of tequila are stocked -- Milagro (a highlands tequila that is bright, acidic and spicy), Chinaco (a lowlands tequila that is earthy, featuring minerals and vegetal nuances) and Ocho (a single-estate tequila that changes from year to year to highlight a new agave grower). Mezcal, made from the maguey plant, a cousin to the blue agave, is often featured on the cocktail menu for its unique, smoky, almost harsh taste. Pictured is the "Scorched Earth" cocktail made with La Puritita Verda Mezcal, Uma Cachaça, celery fennel syrup, lime, grapefruit and Creole bitters.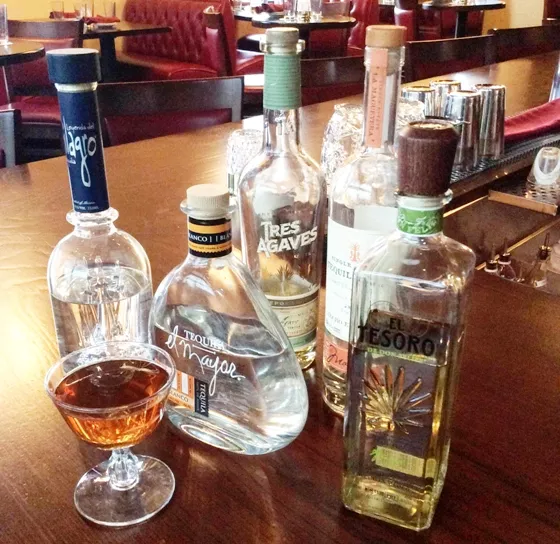 The tequila selection at Planter's House | Jamie Kilgore
Planter's House (1000 Mississippi Avenue; 314-696-2603)
Proprietor Ted Kilgore approaches the tequila selection for Planter's House by evaluating each one for their potential for one of his knock-your-socks-off craft cocktail masterpieces. Tequila can offer a variety of flavor profiles -- from dry or acidic to full bodied and rich. Top-pick brands for Kilgore are Tequila Ocho, El Tesoro, Milagro, Tres Agaves and El Mayor. Every tequila on the menu is estate-produced, meaning the producer grows, harvests and produces the tequila themselves, often as a family-run operation.
Barrel-aged Tapatio reposado tequila at Sanctuaria | Wil Pelly
Sanctuaria (4198 Manchester Avenue; 314-535-9700)
Sanctuaria gets hands-on with its tequila offerings. Tapatio Blanco 110 is barrel-aged in-house for three months to create a custom reposado great for sipping or as an ingredient for the house margarita, the paloma and the "Princess of Jalisco" cocktail with crème de cacao, orange juice, lemon juice and espresso beans. The remainder of the small tequila selection includes Lunazul, Espolon and Casa Noble.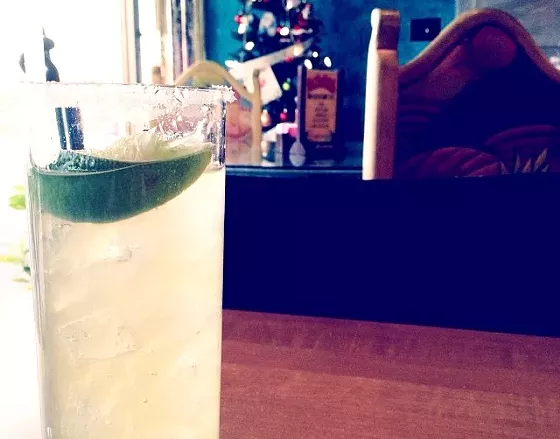 A margarita at Las Palmas | Sara Graham
Las Palmas (7356 Manchester Road, Maplewood; 314-427-7177)
Las Palmas is one of only a handful of bars in St. Louis to carry the coveted Clase Azul tequila, often recognized by its distinctive, handmade ceramic bottles. The tequila itself is an art form, made with 100 percent organic blue agave that is slow-cooked in traditional brick ovens. Since Clase Azul is not distributed in St. Louis, a trip to Chicago is in order every time it's out of stock -- lucky us! This instantly became our no. 1 tequila by taste alone, before we knew anything about the craftsmanship behind its production and the level of commitment to get it to St. Louis.
The renovated bar at Hacienda | Daley Design
Hacienda (9748 Manchester Road; 314-962-7100)
Hacienda just completed a renovation of their bar in response to customer demand for an expanded selection of tequila. Tequila flights are now available for sampling and sipping in addition to Hacienda's popular margaritas and a unique original "Mezcal Mule," served in Moscow Mule-fashion and made with Legendario Domingo, a mezcal line owned by the restaurant's founding family.
Follow Sara Graham on Instagram at @EngageTaste and Twitter at @EngageTaste. E-mail the author at sara@engagetaste.com.
---