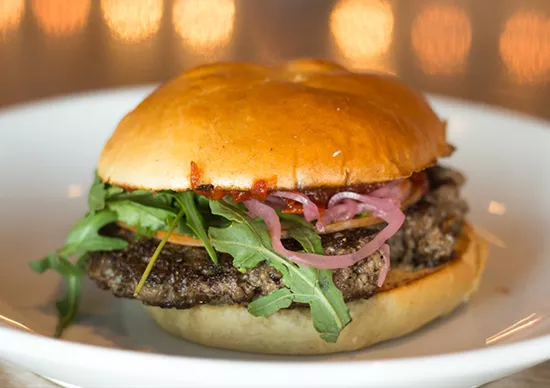 The "Prasino Burger" with smoked gouda, tomato jam, pickled onion and arugula. | Photos by Mabel Suen
The Place: Prasino (1520 South Fifth Street; 636-277-0202)
The Hours: Happy hour is offered Monday through Friday from 3 to 7 p.m.
The Deals: $4 draft beer, $5 wine by the glass, $5 well drinks and a selection of $6 food items.
See also: Prasino St. Charles Gets New Ownership
Happy hour is offered in the bar area.
The Scene: Prasino opened in April 2013 in St. Charles and is the first and only Missouri location of an Illinois-based chain. The contemporary American restaurant gets its name from the Greek word for "green" and boasts an eco-friendly space and sustainably sourced ingredients. Happy hour is hosted exclusively in the bar area, which takes up the entire forefront of the restaurant at the entrance. Several tables make up this space, though they can fill up quickly.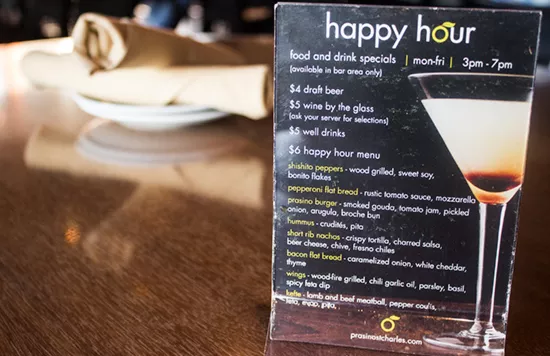 The Food: The happy-hour food menu includes grilled shishito peppers, a pepperoni flatbread, a house burger, hummus with crudites and pita, short-rib nachos, a bacon flatbread, grilled wings in chile-garlic oil and kefta in pepper coulis.
Did Prasino make the grade? Find out on the next page.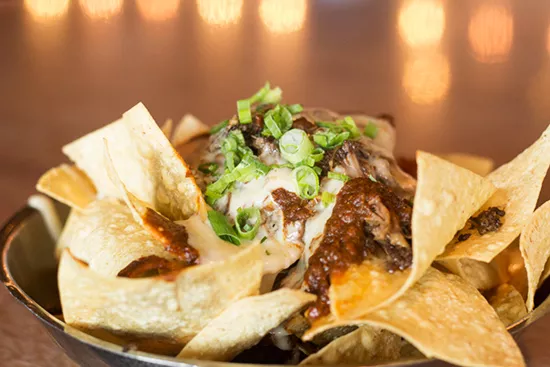 The Verdict: Short-rib nachos came out served in a steel saucepan, and while not apparent from the outset, the portion size is quite large. The cooks took care to layer an abundance of toppings between crispy tortilla chips, ensuring an equal distribution of meat and sauce. Tender short ribs paired well with charred salsa and beer cheese for a memorable melting pot of savory flavors. We recommend this hefty dish for sharing.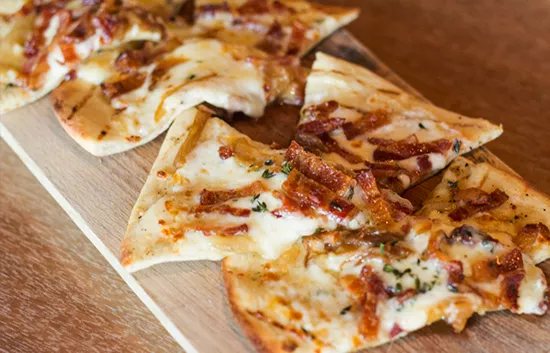 Pieces of bacon flat bread, with caramelized onion, white cheddar and thyme, come served shingled on a wooden board and could benefit from a different presentation. Before long, the bread got soggy from the stacking, and the combination of components on top were passable but needed a sauce or something else to tie it all together.
The "Prasino Burger" comes with smoked gouda, tomato jam, pickled onion and arugula on a brioche bun, and it's substantial enough to call a meal in itself. The juicy patty comes cooked to temperature, and the sweet, spicy tomato jam and vinegary onions that accompany it make the dish one worth putting the company's name on.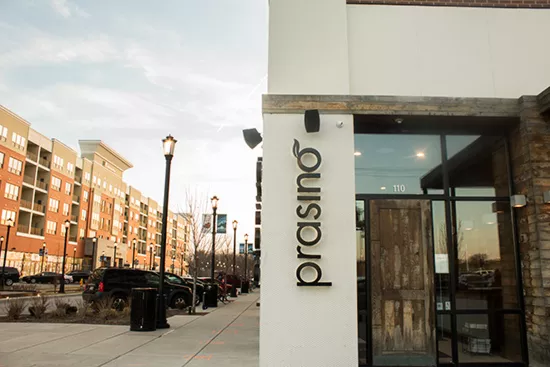 The entrance to Prasino in St. Charles.
The Rating: On a scale of one to five...

Previously on Happy Hour Handbook: - Tamm Avenue Grill - BaiKu Sushi Lounge - Van Goghz - Frazer's Restaurant & Lounge - The King & I - Sasha's - Nadine's Gin Joint - Juniper - United Provisions - Hammerstone's - Ranoush - Siam - SOHA Bar & Grill - Modesto - Square One Brewery - Cicero's - SqWires - Layla - Five Star Burgers - Central Table Food Hall - Planter's House - Atomic Cowboy - Stella Blues - Triumph Grill - Lola - Basso - Blue Ocean Sushi - Hwy 61 Roadhouse and Kitchen - Gringo - Jax Cafe - Mile 277 Tap & Grill - Sandrina's - Mangia Italiano - Kirkwood Station Brewing Company - Steve's Hot Dogs on the Hill
We're always looking for some more happy hour meal deals. E-mail the author at mabel.suen@riverfronttimes.com