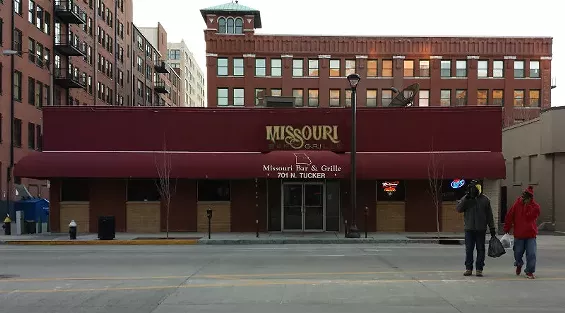 Trifon Panopoulos' downtown institution. | Jessica Lussenhop
Updated with a response from owner Zeta Zavradinos.
On a blustery Monday afternoon in downtown St. Louis, Robert Kennedy stood outside of Missouri Bar & Grille (701 North Tucker Boulevard; 314-231-2234), holding a plastic bag of snacks and waiting to find out if he still has a job.
"Everything is in limbo," said the veteran chef, who's been with Mo Bar for the past 29 years. "Sometimes they open at 3, sometimes 8. Sometimes they don't open at all."
The bar -- once the chosen watering hole for St. Louis royalty like Ozzie Smith, Chuck Berry and Leon Spinks -- has fallen on hard times since the 2013 death of its beloved owner, Trifon Panopoulos. Yesterday was rumored to be the bar's last in business. No one answered the phone, and everything was dark inside at 5 p.m. on Monday, when Kennedy's shift normally begins. He planned to return at 8 p.m. and check again.
By 7 p.m., not even bartender of 32 years Athina Miller knew what was going on. She was trying to reach Trifon's daughter, Zeta Zavradinos, who took the helm of the business after her father's death eighteen months ago.
"I've got the keys. I'm going to go in and find out," Miller told us. She promised to call back.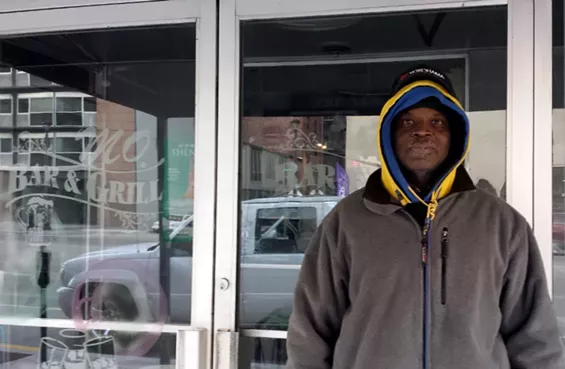 Mo Bar chef Robert Kennedy. | Jessica Lussenhop
Just across the street from both the former Globe-Democrat and current Post-Dispatch offices, Mo Bar was the type of place where reporters drank both before and after work. With its walls covered in sports paraphernalia, it also attracted sportscasters, umpires and star athletes. But it was Trifon Panopoulos' reputation for generosity and warmth that made the bar legendary. When he died of cancer in September 2013, P-D columnist (and regular) Bill McClellan wrote, "Trifon helped people who couldn't help him."
"He was the best boss I ever had. He never missed a birthday gift," said Kennedy. "Most bosses think a check is just enough, but he went all the way."
"He would never let us fall down," added Keith, another cook waiting outside with Kennedy. "I miss him right until today."
The bar's closure has been looming for some time, but Kennedy said he'd hoped to get advance notice, "so we'd have time to find other jobs." Miller said when she left on Friday, she asked Zavradinos if they'd make it to Valentine's Day -- the bar's anniversary. She said she was assured that the bar would stay open.
"If the drawer doesn't have any money, I guess that means we're out of luck," she told Gut Check before heading to the bar to investigate. "After 31 years of working there I was expecting a little more decency."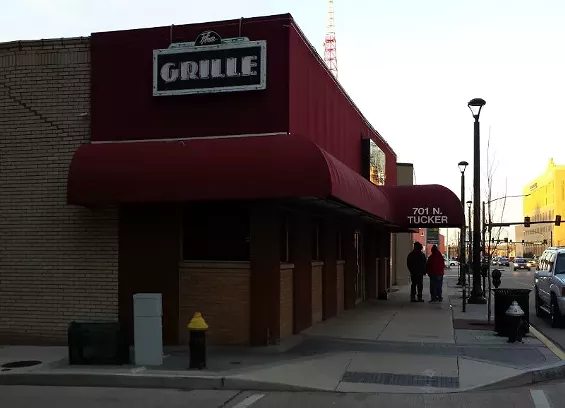 Scott Seggi, a close friend of Trifon and his brother Louie, acknowledged that the impending closure is tied to a family dispute over Trifon's estate. According to court documents, Panopoulos died without leaving a will. Zavradinos was named the "personal representative" of the estate, and it appears that a battle over control of assets and property has been waging ever since. When we spoke to him, Seggi had just gotten off the phone with Louie, who was as much in the dark as the employees.
"He had heard as well like I did, that today would be the last day, but there's been no conversations," said Seggi. "He thought maybe I was calling with news."
Finally, at 8:30 p.m. last night, Miller called us back -- the key she'd been using night after night to open the bar no longer worked. The locks on the building were changed. Miller said she also received a voicemail from Zavradinos telling her that Mo Bar is closed "until further notice." Beyond that, Miller said, "she didn't talk to me nothing." Both Miller and Kennedy fretted that they were going to lose out on the previous week's wages.
"I'm very, very, very upset, and down, and everything. I asked them over and over," Miller said. "They're saying, 'No, Tina, you'll be the first to know after all these years.' ....I was the last to know."
Update: Zavradinos returned Gut Check's call on Tuesday evening and confirmed that Mo Bar is closed for the foreseeable future.
"It's up in the air. There's different issues that need to be settled between me and my father's side of the family. Until that happens, there's really nothing else going on with the bar," she said. "[My father's family] put their hands up and walked away at the beginning. I want to continue running it. I want my father's legacy to live on."
She said she's not sure who started the rumor that February 2 was the bar's last night in business, but that it was a self-fulfilling prophecy. As word spread among patrons, certain collectible items began disappearing from the walls. She decided to shut down to prevent "my father's belongings walking out of the bar on a daily basis or a nightly basis."
Zavradinos would not comment on what specifically is happening with the pending litigation or if there's an end to the court proceedings in sight.
"Personally, I don't have anything against them," she said of her uncles. "I don't know what their problem is with me. I just, I don't know."
Email the author at Jessica.Lussenhop@RiverfrontTimes.com.