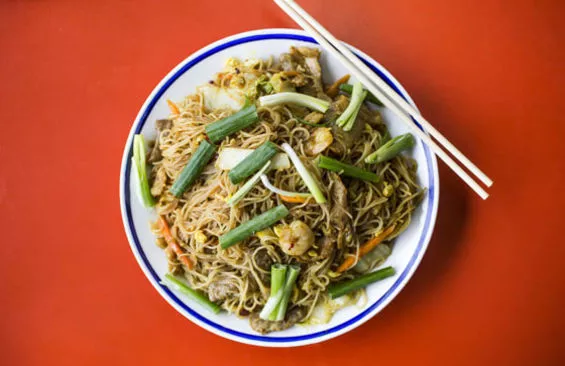 Singapore Mei Fun at Bek-Hee. | Jennifer Silverberg
Bek-Hee (10200 Page Avenue, Overland; 314-426-4773) is no longer a well-kept secret. Once word of mouth spread about the Overland hole in the wall's authentic Chinese food -- buried amid the Americanized chop suey joints -- the restaurant has gained a loyal following. It's difficult to pinpoint the restaurant's claim to fame, but the Lin family has an idea: the "Singapore Mei Fun."
See Also: Bek-Hee Brings Sha County Chinese Cuisine to St. Louis: Review
It's no wonder that it is the Lins' most highly recommended dish. The vermicelli-thin housemade noodles are served with a combination of chicken, shrimp, beef and pork, then tossed with white onion petals and crisp bok choy in a fragrant, fiery yellow curry. Bek-Hee isn't stingy with the portion, either -- an order will easily feed two ravenous appetites. The youngest Lin claims to eat the "Singapore Mei Fun" every day -- if we had the chance, we probably would too.
Previously: #95: The Monte Cristo at Three Flags Tavern #96: The Meatloaf Blue Plate Lunch at Farmhaus #97: Comet Coffee's Chocolate Chip Cookie #98: Canestri Cacio e Pepe at Pastaria #99: The Granola Pancakes at Whitebox Eatery #100: Chicken Noodle Soup at Grove East Provisions
Follow Cheryl Baehr on Twitter at @CherylABaehr. E-mail the author at Cheryl.Baehr@RiverfrontTimes.com.
---