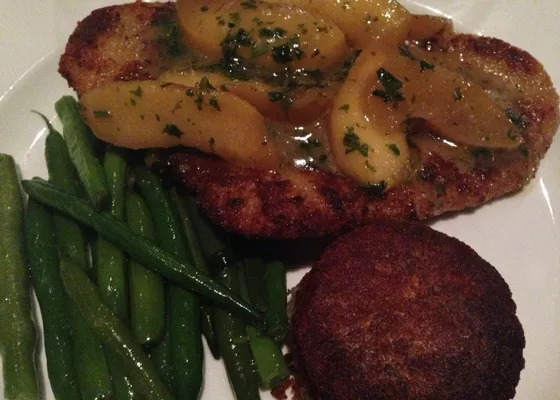 Pork schnitzel with apples and haricots vert. | Nancy Stiles
St. Louis is generally more known for its French roots, but we have a lot of German history, too. Naturally, we celebrate this with beer -- and schnitzel. If you think you know where we got this German classic, all you have to do is take a guess and you could win some free grub.
[UPDATE]: Commenter southcountyhoosier got it right -- we were at Avenue (12 North Meramec Avenue, Clayton; 314-727-4141).
See also: Guess Where I'm Eating This Steak Salad and Win $20 to Apollonia [UPDATED]
Simply study the photo and leave your best guess in the comments. If you're the first correct answer, we'll give you $20 to Frida's Deli (622 North and South Road, University City; 314-727-6500).
Rules: To be eligible, you must leave a valid e-mail address (or Twitter handle or Facebook profile URL) in the comment-entry field. One guess per e-mail address. Employees of the restaurant in question and the Riverfront Times are not eligible.
Gut Check is always hungry for tips and feedback. E-mail the author at Nancy.Stiles@RiverfrontTimes.com.
Follow Nancy Stiles on Twitter:
---