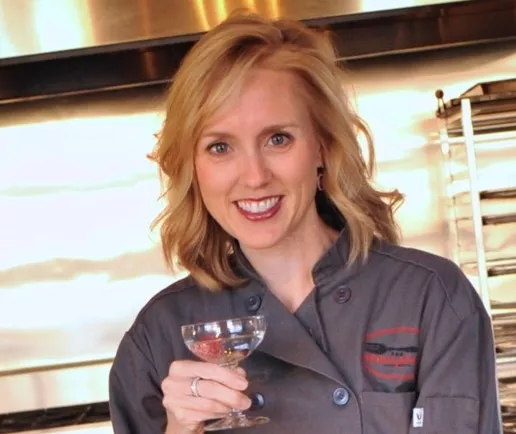 Kelly Spencer of the Social Affair. | Nicole Galli Mohler Photography
The old cast-iron skillet that hangs inside the kitchen at the Social Affair at the Station (2232 Thurman Avenue; 314-735-5527) reminds Kelly Spencer of her roots. "It was my grandmother's," Spencer explains. "I grew up in Birmingham and had two very Southern grandmas who loved to cook. I was always in the kitchen with them -- fried chicken, apple turnovers -- it's all we did."
See Also: The Social Affair at the Station's New Modern American Market
Spencer always knew deep down that cooking was her calling, but it took her a while to get there. "In college, I was always the one who had people over for elaborate dinner parties," she recalls, "but when I graduated, I got into medical and dental sales. I made good money, but it wasn't my passion."
After seven years, Spencer took a leap of faith, quitting her lucrative job to work in a little cafe in Chicago. Culinary school followed, after which she immediately opened her catering company, the Social Affair. Last April, she opened the Social Affair at the Station in the Shaw neighborhood -- a grab-and-go gourmet market, small event space and the home base for her catering outfit -- exactly ten years to the day after she first set her eyes on the property.
Spencer took a break from preparing her "sophisticated Southern" cuisine to share her thoughts on the St. Louis food scene, her most reviled ingredient and why you will probably hear "Roll Tide" coming from her kitchen.
What is one thing people don't know about you that you wish they did? That I will research a theme for a party or tablescape for hours and hours, then stay up until three in the morning making it all come to life. It's crazy, but "good crazy," right?! Oh, and that I'm a huge Alabama fan, but y'all already knew that...
What daily ritual is non-negotiable for you? Two cups of coffee. And don't even think about talking to me before I have them.
If you could have any superpower, what would it be? The ability to not sleep. Think of how much more I could get done.
What is the most positive trend in food, wine or cocktails that you've noticed in St. Louis over the past year? I love that when I meet with couples planning their weddings, or clients planning their events, that they are truly focused on making sure they have good, quality food at their event. No longer is food the afterthought. To see that people have a true appreciation for great food is fantastic and exciting. I just hope it's not a trend.
Who is your St. Louis food crush? The "Southern" in me has to love everything Josh Galliano [the Libertine] creates. He always stays true to his roots, and his passion comes through his food onto every plate. And to top it off, he's a super nice guy. And John Fausz -- formerly of Olio -- is my drink crush. The knowledge that man has in his head about cocktails is truly remarkable.
Who's the one person to watch right now in the St. Louis dining scene? I think you watch out for anyone that has drive, passion and desire to succeed, and right now, there are a lot of good people in St. Louis that fit that bill -- and that's pretty exciting.
Which ingredient is most representative of your personality? I asked my staff this question and they said Champagne, because I'm bubbly and love celebrations. But like Champagne, too much of me will give them a headache. Haha!
If someone asked you to describe the current state of St. Louis' culinary climate, what would you say? In a word, Southern. It seems that you can't go into a restaurant without seeing pimento cheese, grits and barbecue on the menu. It's ironic to me that Southern food is now a "trend." It's just what we ate growing up. I remember putting our smoked gouda grits on a catering menu five years ago, and people thought I was crazy. Now our clients can't get enough of these Southern staples.
Name an ingredient never allowed in your kitchen. Bananas -- the only food I will not eat, touch or smell. Everything else -- of good quality -- is fair game.
What is your after-work hangout? You can usually find me on the sidelines of a soccer field watching my boys play, or at the bar with my husband at Three Flags Tavern, eating posole and drinking a Manhattan, up.
What's your food or beverage guilty pleasure? Mexican food and a good margarita. Or a Game Dog at an Alabama Football game!
What would be your last meal on earth? Sitting beach-side with my family and friends eating oysters on the half shell and seared scallops.
Follow Cheryl Baehr on Twitter at @CherylABaehr. E-mail the author at Cheryl.Baehr@RiverfrontTimes.com.
---