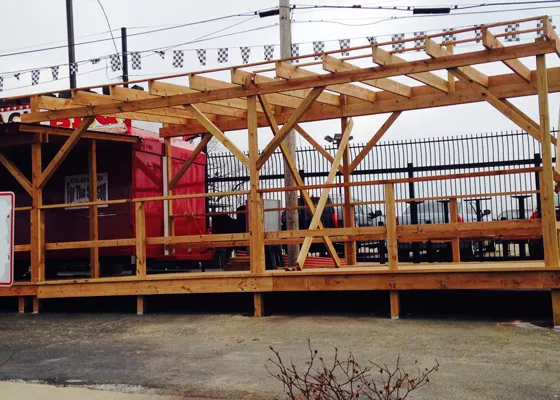 Patio construction at Lampert's Q-Shack. | Angie Lampert
Lampert's is a name barbecue fans are familiar with. Father-daughter team Larry and Angie Lampert have been serving the good stuff in Webster Groves, Rock Hill and Maryland Heights just in the last few years. Their operation in Maryland Heights closed last year, but the Lampert's have taken over the shack (literally) formerly known as BJ's BBQ -- you might recognize it as the barbecue shack in the parking lot of Walgreens at Manchester and McCausland. After a little upgrade, it is set to open next week as Lampert's Q-Shack.
See also: Waldo's Wings to Replace Lampert's BBQ in Maryland Heights
The owners of BJ's apparently just walked away one day, and the Lamperts know the owners of the used car lot adjacent to Walgreens, who own the shack and asked if they knew anyone who might be interested. A week later, the Lamperts had the keys and were going to give it a go.
They operated Lampert's Q-Shack last fall from around August to November to get a feel for the traffic, customers and what exactly it would take to run. But now, it's opening in earnest with the addition of a full deck on the front and a covered patio on the side. It's still a walk-up counter, but now there are more than 40 outdoor seats.
"We're keeping it down and dirty barbecue -- pulled pork, pulled chicken, rib tips, a half chicken, polish sausage, and then your sides, potato salad, cole slaw, baked beans," Angie Lampert tells us, adding that they want to keep lunch under $9. "It's nothing fancy. I'm not a chef, Larry's not a chef. We like to go in, we like to have fun, make good barbecue, meet our customers, make friends -- and if that means we can close up at 4 p.m. we do!"
Right now, Lampert's Q-Shack will be open Thursday through Saturday, beginning February 5. Come Daylight Saving Time, it will be open Monday through Saturday.
"It's barbecue, you know? It's simple. This fancy business, like Wildsmoke or places like that -- no," Larry Lampert says. "Mike Johnson is doing a great job, Pappy's does a great job. And these other people that come, in they try and do fancy stuff. We're not doing that. I'm too old for that!"
Gut Check is always hungry for tips and feedback. Email the author at Nancy.Stiles@RiverfrontTimes.com.
Follow Nancy Stiles on Twitter:
---