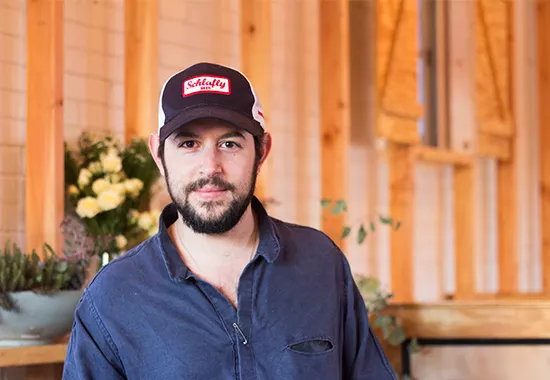 Ben Poremba of Old Standard Fried Chicken | Mabel Suen
Ben Poremba's culinary prowess was known around the halls of UMSL's philosophy department well before Old Standard Fried Chicken (1621 Tower Grove Avenue; 314-899-9000). "The head of the department used to call me its personal chef," he laughs. "I was always doing catering or cooking for parties as a way to supplement my income."
See Also: Old Standard, Ben Poremba's New Fried-Chicken Restaurant, Sets the Bar: Review
Poremba's turn as a philosophy student could be taken as a diversion from his culinary vocation, but he doesn't see it that way. Born into the business to a mother who was a chef and culinary personality in Israel, Poremba always felt the call into the kitchen. But his other love, philosophy, led him to the halls of UMSL, where he spent his days focused on Hegel and Marx rather than roux and charcuterie. With no plans to get a PhD, Poremba set out to combine his two passions by approaching culinary from an academic perspective. "When I studied in Italy at the Slow Food university [University of Gastronomic Science], they approached food as a cultural study," Poremba explains. "We learned about food culture -- not cooking. It was treated with the same respect as good poetry or prose, sociology or anthropology."
Poremba views Elaia and Olio as experiments in this way of looking at food. Even Old Standard is a sociological study. "Think of fried chicken and the rich American food culture that exists in the South," he says. "It's all related to history."
And if you want to know the etymology of the word "smothered," he can tell you that too.
Follow Cheryl Baehr on Twitter at @CherylABaehr. E-mail the author at Cheryl.Baehr@RiverfrontTimes.com.
---