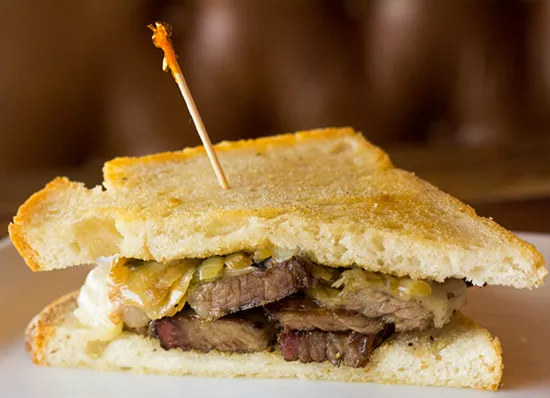 Winfield's "BBQ Burnt Ends Sourdough Melt." | Photos by Mabel Suen
As reported by Gut Check, Winfield's Gathering Place (10312 Manchester Road; 314-394-2200) opened in Kirkwood on January 19. The new venture from restaurant partners Mark Winfield and former Major League Baseball player Jim Edmonds -- who also co-own the Precinct together -- features a casual atmosphere and Southern-inspired cuisine.
See also: Winfield's Gathering Place Opens in Kirkwood January 19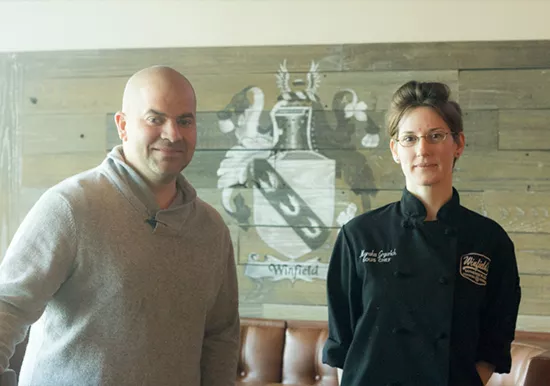 Owner Mark Winfield and executive chef Myraka Grgurich.
While Winfield's identifies as a sports bar and comes with the requisite crystal-clear flat screen TVs strategically placed around the bar and dining room, its choice of decor isn't overtly so. Instead, a few vintage family photos adorn wood-paneled walls, and neutral tones bring out the gleam of an open kitchen that takes up prime real estate in the space.
Chef Myraka Grgurich, who comes from Clayton's Saint Louis Club, recently stepped up to bat as the restaurant's executive chef, cooking up what she refers to as Winfield family recipes for Southern-style barbecue and more. She recommends the "BBQ Burnt Ends Sourdough Melt" with caramelized onion, roasted jalapeno, havarti cheese and guacamole, as well as the house brisket with a creamy "Alabama White" sauce. Some of Winfield's best sellers so far are the lobster wontons served with Sriracha-lemon aioli.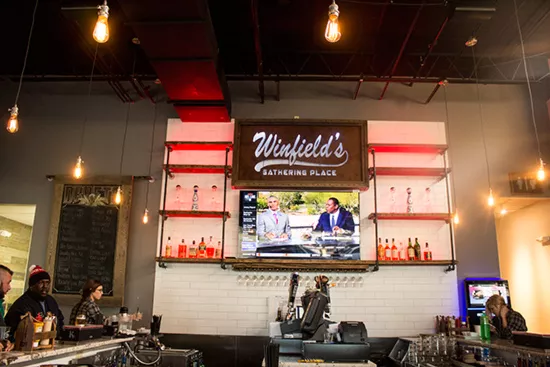 Those having a hard time deciding between the menu's large selection of appetizers, salads, flatbreads, sandwiches, barbecue and entrees can also refer to the "W" logo that appears throughout its pages for recommended signature dishes. The list includes the aforementioned sourdough melt as well as "Cajun BBQ Blackened Shrimp," "Linguine with Roasted Garlic Cream Sauce," "Jalapeno-Cheddar Au Gratin Potatoes" and more.
Winfield's Gathering Place's current hours are Monday through Saturday from 11 a.m. to 1 a.m. and Sunday from 11 a.m. to 10 p.m. For the full menu and additional information, visit the Winfield's Gathering Place website or follow it on Facebook.
Click through for more photos.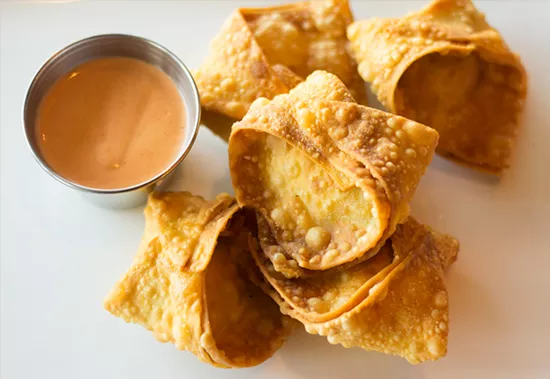 Lobster wontons with Sriracha-lemon aioli.
The dining room and open kitchen.
Another look at the dining room and bar.
Vintage family photos embellish the walls.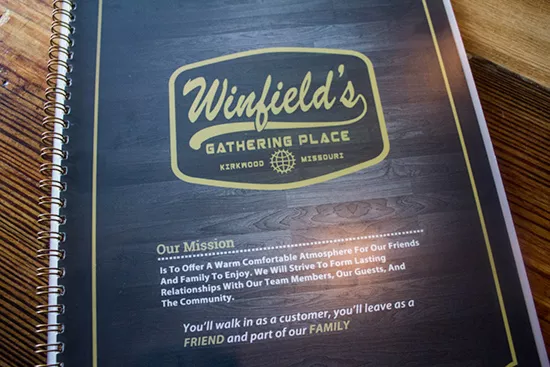 See also: - First Look: El Burro Loco - First Look: Al Forno É - First Look: Earthbound Brewing
Gut Check is always hungry for tips. E-mail us!