A slice of "Felix's Baby Back Pie." | Photos by Mabel Suen
The Place: Felix's Pizza Pub (6407 Clayton Avenue; 314-645-6565)
The Hours: Happy hour is offered Monday through Friday from 4 to 6 p.m.
The Deals: Buy a pitcher of beer and get any pizza for half off. $1 off of all drinks, shots, drafts and domestics.
See also: Dogtown: Where to Eat and Drink In St. Louis' Hibernian Hot Spot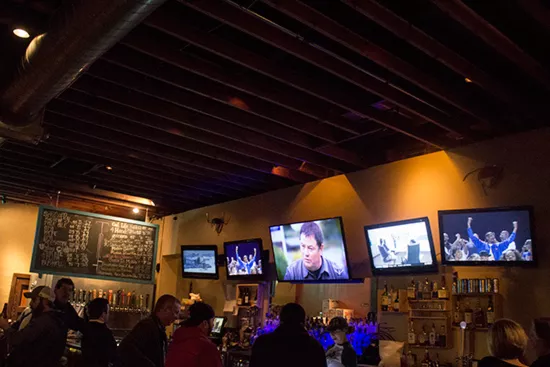 The Scene: After more than a decade of serving its New York-style pizzas in Dogtown, Felix's made the move to a much larger space just a stone's throw away from its original location. In December the new bar and restaurant opened up and rolled out an expanded menu, including a revised happy hour that focuses on its bread and butter: beer and pizza.
The new Felix's features a well-stocked bar lined with flat-screens, conveniently set up next to several tables for groups to gather. A separate dining room comes equipped with plenty more tables and booths, a cozy fireplace and amusements like a Pac-Man arcade cabinet, a claw machine and a digital jukebox.
Try some of Felix's chicken wings smothered in various sauces while you wait.
The Food: Chalkboards in both the bar and dining room display current tap offerings. At any given time, 21 draft beers are available to choose from, including familiar names such as Schlafly, Urban Chestnut, Civil Life, 4 Hands and Perennial Artisan Ales. Each pitcher costs between $17 and $23.
The menu of more than a dozen specialty pizzas includes bacon cheeseburger, a supreme-style pie and more adventurous options like coconut red-curry sauce or barbecue baby-back ribs.
Did Felix's make the grade? Find out on the next page.
The Verdict: The happy-hour deal features half-price twelve- or eighteen-inch pizzas -- with the exception of Felix's signature "Felix's Baby Back Pie." This option only comes in the larger size, and it's easy to see why. The thrown dough gets covered with a half slab of shredded ribs, green onion, barbecue sauce and a spicy rub. A not-so-delicate garnish of red curry slaw and three intact ribs tops it all off.
The monstrous pie came to the table oozing with hot melted cheese, accompanied by plates for sharing. Although the contents seemed overwhelming at first glance, the thin yet sturdy New York-style crust provides the perfect platform for delivering the melange of flavors. Spicy barbecue sauce paired well with supple pieces of pork, and the contrasting creamy slaw tied it all together without weighing it down.
Paired with a glass of Perennial's "Belgian Pale," the meal plays out like a hungry bar-goer's dream and certainly lends credibility to Felix's title of St. Louis' most underrated pizza. If you're not able to rustle up a small group to split this meal deal, don't worry -- you can get a pint and slice any time (excluding "Felix's Baby Back Pie") starting at just $5.95.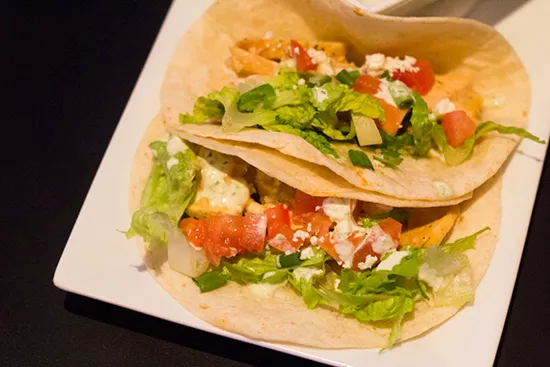 Another daily special features a pint and three tacos for $9.95.
The Rating: On a scale of one to five...
Previously on Happy Hour Handbook: - Tamm Avenue Grill - BaiKu Sushi Lounge - Van Goghz - Frazer's Restaurant & Lounge - The King & I - Sasha's - Nadine's Gin Joint - Juniper - United Provisions - Hammerstone's - Ranoush - Siam - SOHA Bar & Grill - Modesto - Square One Brewery - Cicero's - SqWires - Layla - Five Star Burgers - Central Table Food Hall - Planter's House - Atomic Cowboy - Stella Blues - Triumph Grill - Lola - Basso - Blue Ocean Sushi - Hwy 61 Roadhouse and Kitchen - Gringo - Jax Cafe - Mile 277 Tap & Grill - Sandrina's - Mangia Italiano - Kirkwood Station Brewing Company - Steve's Hot Dogs on the Hill
We're always looking for some more happy hour meal deals. E-mail the author at mabel.suen@riverfronttimes.com