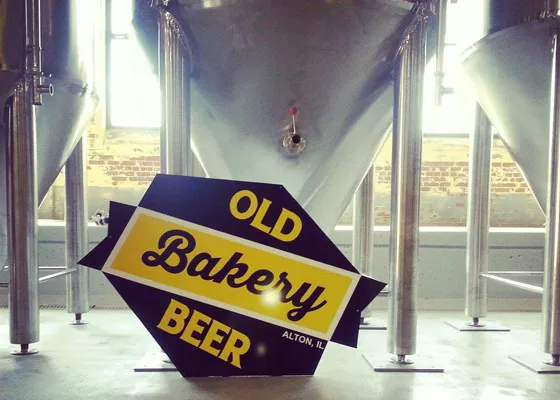 Old Bakery Beer Company. | Courtesy Old Bakery Beer
Alton's first craft brewery is now open. Old Bakery Beer Company (400 Landmarks Boulevard, Alton, Illinois) was alive and brewing as of Friday, January 23. The response was so overwhelming that the brewpub, which serves lunch and dinner, ran out of food pretty quickly. It hopes to have the kitchen back up and running by tomorrow, January 28.
See also: Old Bakery Beer Will Be Alton's First Craft Brewery
Old Bakery is currently offering six house-brewed beers, which are made with 100 percent certified organic malts and hops made in the U.S. Right now, there's a porter, an English pale ale, India brown ale, rye pale ale, magnum pale ale and a dark mild. The brewery was founded by two Urban Chestnut alums, Lauren Pattan and James Rogalsky, who are both from Alton.
The brewery's name comes from the historic building where it is located. "People in our parents' generation remember going downtown when they were little and it smelling like bread baking," Pattan told us last March. "We wanted to give a nod to the history of that area. People in Alton will know exactly what you're talking about when you say 'The Old Bakery.'"
There's also a limited menu of sandwiches (BLT, tofu banh mi, grilled cheese, Cuban, roast beef), salads (caesar, greens, turnip, kale) and snacks (cheese board, chips, pretzels, hummus), which will rotate seasonally.
Old Bakery Beer is open Wednesday and Thursday from 11 a.m. to 11 p.m., Friday and Saturday from 11 a.m. to 1 a.m. and Sunday from 11 a.m. to 11 p.m. It's closed Monday and Tuesday. For more info, follow the brewery on Facebook and Twitter.
Gut Check is always hungry for tips and feedback. Email the author at [email protected].
Follow Nancy Stiles on Twitter:
---