Welcome to Sugar High, a series devoted solely to spotlighting the best ways to sate a sweet tooth in St. Louis. We'll sample the best the city has to offer at restaurants, bakeries and holes-in-the-wall, and provide some insight on how these confections are made along the way.
Living Room's peanut-butter chocolate-chip cookie. | Photos by Mabel Suen
Since opening in mid-December, Living Room (2808 Sutton Boulevard, Maplewood; 314-306-7626) has taken care in pairing small-batch roasted, single-origin coffees from around the world with a variety of from-scratch baked goods. The sweets selection varies by day and includes everything from cinnamon rolls and quick breads to baker Nate Larson's personal favorite: his peanut-butter chocolate-chip cookie.
See also: A Look Inside Living Room, A New Coffeehouse in Maplewood
Baker Nate Larson in the kitchen.
The self-taught baker describes his style as "simple and generous," tending toward rustic portions large enough for leftovers or sharing. His take on the classic flavor combination begins with a chunky peanut-butter base enriched with egg, vanilla and brown sugar. The dense batter gets contrasting flavor and texture from the addition of bittersweet chocolate chips, baking soda, and a coating of kosher salt and sugar.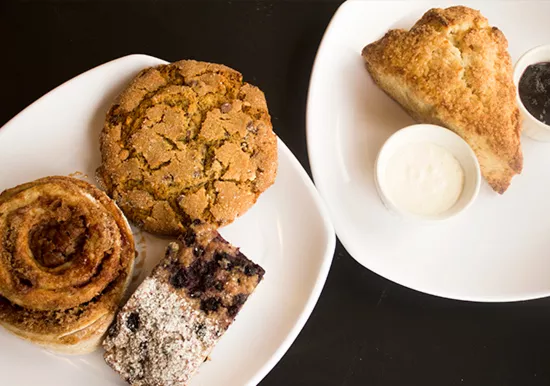 A selection of Living Room's baked goods.
In the oven, the cookie forms a crinkly crust with crispy edges while maintaining a chewy, rich center -- a texturally complex dessert that has earned it the name of "the next-level cookie" among its already loyal followers. Look for Larson's cookie among regular weekday options, including scones and cinnamon rolls. Over the weekends, catch them alongside a rotating cast of sweet and savory galettes, quiche and more.
Previously on Sugar High: - Stimulus Baking Company's Pad-Thai Cupcake - La Bonne Bouchée's Strawberry-Mousseline Cake - Pie Oh My's Pumpkin-Maple Pecan Pie - Annie Moons' Banana-Split Muffins - Cyrano's Carrot Cake - Whitebox Eatery's Cheese Pastry - Comet Coffee's Mousse Cakes - Whisk's Apple-Cinnamon "Pop Tartlets" - The London Tea Room's Blueberry-Lemon Cake - Corner 17's Fluffy Ice - The Fountain on Locust's "Banana Bourbon" Sundae - Vinnie's Pinwheel Baklava - Red Fox Baking & Catering's Lemon Tart - Sugarfire Smokehouse's Crack Pie - Russell on Macklind's Coconut Cake - The Kitchen Sink's Sweet Potato Fries - Giovanni's Kitchen's Panna Cotta Trio - Crepes Etc.'s Crepe Cake - Cafe Ventana's Beignets - Frida's Raspberry-Chocolate Avocado Mousse - India Palace's Gulab Jamun - Melt's "Violet Beauregarde" Waffle - Brevan's Patisserie's "Brendan" - Winslow's Home's Chocolate Cake with Espresso Meringue - La Patisserie Chouquette's Eclair - Black Bear Bakery's Raspberry Oat Bar - Gelateria's London Fog Gelato - 4 Seasons Bakery's German Cheesecake - Libertine's "Candy Bar" - Cleveland-Heath's Old Fashioned Cherry Pie - Schlafly Tap Room and Bottleworks' Sticky Toffee Pudding
We're always looking for some sweet ideas. E-mail the author at mabel.suen@riverfronttimes.com.