The "Blood Moon." | Patrick J. Hurley
The Drunken Vegan, a.k.a. Patrick J. Hurley, is a full-time barman at the Civil Life Brewing Company and cocktail enthusiast about town. He's an unapologetic drunkard, a vegan and a bon vivant, and, no, he doesn't think those last two terms contradict each other.
Lafayette Square's Element (1419 Carroll Street Street; 314-241-1674) recently brought on a new chef and bar manager. Recently promoted executive chef Brian Coltrain will be focusing on what he calls contemporary comfort food. The real fun is upstairs in the lounge, though. There, bar manager Sasha Alms has put together a brand-new cocktail list with the help of his talented staff -- plus the lounge menu will bring street food indoors.
See also: Ancho Reyes, a Spicy Chile Liqueur, Arrives in St. Louis
"We want to feature all types of street sandwiches," Alms says. There is a plancha [a Spanish sandwich press] behind the bar where sandwiches will be cooked to order. Five different options should be on offer at any time, including a grilled cheese as well as a vegetarian selection.
These plates come garnished with housemade pickles and a changing selection of vegetable crisps. We tried the local heirloom carrot chips (sweet and earthy) and the Szechuan pepper potato chips (crisp with a lip-numbing tingle), both of which were great accompaniments to the sandwiches as well as the cocktails.
The "Greco." | Patrick J. Hurley
We also tried two veggie sandwich prototypes. The "Greco" combined olive tapenade, spinach, tomato and shaved onion. The "Forager" was packed with wild mushrooms, oven-dried tomato pesto, fried rosemary and bitter greens.
Wild mushroom goodness on the "Forager." | Patrick J. Hurley
Alms and his fellow bartenders were putting the finishing touches on the drink list, which will offer ten cocktails for $8 apiece. "A cocktail list is hard," bartender Joshua Johnson says. "You want it to reflect the staff."
"Fifty Shades of Pink." | Patrick J. Hurley
"Fifty Shades of Pink" is a beautiful Champagne cocktail, with Hayman's gin infused with apple, spice and tea and a flamingo syrup with apple, berries and spice. It's not too sweet, and it's got some warm spice on the nose. The apple and spice balance the botanical notes in the gin, and the Champagne keeps it light and refreshing.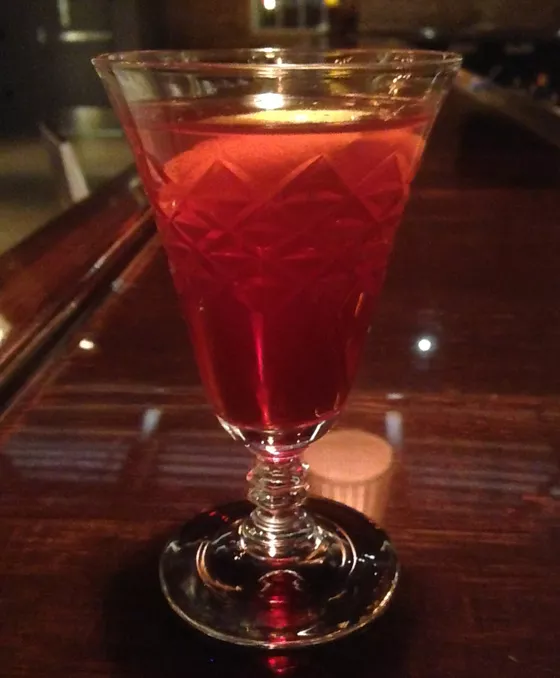 The "Pendergast" with Kansas City whiskey. | Patrick J. Hurley
The "Pendergast" features J. Rieger's whiskey from Kansas City along with vermouth. This Manhattan-like drink has some nice vanilla and spice with clean bitterness and subtle herbaceous notes.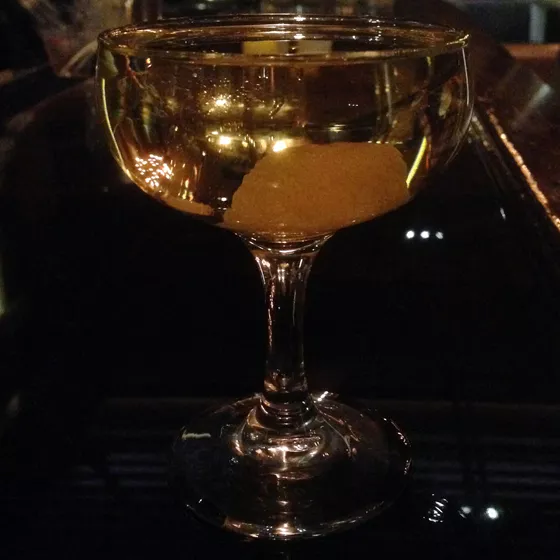 Yellow Chartreuse tones down the sting of tequila in the "Yellow Jacket." | Patrick J. Hurley
Johnson came up with the "Yellow Jacket," which combines reposado tequila, yellow Chartreuse and St. Germain. It's a little smokey with some subtle herbal and floral notes on the palate. The drink is sweet at first, with layers of spice and a nice, lush mouth feel. The tequila returns on the finish with lingering smoke.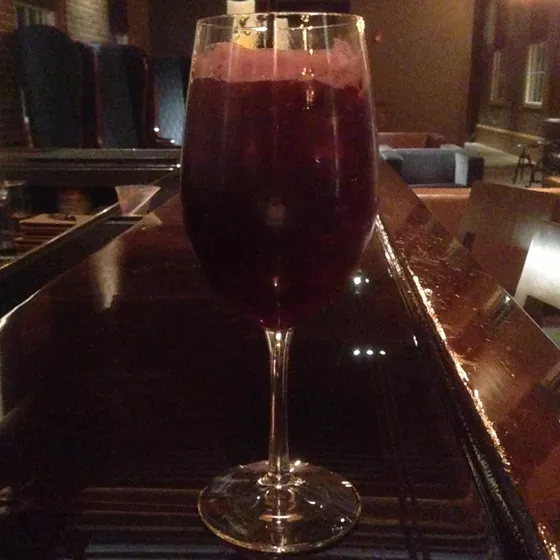 "In Vino Veritas." | Patrick J. Hurley
Bartender Siobhan Sheil offers her take on classic sangria called "In Vino Veritas." "In wine there is truth --" Sheil says, "and Jameson Irish Whiskey." Besides being a nod to Sheil's birthplace, the addition of Irish whiskey is an inspired move. The fault of most sangrias is that they're just not strong enough. This one is big and earthy with some orange citrus and a nice kick. It's a great winter sangria.
And if you don't make it upstairs to the lounge this winter, the rooftop patio will be waiting this spring, when Alms and his crew will be offering single-serving bottled cocktails. They're extra cold and highly carbonated. A couple of these might just make a hot and muggy St. Louis summer night bearable.
Follow Patrick J. Hurley on Twitter at @VeganDrunkard. E-mail the author at Patrick.J.Hurley@HurleyHouse.com.
---