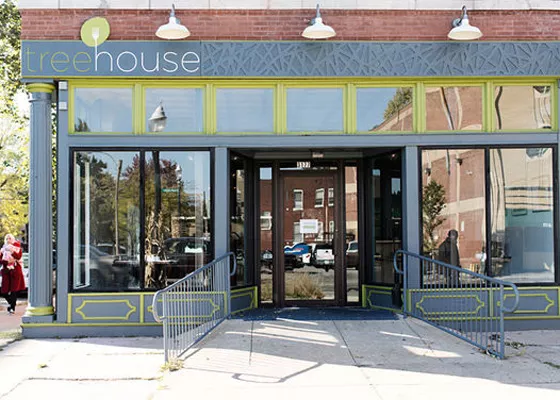 Stop by the Tree House after-hours for the first STL Vegan Drinks event.
We can hardly believe January is already over. Well, almost. Finish it up with a bang with a wild game dinner, or pretend you're in New York at the James Beard House with Josh Galliano. Continue on for our food-related recommendations.
See also: Anheuser-Busch Buys Seattle Craft Brewer Elysian Brewing
Monday (Jan. 26):
STL Vegan Drinks Happy Hour @ The Night Owl at Tree House
This is the inaugural event for STL Vegan Drinks. All of the food and drinks will be suitable for vegans. The snack menu is $5 per item: crabcake po'boy with house remoulade, pickled radish and pea shoots, Bao Dumpling with house kim chi, Togarashi cheese popcorn, hand-cut seasoned french fries with curry aioli and crudite with fresh-herb-tahini ranch. From 7 to 10 p.m. Admission is free.
Cooking at the Cottage @ Stone Soup Cottage
Chef Carl McConnell will demonstrate how to create three different dishes from the January menu. Enjoy a pre-cooking seasonal cocktail or glass of wine when doors open at 6 p.m. There will also be three-ounce wine pairings for the second and third courses. The menu for tonight includes an amuse Bouche, served with a glass of sparkling wine, winter mushroom beignet with lemon and herb velouté and french truffles, fennel sausage ragout with duck confit and demi-glace and crème brûlée with rosemary essence. From 6:30 to 9:30 p.m. Tickets are $65 per person; call 636-244-2233 for reservations.
Josh Galliano's James Beard Dinner @ The Libertine
Superstar chef is recreating the dinner he made at the James Beard House in New York City in October. Basically, this is a once-in-a-lifetime opportunity (unless you were at the James Beard House, that is). His menu, titled "Along the Mighty Mississippi" highlights ingredients that are found, yep, along the Mississippi. Start with Southern vegetables with guanciale powder, green goddess and crab stuffed zucchini flower. The second course is Vadouvan-cured cobia with tomato confit, fresh garbanzo hummus, socca and fennel pollen. Next it's hay-roasted coppa with pickled collards, field beans, buttermilk and sprouted wheatberry. The main course is whole roasted lamb with fried cauliflower puree, piquillos, coffee and olive oil. For dessert, it's satsuma curd with persimmon sticky toffee pudding, sorghum crumble, root beer sorbet and Kaldi's Coffee. There's a cocktail reception at 6 p.m. followed by dinner at 7. Tickets are $110 per person; call 314-862-2999 for reservations.
Wednesday (Jan. 28):
Wild Game Dinner @ Stone Soup Cottage
Enjoy a one-of-a-kind meal at Stone Soup's third annual Wild Game Dinner. Start with an amuse bouche of smoked rabbit served with buttermilk and sage biscuit, demi glace and mustard. The first course venison garbure with white beans and vegetable brunoise, followed by roasted chucker à l'orange with winter greens and bacon. The third course is Maine lobster beignet with young carrots, lemon, dill and butter, then it's antelope osso bucco with mushrooms, sherry and foie gras. For dessert, enjoy warm blueberry and pecan cake with maple gelato. There will also be wine flights for the first, second, third and fourth courses. There's a cocktail reception at 6:30; dinner starts at 7 p.m. Tickets are $150 per person. Call 636-244-2233 for reservations.
Thursday (Jan. 29):
History of Microbrewing in St. Louis @ Maplewood Public Library
Stephen Hale of Schlafly will take guests through the history of microbreweries in St. Louis, an industry that was thriving pre-Prohibition and has come back in a big way in the last 25 years. From 6:30 to 7:30 p.m. Admission is free.
Four Roses Culinary Dinner @ 360 St. Louis
The evening will begin in the Grand Hall at Union Station for a bourbon cocktail and hors d'ouevres. Then a trolley will take guests over to the Hilton at the Ballpark for dinner at 360. Each of the six courses will be paired with a Four Roses bourbon cocktail. You'll start with a cheese and salumi board, then enjoy bourbon-poached shrimp with mint julep granita. Then it's lightly smoked, pan-seared duck breast bruléed with bourbon sugar and served on fresh endive. Next you'll have pan-seared scallops served on top of red beet purée with roasted Brussels sprouts and bacon bourbon jam. The next course is bourbon-braised pork shoulder taco with cherry barbecue sauce with spicy cilantro creme fraiche topped with radish slaw on warmed corn tortillas. If you've got room, next it's pepper-crusted KC strip, pan-seared and served with sweet potato mash, wilted baby spinach and peach bourbon sauce, followed by a surprise dessert. From 6:30 to 9:30 p.m. Tickets are $85 each, call 314-641-8842.
An earlier version of this post listed Taco Tuesday at Lucky's Market. That even has been discontinued.
Gut Check is always hungry for tips and feedback. Email the author at [email protected].
Follow Nancy Stiles on Twitter:
---