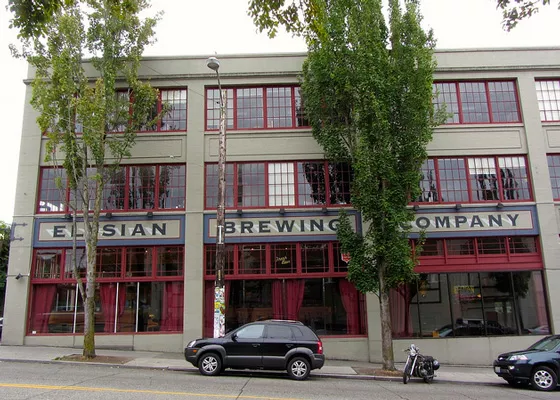 Anheuser-Busch is continuing its foray into the craft beer game: the acquisition of Seattle brewer Elysian Brewing was announced today. The buyout includes the brewery and its four area brewpubs. Elysian was founded in 1996 and currently distributes to eleven states, though not Missouri (yet).
See also: Anheuser-Busch Leaves Competitors in the Dust in Missouri Beer Sales
The craft breweries in St. Louis and elsewhere are ever-so-slowly encroaching on the beer industry market share help by big companies like Anheuser-BuschInBev and MillerCoors. It's not surprising then that A-B has been expanding its portfolio over the past few years to include more niche brands like Goose Island, Shock Top, Landshark, Beck's and now Elysian.
The brewery's partners and co-founders, Joe Bisacca, Dick Cantwell and David Buhler will continue on with the company. Elysian sold over 50,000 barrels of beer last year. Its best-known brew is the Immortal IPA, a medium-bodied "Northwest interpretation of a classic English style, golden copper in color and loaded with New World hop flavor and aroma," with a 6.3 percent ABV.
"Throughout our journey we've been focused on brewing a portfolio of both classic and groundbreaking beers and supporting innovation and camaraderie in the beer industry through collaboration and experimentation," co-founder and head brewer Cantwell said in a statement. "By joining with Anheuser-Busch we'll be able to take the next steps to bring that energy and commitment to a larger audience."
Representatives for Elysian and Anheuser-Busch did not immediately respond to requests for comment.
Gut Check is always hungry for tips and feedback. Email the author at Nancy.Stiles@RiverfrontTimes.com.
Follow Nancy Stiles on Twitter:
---