Al Forno É's "Pizza Alfredo" with herbs, artichokes, spinach and cherry tomatoes. | Photos by Mabel Suen
There's something special about Melville Avenue, a short strip of storefronts off of Delmar Boulevard's main drag. It's been home to everything from the Korean-Mexican fusion restaurant Seoul Taco to the traditional Indian cuisine of Taj Mahal. Last month, yet another ethnic eatery set roots on the all-too-easily overlooked street, and its contents bear a one-of-a-kind style of pizza worth the slight detour.
According to chef-owner Mario Esquivel, Al Forno É (567A Melville Avenue; 314-757-6542) is Italian for "it's in the oven." The native Guatemalan received formal culinary training in his father's hometown of Calabria, Italy, and opened his own Italian-food catering business in Clayton after moving to St. Louis three years ago.
Chef-owner Mario Esquivel.
With Al Forno É, Esquivel hopes to serve up his own take on a Calabria-style pie. He describes the crust as a medium-style thickness and tops it with the shop's specialty: wine-based pizza sauce. The Cabernet Sauvignon tomato sauce comes on several pies and accompanies a variety of equally intriguing cheeses -- red-wine cheese, smoked gouda, French brie and chipotle gouda, to name a few.
Other options include a "Pizza Alfredo" with a white-wine sauce, herbs, artichokes, spinach and cherry tomatoes, as well as a "Pizza Pesto" with housemade pesto, herbs, mozzarella, provolone and cherry tomatoes. These specialty selections cost between $16-$17 for entire pies, while simpler cheese and pepperoni options are available for $3 a slice.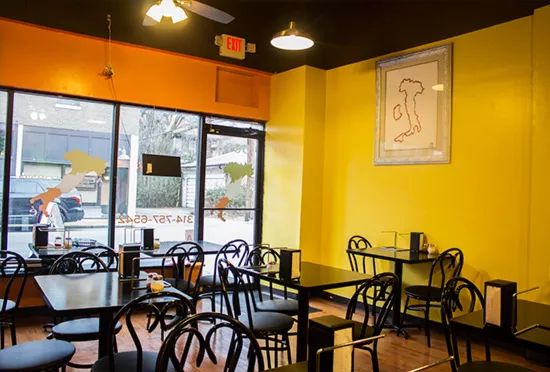 Al Forno É's current hours are 8 a.m. to 9 p.m. daily. Esquivel will feature a rotating breakfast menu that includes items such as scrambled eggs, pancakes, biscuits and gravy, and sausage. Wander in to check out additional daily specials including pastas, toasted ravioli, $5 nine-inch personal pizzas and more.
Click through for more photos.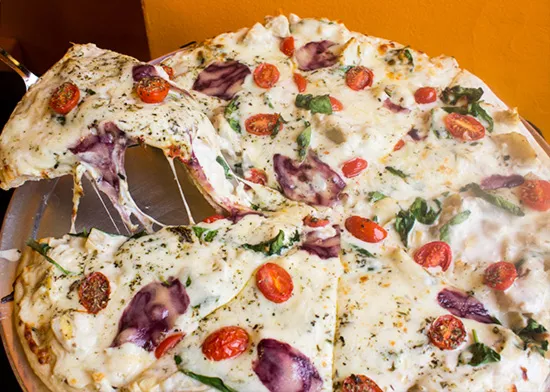 Standard red-pepper flakes and Parmesan on standby.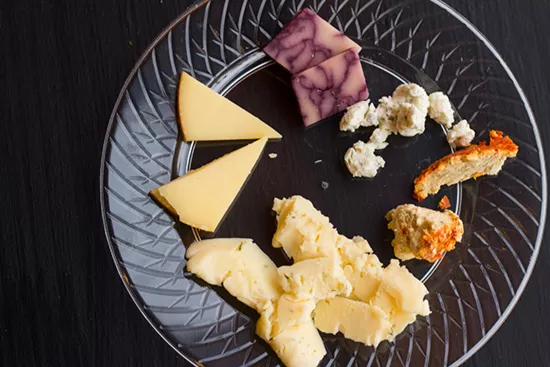 Al Forno É pizzas feature a variety of cheeses including red-wine cheese, smoked gouda, French brie, provolone, mozzarella, fontina and chipotle gouda.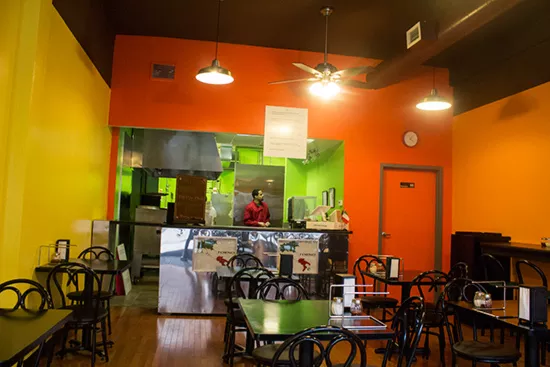 Order at the counter to dine in or carry out.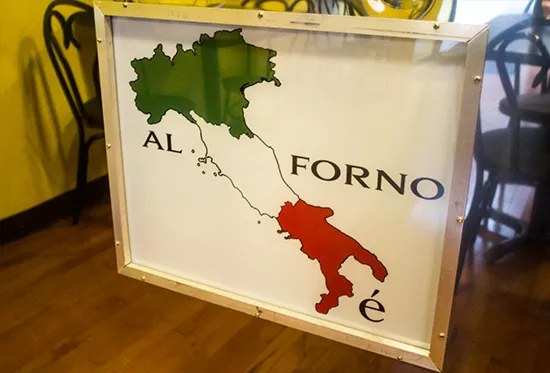 "It's Italian tradition -- If you go into someone's house, you never say no to a cannoli," Esquivel says.
Delivery is available in Clayton and University City.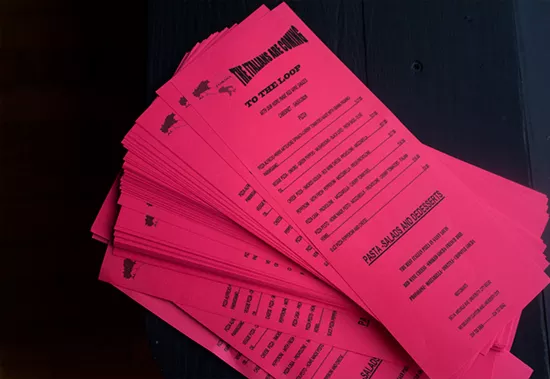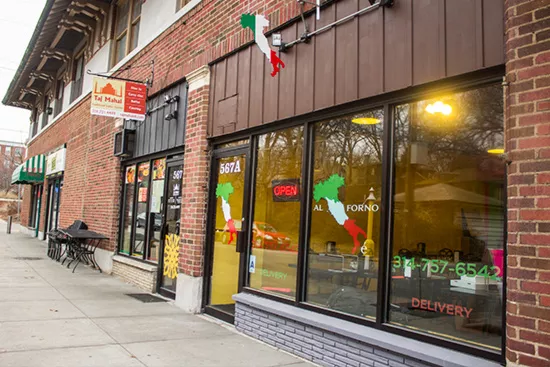 Now open in University City.
See also: - First Look: Earthbound Brewing - First Look: Living Room - First Look: Pizzino - First Look: Ryder's Tavern
Gut Check is always hungry for tips. E-mail us!