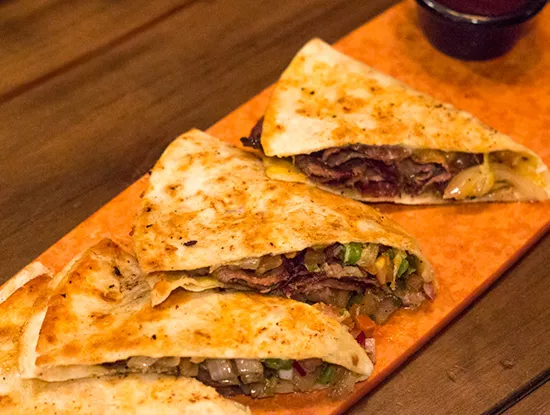 Tamm Avenue Grill's beef-brisket quesadilla. | Photos by Mabel Suen
The Place: Tamm Avenue Grill (1227 Tamm Avenue; 314-261-4902)
The Hours: Happy hour is offered Monday through Friday from 4 to 7 p.m.
The Deals: $2 domestic beers, $3 well drinks and a selection of full-size plates for $5 each.
The dining room at Tamm Avenue Grill.
The Scene: Dogtown's Tamm Avenue Grill coins itself as a "gastro sports pub," regularly offering up a full menu of appetizers, burgers, salads, flatbreads, sandwiches and more. Six flat screens emit a low glow through the dim space, which is divided into a few separate areas: a bar at the entrance, a room for dart throwing and amusements, and a dining area that by day shares its seating with the Corner Cup.
The Food: Happy-hour food specials include barbecue nachos, a quesadilla, a cheeseburger, and five different flatbreads: veggie, supreme, pesto chicken, "the Caveman" with four meats, and "Smokers" with a choice of house-smoked pulled chicken, beef brisket or pulled pork.
Did Tamm Avenue Grill make the grade? Find out on the next page.
Happy-hour selections at Tamm Avenue Grill. | Photos by Mabel Suen
The Verdict: Tamm smokes its own meats in house, and the attention to detail makes otherwise standard bar dishes pop. Skip the true-to-its-name "Plain Jane Cheeseburger," which comes out well-cooked regardless of the temperature provided, and opt for a more flavorful option. The nachos with queso, tomato, peppadew peppers and a heavy-handed drizzle of barbecue sauce fulfill that combination savory-sugary craving, if you're into that sort of thing -- just avoid them if you don't like somewhat-cloying sweetness in your snacks.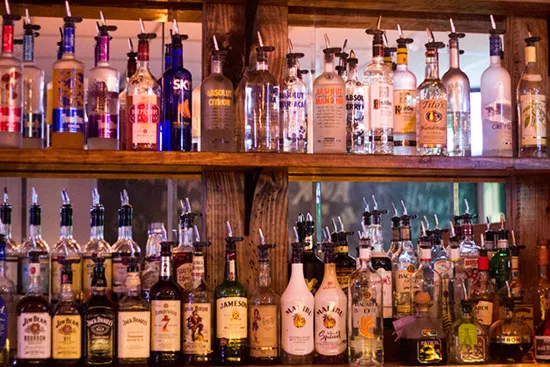 The pesto-chicken flatbread with feta is just that -- no more, no less -- though we're curious if the "Smokers" would have left us more impressed. After all, smoked brisket is an option as a topping, and it's what won us over ultimately in our favorite dish: the house quesadilla. Mixed cheeses, pico de gallo, caramelized onions and tender beef brisket get pressed between layers of warm flour tortillas, and the resulting melty goodness alone is enough to merit a return visit. At only $5 per plate, there's plenty of change leftover to throw some darts or have a couple drinks over the game.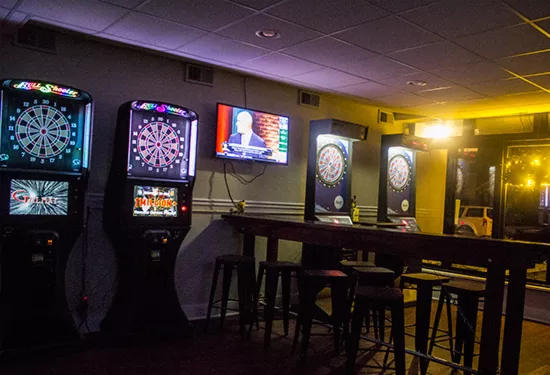 The Rating: On a scale of one to five...
Previously on Happy Hour Handbook: - BaiKu Sushi Lounge - Van Goghz - Frazer's Restaurant & Lounge - The King & I - Sasha's - Nadine's Gin Joint - Juniper - United Provisions - Hammerstone's - Ranoush - Siam - SOHA Bar & Grill - Modesto - Square One Brewery - Cicero's - SqWires - Layla - Five Star Burgers - Central Table Food Hall - Planter's House - Atomic Cowboy - Stella Blues - Triumph Grill - Lola - Basso - Blue Ocean Sushi - Hwy 61 Roadhouse and Kitchen - Gringo - Jax Cafe - Mile 277 Tap & Grill - Sandrina's - Mangia Italiano - Kirkwood Station Brewing Company - Steve's Hot Dogs on the Hill
We're always looking for some more happy hour meal deals. E-mail the author at mabel.suen@riverfronttimes.com.