Espresso service at Living Room. | Photos by Mabel Suen
As reported by Gut Check, Living Room (2808 Sutton Boulevard, 314-306-7626) opened in Maplewood on December 16, offering specialty coffee roasts, from-scratch baked goods and more. Located next door to fellow newcomer Bolyard's Meat & Provisions (2810 Sutton Boulevard, Maplewood; 314-647-2567), the cozy space provides the perfect backdrop in the neighborhood to enjoy first-origin coffee, tea and light snacks.
See also: The Living Room Opens December 16 in Maplewood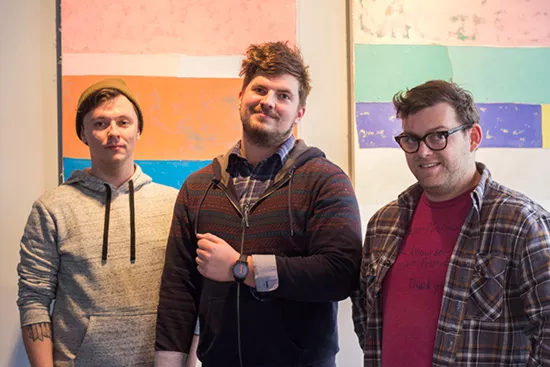 Jordan Howe, Chris Phillips and Nate Larson of Living Room.
Self-proclaimed "director of coffee" Chris Phillips and manager Jordan Howe encourage visitors to make selections based on the blends themselves, presented in cups for up-close evaluation. Coffee selections include espresso, lattes, cappuccinos, pour-overs, siphon pot, kyoto cold drip, and cold-press varieties, among others.
Cinnamon roll, peanut-butter chocolate-chip cookie, blueberry quick bread baked in house.
Baker Nate Larson whips up a variety of from-scratch treats daily including a rotating selection of cinnamon rolls, quick breads and cookies. On the savory side, try a breakfast sandwich, a simple bread and spread, or a "Bento Box" featuring Bolyard's meat. Living Room's current hours are Tuesday through Saturday from 7 a.m. to 3 p.m. For more information, visit the Living Room Facebook page.
Click through for more photos.
Living Room's cappuccino.
English-style scone served with jam.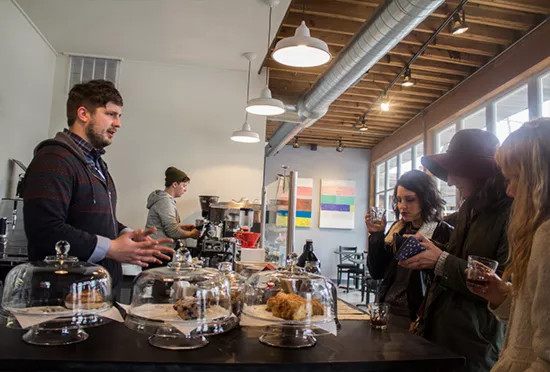 Chris Phillips and Jordan Howe behind the counter.
Assorted blends to choose from.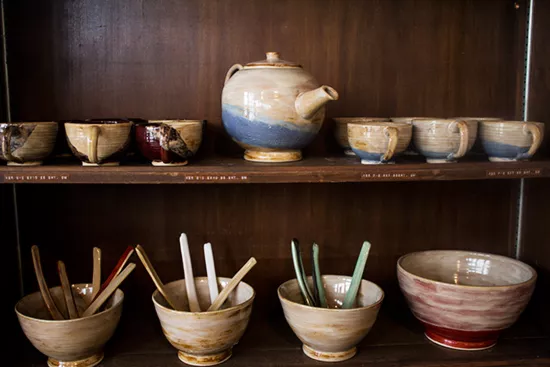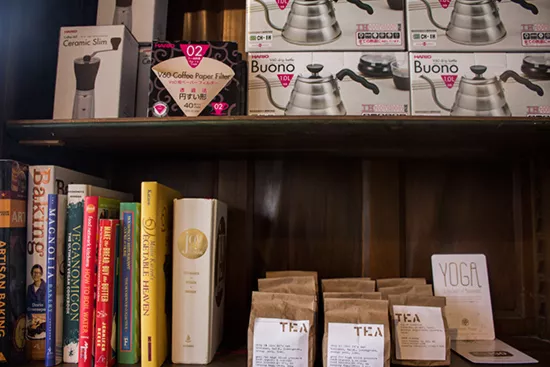 ReTrailer teas also available.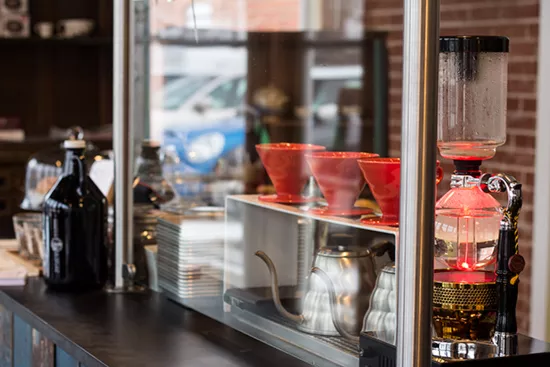 Another one of the shop's many brewing methods.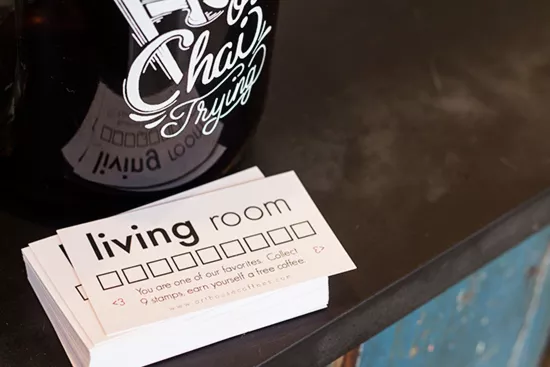 See also: - First Look: Pizzino - First Look: Ryder's Tavern - First Look: KimCheese - Creve Couer
Gut Check is always hungry for tips. E-mail us!