The chicken noodle soup at Grove East Provisions. | Jennifer Silverberg
It's been freezing outside lately, but at least that means it's the best time of the year for soup. Of course, you can have it year-round, but there's nothing better than cozying up on a cold night with some warm, creamy, delicious bowlful. There are tons of great options -- we especially like seasonal varieties -- but we've picked some of our absolute favorites, in honor of National Soup Month (January).
See also: The Six Best Ramen and Pho Dishes in St. Louis
Grove East Provisions (3101 Arsenal Street; 314-802-7090)
This is not the first time we've declared our love for the chicken noodle soup at Grove East Provisions. It'll make you rethink your decision to only slurp this classic when you're ill. The flavor-packed broth is practically a consommé and is filled with thick noodles and chunks of celery, onions and carrots. We recommend it with some crispy bread from Grove East collaborator Red Fox Baking.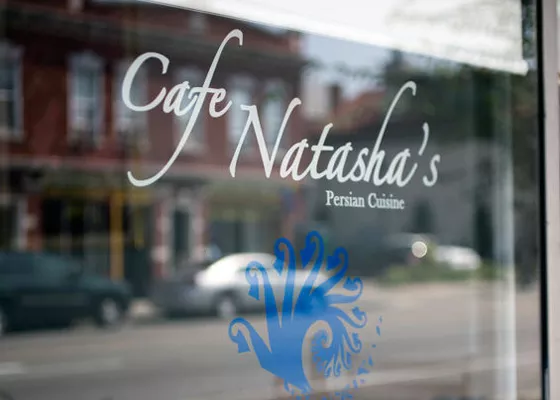 Cafe Natasha on South Grand. | Jennifer Silverberg
Cafe Natasha (3200 South Grand Boulevard; 314-771-3411)
Cafe Natasha only has one soup on the menu, and it's all that's needed. The "Signature Osh" is a homemade, Persian-style soup is hearty enough for a meal. It's made with legumes and whole grains, and topped with the restaurant's tangy yogurt sauce. Stick around once you're done for a spot of gin to further warm your insides at the Gin Room.
The lobster bisque at Three Kings. | Nancy Stiles
Three Kings Public House (6307 Delmar Boulevard, University City; 314-721-3355)
When the temperature is below freezing, we've been known to dash across the street and post up inside the dark, warm interior of Three Kings for a beer and a cup of lobster bisque. This creamy soup never disappoints, arriving piping hot with a side of crackers. The cup is the perfect starter size, though it'll leave you wanting more of the pink-hued bisque. Order a bowl if you're really cold, and finish off with a fresh beer from one of Three Kings' rotating taps.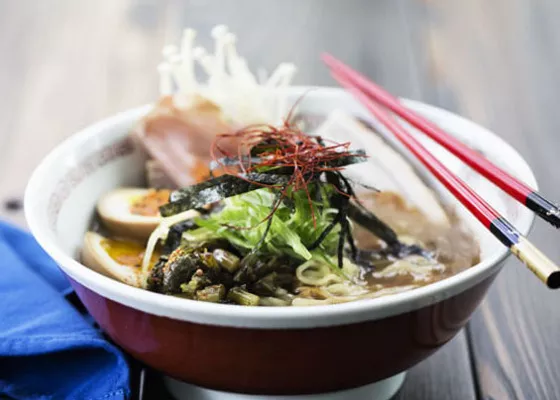 Ramen at Death in the Afternoon. | Jennifer Silverberg
Death in the Afternoon (808 Chestnut Street; 314-621-3236)
Death in the Afternoon chef Nick Martinkovic left last month, but the ramen is still on point. It's the signature entree (at least for lunch) and is serious comfort food. There are two varieties -- chicken ramen with mushrooms, a soft boiled egg, pork belly and housemade noodles, and turnip miso ramen with cured vegetables, a soft boiled egg, mushrooms and whole wheat noodles.
Onion soup at Brasserie. | Jennifer Silverberg
Brasserie (4580 Laclede Avenue; 314-454-0600)
The onion soup at Brasserie is a decadent classic. Cozy up inside next to one of the French-style windows and watch people bustle around the Central West End who are much colder than you. The soup is rich and sweet, with a crust of gooey Gruyere cheese over the top. There are other treats at Brasserie, but the onion soup is a can't-miss.
Gut Check is always hungry for tips and feedback. Email the author at Nancy.Stiles@RiverfrontTimes.com.
Follow Nancy Stiles on Twitter:
---