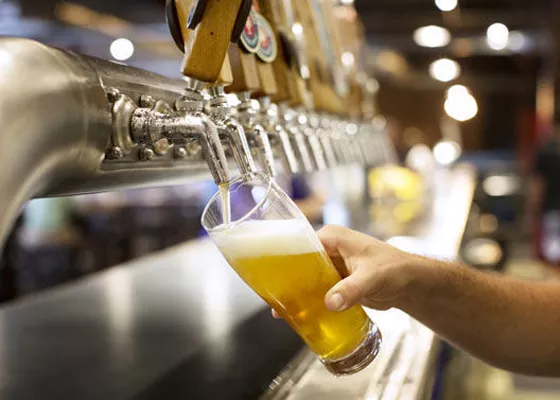 Pouring a Zwickel at Urban Chestnut's Grove Bierhall. | Jennifer Silverberg
St. Louis craft brewery Urban Chestnut is returning to its roots and has purchased a brewery in Wolnzach in the Hallertau region of Bavaria in Germany. Co-founder Florian Kuplent actually went to school in the area, about 30 minutes north of Munich, and is familiar with the area as he visits family in Germany and buys ingredients a few times a year. We talked to Kuplent about Urban Chestnut's continuing growth and what the German outpost's role will be in the company.
See also: Bottled Wisdom: An Oral History of St. Louis' Craft-Beer Movement
"There's kind of a craft beer movement going on in Europe and also in Germany, so we started looking at options and seeing if we could participate," Kuplent tells us, noting that Urban Chestnut has been sending beer to Germany over the past year and participated in a few festivals. "We heard about the brewery that was for sale and things started happening -- we ended up buying it last week. [It was] a little quicker than was originally planned, but it was a great opportunity."
There are, of course, many longtime breweries in Germany, but Kuplent says newer places have been popping up, mostly in cities, and established breweries have been trying out "specialty" brews like pale ales and IPAs. The Hallertau region, where the new Urban Chestnut is located, is also the largest hop-growing area in the world, as well as centrally located, which makes it especially advantageous.
Urban Chestnut is currently working out all the details, and plans to hire a general manager, a brewmaster and someone to handle marketing. Kuplent hopes to begin brewing within a few months. The St. Louis breweries will send beer over there, but the plan is to produce beers that are special to the Wolznach brewery, though some of those will be sent back here as well.
"That's going to be a lot of collaborating and exchanging ideas and seeing what works, what doesn't work and all that kind of stuff," Kuplent says. For now, you can get St. Louis-made beer at Urban Chestnut's two locations, in Midtown and in the Grove. But we can't wait for some of that sure-to-be delicious Deutsche bier.
Gut Check is always hungry for tips and feedback. Email the author at Nancy.Stiles@RiverfrontTimes.com.
Follow Nancy Stiles on Twitter:
---