Ryder's Tavern | Mabel Suen
Bars used to have a modestly sized television in the corner where patrons could track the progress of the game, or the news, or maybe even a Mexican soap opera. These days, it seems every wall is covered with massive plasma screens bleating out a steady stream of noise and drawing everyone into a malignant web. Sometimes you just want to have a couple of drinks and a chat.
Luckily, there are still a few local watering holes left where one can enjoy the pleasant social experience of going to a bar without the constant distraction of television. Here are our ten favorite spots to go enjoy a conversation and avoid the Super Bowl.
See also: The Night Owl Is the Not-So-Secret Spot Upstairs from Tree House
Ryder's Tavern (4123 Chippewa Street; 314-899-9343)
Ryder's opened just a couple of months ago in the spot formerly occupied by the much-loved Bleeding Deacon. It's dark and cozy, the perfect place to hang out and drink local beer or a shot of booze. The bartenders are friendly and the patrons an eccentric mix with plenty of neighborhood regulars. With a free pool table and one of the best jukeboxes in town, Ryder's doesn't need a TV. Ryder Murphy himself is often behind the bar. "As long as I own this place, we'll never have a TV," he says.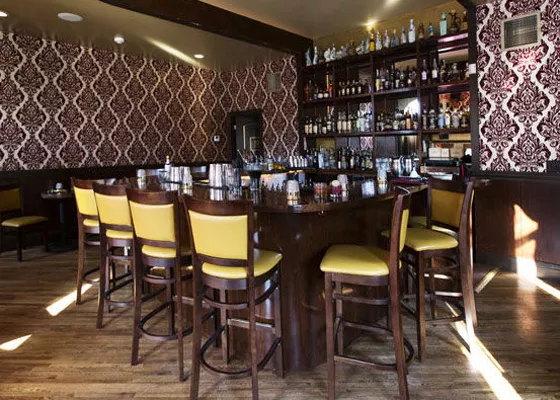 The bar inside Planter's House. | Jennifer SIlverberg
Planter's House (1000 Mississippi Avenue; 314-696-2603)
When you're drinking the best cocktails in town, you don't need much else. Watch the experts at work. If you need to fasten your eyes on something interesting above the bar, check out the hundreds of bottles of premium booze. Enjoy a seasonally changing list of first-rate drinks and learn a little about the history of mixology from St. Louis' finest.
Crow's Nest | Jennifer Silverberg
Crow's Nest (7336 Manchester Road, Maplewood; 314-781-0989)
You may see an art film or a cult classic projected on the wall next to the bar, but the sound is off. No, it's not TV. Those weird film sequences start conversations instead of ending them. Grab a beer or some cheap booze and enjoy this laidback hangout. Share some waffle fries with a friend. If you're lucky, KDHX's Al Swacker will be serving up your drinks and playing some great rockabilly.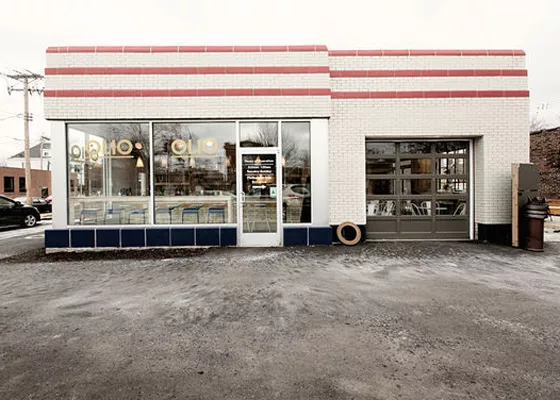 Olio in Botanical Heights. | Jennifer Silverberg
Olio (1634 Tower Grove Avenue; 314-932-1088)
You don't need to watch old reruns when you are in one of the coolest bar spaces in the city. This former Standard Oil Station is now devoted to the refined pleasures of eating and drinking. The cocktail list changes each month and the wine list always features some weird surprises you won't find elsewhere. Those big front windows bring in a lot of light. Even on the coldest winter day, you'll feel toasty while you enjoy some TV-free day drinking. An old turntable provides the only entertainment you'll need -- besides the charming bartenders.
The Silver Ballroom | Mabel Suen
The Silver Ballroom (4701 Morganford Road; 314-832-9223)
If you're looking for the best place not to watch the game, this is it. The self-described "worst sports bar in St. Louis" won't be showing the game -- any game, ever. They've even hosted "Anti-Super Bowl" parties. A great selection of pinball machines provides plenty of entertainment, while a real jukebox churns out a steady stream of punk music. Get a 24-ounce can of beer and some quarters and test your skills.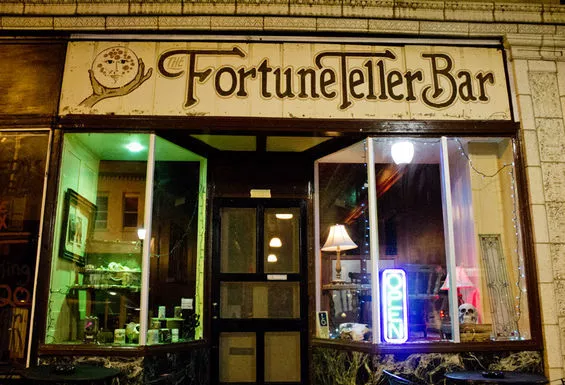 Fortune Teller | Mabel Suen
The Fortune Teller (2635 Cherokee Street; 314-776-2337)
There are bars where a TV would only detract from the eccentric décor. The Fortune Teller celebrates the arts of prognostication (from tarot to palmistry), as well as taxidermy, from the requisite deer head to a rabid-looking raccoon holding a beer in his loving clutches. There's plenty to see and plenty to drink, too. Have a Stag or a local craft beer. If it's cold, treat yourself to a hot cup of gluhwein.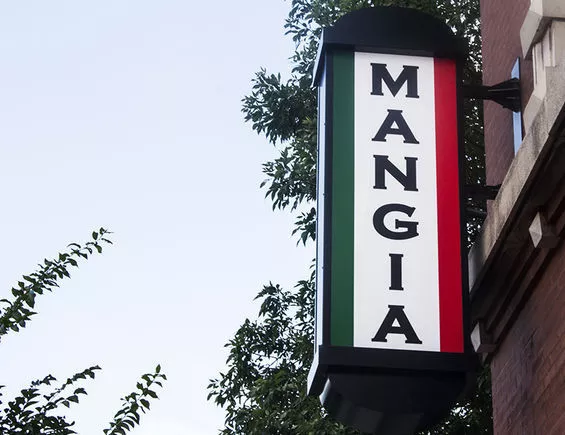 Mangia Italiano | Mabel Suen
Mangia Italiano (3145 South Grand Boulevard; 314-664-8585)
As the evening wears on and Mangia shifts from Italian restaurant to late-night bar, the focus is on music. Listen to a DJ or watch a great local band. There's plenty of beer and booze, as well as a solid wine list. Nothing on the tube could possibly compete with the massive mural painted by South Grand's own Wayne St. Wayne. You might even see our modern da Vinci there, paintbrush in one hand, can of beer in the other.
The Civil Life Brewing Company | Patrick J. Hurley
The Civil Life Brewing Company (3714 Holt Avenue)
Full disclosure: this author works behind the bar at the Civil Life, so you'll have to bear that in mind. But regardless, the beer's pretty good. The rye pale ale won a gold medal at the Great American Beer Festival in 2014. The space has an English pub feel, with plenty of dark wood and good cheer. The owner has been known to cart out an antique wreck of a TV with rabbit ears when the Cardinals are in the World Series. Otherwise, this spot is certified screen-free.
Dressel's Pub | Jennifer Silverberg
Dressel's Pub (419 North Euclid Avenue; 314-361-1060)
When Dressel's Pub passed from father Jon Dressel to son Ben Dressel, many things gradually changed. The lack of television did not. The father's quirky neighborhood pub gave way to the son's sophisticated gastropub, with an emphasis on farm-to-table cuisine, quality beers and spirits. It's still a great place have a drink and a bite with friends. And Jon Dressel's influence is still reflected in decorations featuring authors and musicians.
CBGB (3163 South Grand Boulevard)
South Grand's beloved dive bar has a lot to offer without a big screen filled with the angry HD-makeup-slathered faces of washed-up football players arguing the minutiae of the game. If you need to watch electrons dance on a screen, you can play Ms. Pacman. With good cheap booze and friendly regulars, you won't miss the din of the tube.
Follow Patrick J. Hurley on Twitter at @VeganDrunkard. E-mail the author at Patrick.J.Hurley@HurleyHouse.com.
---