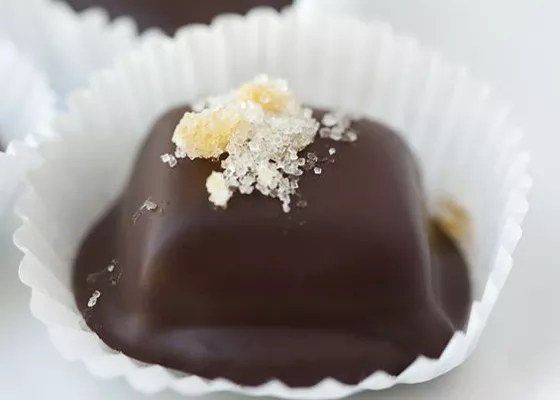 Kakao Chocolate. | Laura Ann Miller
The Good Food Awards were held last night in San Francisco, and almost 1,500 companies across the country were submitted in the spirit of making food items that contribute to a "tasty, authentic and responsible food system." Both Kaldi's Coffee (700 DeMun Avenue, Clayton; 314-727-9955) and Kakao Chocolate (2301 South Jefferson Avenue; 314-771-2310) were announced as finalists back in October.
See also: Kaldi's Coffee and Kakao Chocolate Nominated for the Good Food Awards
Entrants are judged in five regions and eleven categories. Kaldi's won for its Ethopia Dama coffee, which is a fair trade, organic bean with notes of jasmine, citrus and cocoa. Kakao won in the confections category with its Turkish Coffee Truffle, which was made with Stringbean coffee.
The winners get to participate in a Good Food marketplace this weekend, placing them in front of the public, buyers and vendors. The other Missouri winner was Patric Chocolate, based in Columbia, which won in the chocolate category for its PBJ OMG bar and in the confection category for its Red Coconut Curry Bar.
You can see the full list of winners here. Congrats, guys!
Gut Check is always hungry for tips and feedback. E-mail the author at Nancy.Stiles@RiverfrontTimes.com.
Follow Nancy Stiles on Twitter:
---