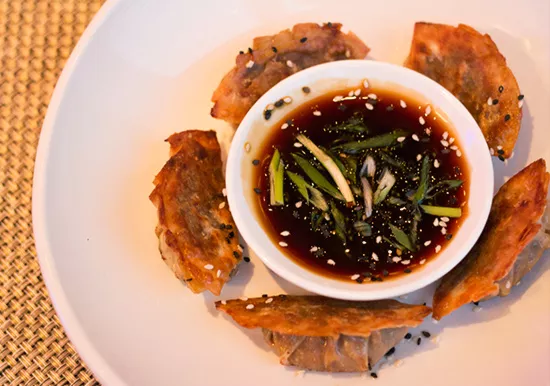 Steamed-shitake potstickers. | Photos by Mabel Suen
The Place: BaiKu Sushi Lounge (3407 Olive Street; 314-896-2500)
The Hours: Happy hour is offered Monday through Friday from 4:30 to 6 p.m.
The Deals: $3 Kirin and craft-beer bottles, $3 draft beers, $5 Sapporo Silver and Reserve, $3 well drinks, $6 house wines.
See also: First Look: BaiKu Sushi Lounge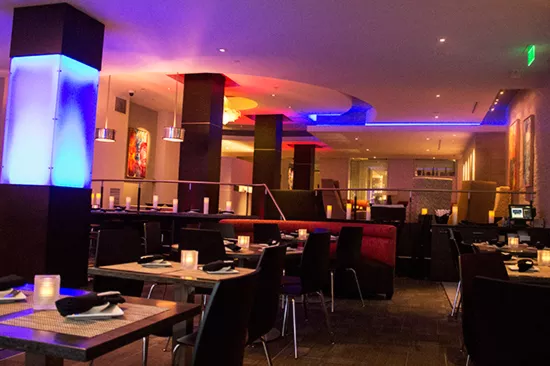 The dining room at night.
The Scene: BaiKu arrived on the local sushi scene in early October, carrying on the motorbike-themed concept established by its neighbors, the MOTO Museum and Triumph Grill. At night, the room takes on the lounge side of its identity, with colorful lights tinting the dining room in neon colors. Chef Soung Lee and staff prepare fresh sushi in an inconspicuous corner of the space, while hot food comes from the Triumph Grill kitchen via chef Josh Norris' command next door.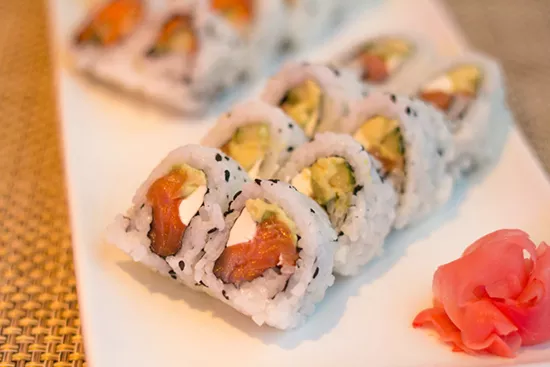 The Food: Happy-hour appetizers include edamame (regular and spicy), tempura vegetables, steamed-shitake potstickers, shishito peppers, chicken-yakitori ssam, and calamari. The menu also includes eight different $5 sushi rolls and three $4 vegetable rolls.
Did Baiku make the grade? Find out on the next page.
The Verdict: The discounted sushi selection is straightforward but well prepared, featuring standard menu staples such as eel in a sweet soy reduction and a Philly roll. Everything on this list is easily approachable, with care taken into preparing each bite with appropriately seasoned rice and balanced components in their prime. All in all, it's a simple set that's a good introduction to BaiKu's sushi offerings.
On the hot side of the menu, grill-marked chicken skewers impressed with its bountiful presentation -- served alongside quick pickled carrots and cucumbers, kimchi puree and bibb lettuce -- but fell somewhat flat in terms of flavor when assembled. The appetizer we enjoyed most was an order of potstickers filled with napa cabbage, ginger and shitake mushrooms. The dumplings came out crispy-side-up and devoid of excess grease, pairing flavorful umami perfectly with a tangy black-vinegar dipping sauce.
BaiKu's mid-day meal deal is a welcome substitute to the overpriced, over-fried food typically offered on happy hour menus. The affordable prices leave plenty of room for extra drinks and exploring more intricate options on its full dinner menu.
The Rating: On a scale of one to five...

Previously on Happy Hour Handbook: - Van Goghz - Frazer's Restaurant & Lounge - The King & I - Sasha's - Nadine's Gin Joint - Juniper - United Provisions - Hammerstone's - Ranoush - Siam - SOHA Bar & Grill - Modesto - Square One Brewery - Cicero's - SqWires - Layla - Five Star Burgers - Central Table Food Hall - Planter's House - Atomic Cowboy - Stella Blues - Triumph Grill - Lola - Basso - Blue Ocean Sushi - Hwy 61 Roadhouse and Kitchen - Gringo - Jax Cafe - Mile 277 Tap & Grill - Sandrina's - Mangia Italiano - Kirkwood Station Brewing Company - Steve's Hot Dogs on the Hill
We're always looking for some more happy hour meal deals. E-mail the author at mabel.suen@riverfronttimes.com.