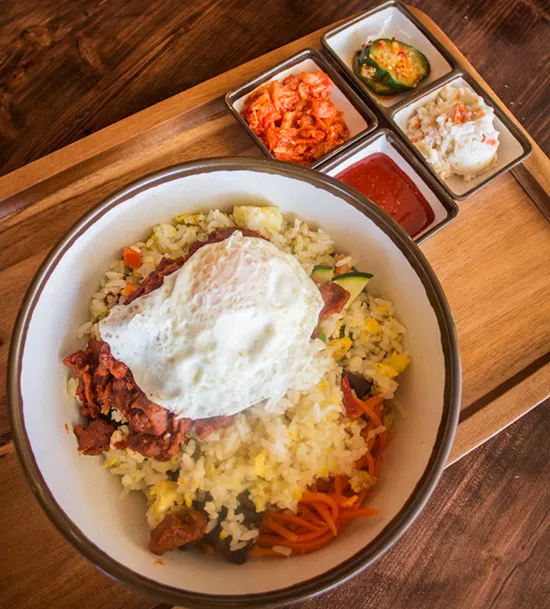 KimCheese's beebimbap with spicy pork. | Photos by Mabel Suen
As reported by Gut Check, the second location of KimCheese (10441 Olive Boulevard; 314-569-4123) set up shop in Creve Coeur. Akin to its flagship, which occupies a former Dairy Queen, the fast-casual Mexican-Korean fusion restaurant opened last month in a different former ice cream shop: an Oberweis Dairy storefront.
See also: KimCheese to Hit Creve Coeur
The Creve Coeur store's menu features almost all of the same items as the Chesterfield location's -- they're working on getting the rest, an employee says -- while the interior feels quite a bit different from the original's. For instance, this space didn't come with a built-in drive-through lane. Instead, a larger dining room makes way for new furnishings including an Asian-inspired wooden motif paired with a mustard-yellow and hunter-green color scheme.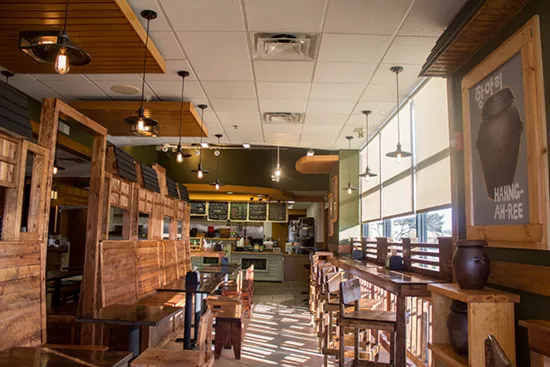 A look at the dining room.
From the colorfully drawn chalkboard menu, choose from items including rice bowls, tacos filled with Korean-style marinated meats, and the "Kim Cheese Burger" -- a popular plate that former RFT food critic Ian Froeb says is, strictly speaking, a steak sandwich served on a burger bun. In his 2012 KimCheese restaurant review, the monster of a burger seems to sum up spirit of KimCheese's Korean-Meixcan-American mashup cuisine nicely.
KimCheese-Creve Coeur's current hours are Monday through Saturday from 11 a.m. to 9 p.m. and Sunday from 11 a.m. to 5 p.m. For the full menu and additional information, visit the KimCheese website.
Click through for more photos.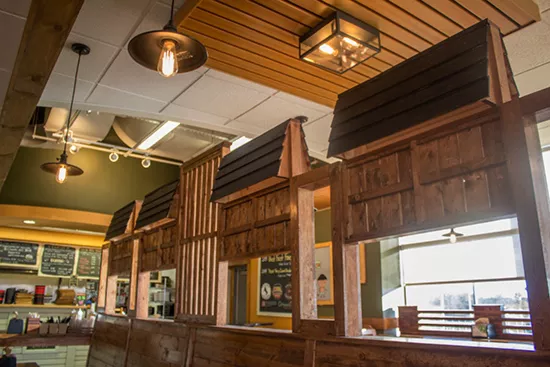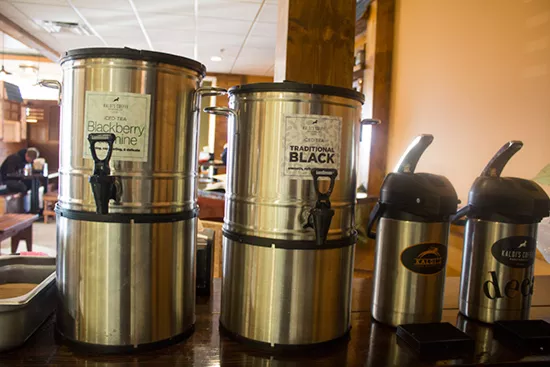 Kaldi's tea and coffee available.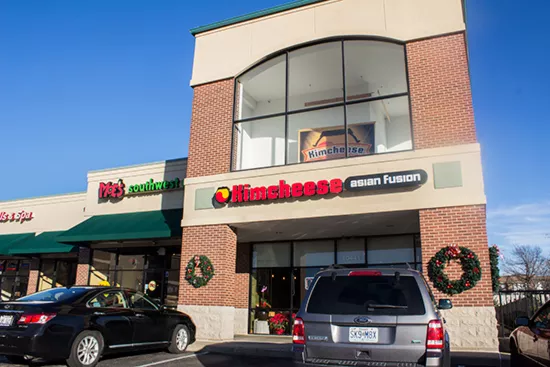 See also: - First Look: Blank Space - First Look: River Des Peres Yacht Club - First Look: Bolyard's Meat & Provisions
Gut Check is always hungry for tips. E-mail us!