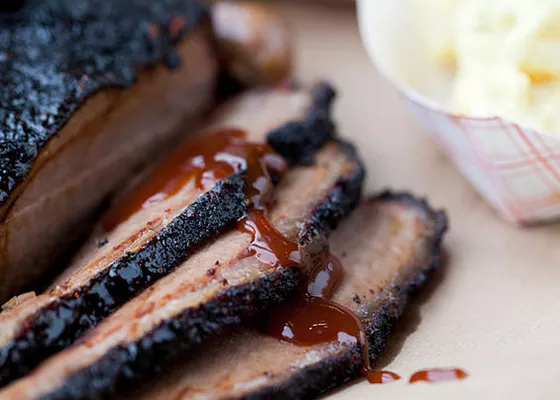 Brisket at Sugarfire Smokehouse. | Jennifer Silverberg
Barbecue was back with a vengeance in 2014. Although Kansas City doesn't like to admit it, we've always been a barbecue town -- it's call the St. Louis cut for a reason -- but we're in the middle of a bit of a boom. Several high-profile barbecue restaurants opened, and big leaguer Sugarfire Smokehouse added new locations and a bakery to boot.
See also: Sugarfire Smokehouse's New '50s-Style Outpost Slinging Barbecue in St. Charles
But what spot should get more attention? Is it a hole in the wall you used to frequent in high school? Someone turning up at a local farmers' market? Let us know what you think is the most underrated barbecue in St. Louis (and if you say your own, prepare to have us all over to taste test), and we'll take it to a vote next week.