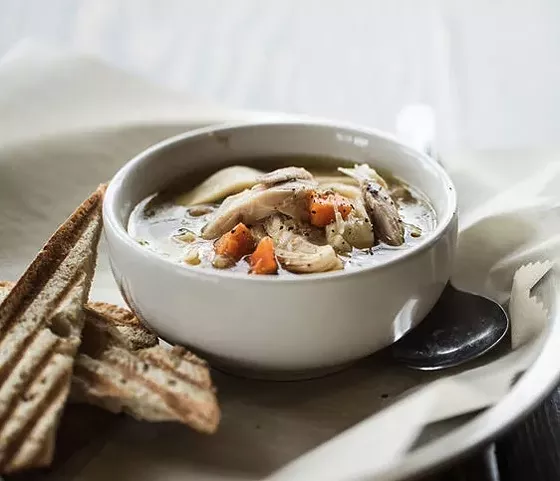 Housemade chicken noodle soup from Grove East Provisions | Jennifer Silverberg
Today Gut Check relaunches one of our favorite recurring columns for 2015: an accounting of the 100 dishes in St. Louis that you must eat right now. These are the best dishes at the newest restaurants and the signature dishes that are still blowing our socks off. They're the 100 dishes that define St. Louis dining in 2015.
We will compile our 100 selections over the course of the year, culminating in a ranked list in late 2015. May our year -- as well as yours -- be filled with delicious food and drink. Cheers!
I'm sorry Aunt Mary, but Barry Kinder has you beat.
One of my fondest childhood memories was going to my great-aunt's house in rural Illinois for some of her homemade chicken soup. It was nothing fancy -- just chicken, aromatic vegetables, broth and a few noodles -- but I thought it was the best. That is, until I had Barry Kinder's version at Grove East Provisions (3101 Arsenal Street; 314-802-7090).
See Also: Critic's Notebook: Red Fox Baking & Catering at Grove East Provisions Is a Slice of Heaven
I'm sure that I'm not the only niece or granddaughter forced to commit this culinary perfidy. Anyone who has had Kinder's steaming bowl of chicken noodle soup knows that all others pale in comparison. The broth is so flavor packed but remarkably clean and bright it could be mistaken for consommé. It teems with thick, silken noodles, chunks of softened carrots, onions and celery, and is always served piping hot. Paired with some crusty Red Fox Baking bread, this humble dish is pure comfort.
Follow Cheryl Baehr on Twitter at @CherylABaehr. E-mail the author at Cheryl.Baehr@RiverfrontTimes.com.
---