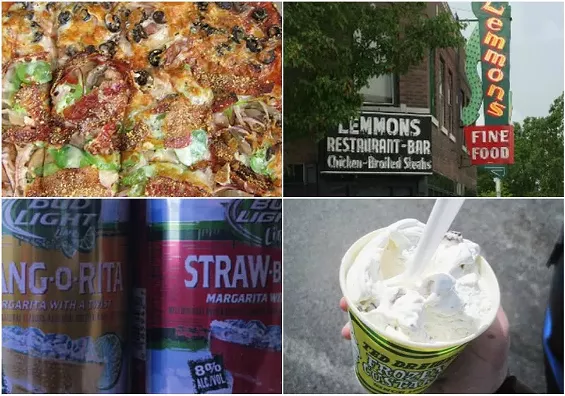 We'd like to think that you call consume our stories with precision and care, dear reader, but the truth is, sometimes a story really takes off that we didn't expect at all. Here are this year's most-read stories on Gut Check -- basically, what you thought was the most interesting. Let us know what you'd like to see more of in 2015 in the comments.
See also: Overcooked 2014: Local Chefs Dish on the Food Trends That Need to Die Now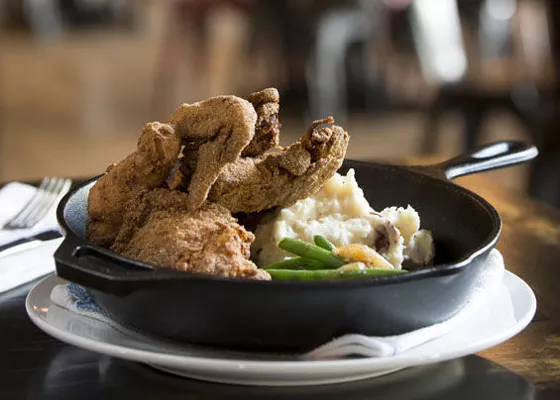 The Salted Pig was one of our most-anticipated restaurants of 2014. | Corey Woodruff
1. 5 Restaurants We're Looking Forward to in 2014
We got some great restaurants this year, but unfortunately this list was a bit of a letdown. The Salted Pig got a scathing review, Main & Mill still isn't open, Chris Bork's restaurant is nowhere to be seen (though he did a guest series at the Purple Martin) and Local Harvest Cafe's revamp didn't go quite as planned.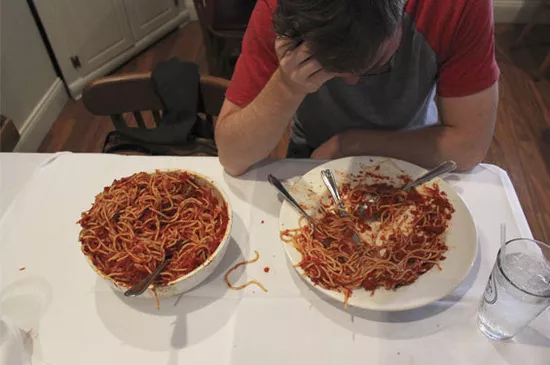 Bested by Mama's. | Zach Garrison
2. The 6 Toughest Eating Challenges in St. Louis and One Foolish Man's Attempt to Beat Them All
Gut Check contributor Zach Garrison went on a noble, but ultimately futile, quest to conquer the toughest food challenges in town. His stomach paid the price.
The Heath bar concrete. | Ian Froeb
3. 10 Things You Didn't Know About Ted Drewes Frozen Custard
Ted Drewes is a name every St. Louisan knows, but we all got to know him a little better this year.
The Time Out Bar & Grill. | RFT Photo
4. Time Out Bar & Grill Boycotts the St. Louis Rams After "Hands Up, Don't Shoot" Gesture
Sports fans were divided about the gesture some Rams players made in solidarity with the Ferguson community, and this bar might have taken the outrage a little too far. Either way, it sparked even more debate about "Hands Up, Don't Shoot."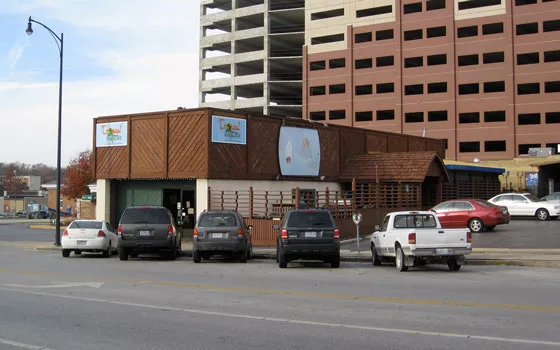 5. Tropical Liqueurs Coming to Soulard
Some of our favorite news of the year came from Columbia. The Tropical Liqueurs, a.k.a. Trops, is heading to St. Louis from Columbia. It's going to be the best summer ever for Mizzou alums.
The square beyond compare. | Ch473
6. 10 Things You Didn't Know About Imo's Pizza
Few things are as divisive in St. Louis as Provel cheese. Love it or hate it, it's a part of St. Louis culinary culture. Mayor Slay even said so!
Last call at Lemmons. | Jessica Lussenhop
7. Lemmons to Close, Owner Says "The Real Problem...Is Me"
Sometimes, a well-funded Kickstarter can keep a beloved restaurant or bar alive. Not so with Lemmons -- the owner just didn't want it.
8. Venice Cafe Closed Indefinitely After Burglary [UPDATE]
Unfortunately, there were a slew of thefts and acts of vandalism before all the Ferguson-related violence.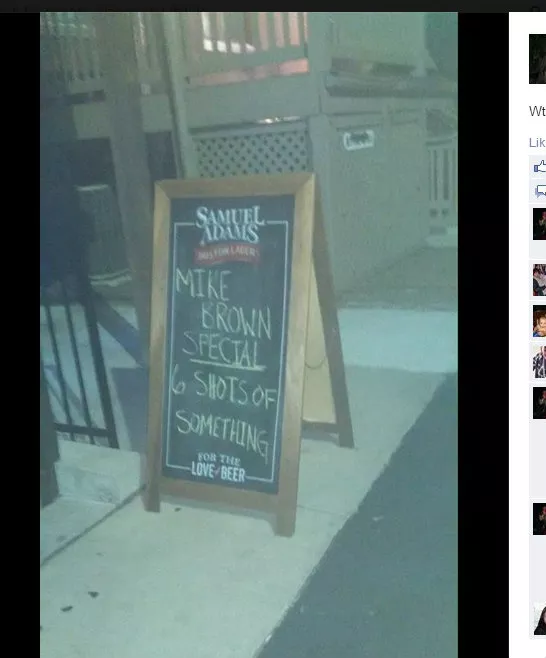 The photo appeared on social media. | Facebook Screenshot
9. Awful Customer Changes Sign to Offer "Mike Brown Special" at St. Charles Bar, Gets Banned
Fortunately, this turned out to be a terrible customer prank, not an actual drink special the bar was running.
The lineup. | Nancy Stiles
10. Gut Check Taste Test: Bud Light Mang-O-Rita and Raz-Ber-Rita
On a lighter note, we taste-tested the new Bud Light margaritas in a can so you didn't have to. The results were, um, mixed.
Gut Check is always hungry for tips and feedback. E-mail the author at Nancy.Stiles@RiverfrontTimes.com.
Follow Nancy Stiles on Twitter:
---