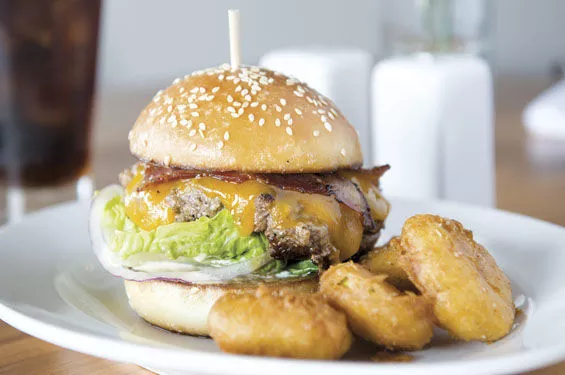 From handmade noodles served out of a chop-suey dive to butter-drenched lobster rolls served from a James Beard-nominated chef, 2014 was an eclectic year for St. Louis dining. I had the privilege of experiencing it all, and here are my nominees (in no particular order) for the best restaurant openings of 2014.
Three Flags Tavern (4940 Southwest Avenue; 314-669-9222)
It's somewhat poetic that Three Flags Tavern opened on the year of our city's 250th birthday. From the name (a nod to the Louisiana Purchase), to the portraits of St. Louis' founding fathers on the exposed brick walls, to a menu that features dishes from our diverse culinary heritage, chef and owner John O'Brien created a restaurant that captures the spirit of St. Louis. What makes Three Flags special is that it is capable of being so many things simultaneously, and it masters each role: a cozy pub, a casual patio, an upscale dining salon. Its brisket burger (pictured above) is the best thing I ate in 2014.
Full review of Three Flags Tavern from June 2014.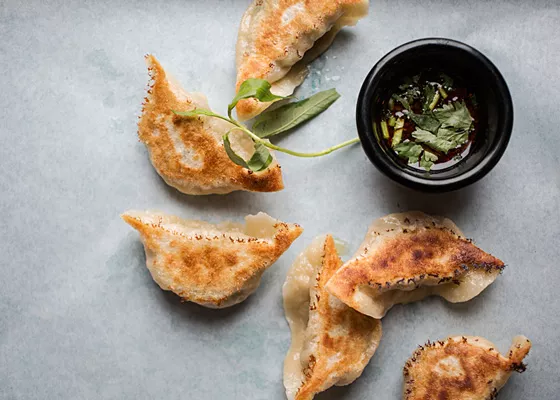 Jennifer Silverberg
Dumplings.
Lona's Lil Eats (2199 California Avenue; 314-925-8938)
That a small dumpling shop can contend for the title Best New Restaurant of 2014 is what I love most about the food business: It's inherently democratic. Anyone committed to flavorful, handmade, quality food can be a success story. Owner Lona Luo was born to a Thai mother and a Chinese ethnic minority father in a remote corner of southwestern China, and she was the first in her family to learn to read or write. The self-taught culinarian met her husband, Pierce Powers, when he was studying language in her tiny village, and the two moved to the U.S. with plans to operate a small import business at Soulard Market. The pair also began selling Luo's handmade dumplings, developing enough of a following to open up their fast-casual eatery in Fox Park. Luo incorporates herbs and spices sent directly from her village to create sauces, marinades and rubs that are unlike any flavor combinations I've tasted before.
Full review of Lona's Lil Eats from December 2014.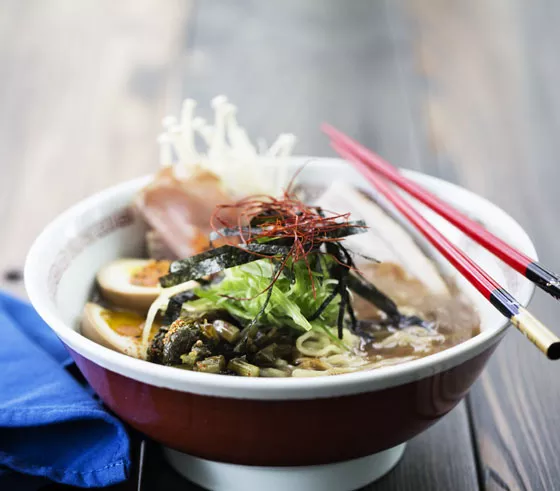 Jennifer Silverberg
Tonkotsu ramen with pork belly and loin, soft boiled egg, black garlic oil and mushroom.
Death in the Afternoon (808 Chestnut Street; 314-621-3236)
This restaurant has an odd and heavy moniker for a place with so much ethereal charm, set amid the fountains and children's giggles of Citygarden, but that's the only negative remark I have for this culinary gem. Its gorgeous setting (I can't think of a more perfect place to spend a fall afternoon) and impeccable food make this one of the most exciting additions to the St. Louis dining landscape. From camera-ready bowls of steaming pork belly ramen to wispy tufts of watermelon-flavored cotton candy, Death in the Afternoon is like dining in a food fantasyland.
Full review of Death in the Afternoon from August 2014.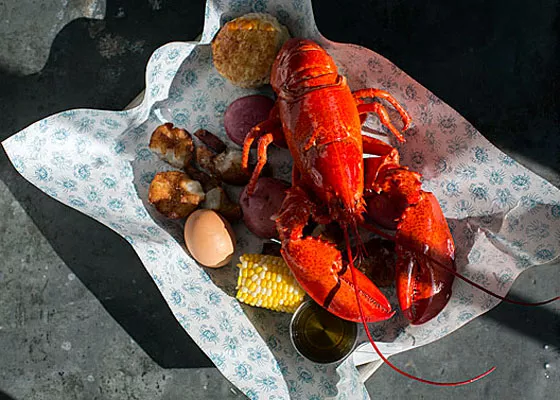 Jennifer Silverberg
Maine lobster boil.
Peacemaker Lobster & Crab Co. (1831 Sidney Street; 314-772-8858)
To say that Peacemaker Lobster & Crab Co. was a highly anticipated opening is the understatement of the year. It seemed like all of St. Louis was whipped into a lobster-roll frenzy before the doors ever opened. It's the kind of hype that sets a place up to be disappointing — unless that place is the brainchild of Kevin Nashan. The acclaimed chef's lobster and crab shack is so fresh and authentic, I swore I heard seagulls over the din of the packed bar. Then again, I could have just been delirious with joy from gobbling up a Main-style roll on the very best bun I've ever had the pleasure of eating.
Full review of Peacemaker Lobster & Crab Co. from October 2014.
Jennifer Silverberg
Brisket plate with a side of green bean and tomato salad and brisket chili.
Salt + Smoke (6525 Delmar Boulevard, University City; 314-727-0200)
I'll be honest: I wanted to dislike Salt + Smoke. Not only is the barbecue market completely oversaturated in this town, but everything about the place screamed "hipster": the "+" symbol in the name, the staff outfitted in flannel, the "Mason jar and checkered napkin" motif. Surely the place was a trendy barbecue poseur. But one taste of its perfectly charred fatty brisket erased my doubts. The soft, savory meat gets my vote for "best in town," the ribs are fall-off-the-bone tender, and the fried bologna sandwich is (almost) worth the years it takes off of one's life. Salt + Smoke also gets extra points because it is the only barbecue joint in St. Louis that he figured out how to make sides more than an afterthought.
Full review of Salt + Smoke from August 2014.
Jennifer Silverberg
Hungarian bratwurst alongside roasted cauliflower, cider marrow beans, wheat toast and romesco sauce.
Urban Chestnut Grove Brewery & Bierhall (4465 Manchester Avenue; 314-222-0143)
With its modern Hofbräuhaus scene and delicious suds, I would have been a fan of Urban Chestnut's Grove Brewery and Bierhall even without food service. However, chef Andy Fair's updated take on classic German cuisine and his commitment to using local producers makes Urban Chestnut a legitimate dining destination. Fair honed his culinary chops on a small farm in Tuscany, and if you look closely, you can see the influence throughout the menu. The humble chef insists that people come to Urban Chestnut, first and foremost, for the beer. This may be true, but his food gives the suds a run for their money.
Full review of Urban Chestnut Brewery & Bierhall from June 2014.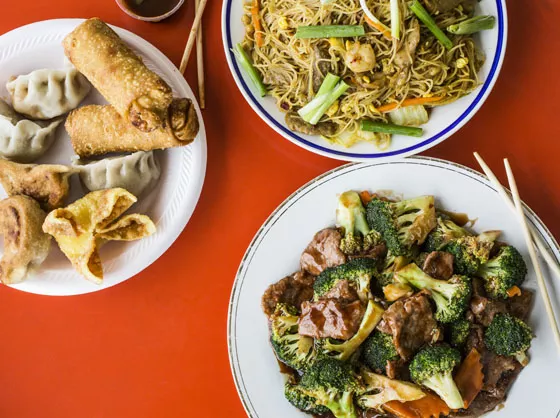 Jennifer Silverberg
Singapore Mei Fun, Beef with Broccoli, Steamed & Fried Dumplings, Egg rolls, and crab rangoon
Bek-Hee (10200 Page Avenue; 314-426-4773)
The feel-good food story of 2014 is Bek-Hee, a Chinese takeout place that is nearly lost amongst the strip malls and apartment complexes of Page Avenue in Overland. I would have never given this place a thought but for an in-the-know colleague who let me in on a secret: The formerly unremarkable chop-suey joint had been recently purchased by a family intent on doing things differently. "I'm telling you," he said. "This is the best lo mein in town." He was right. Through a translator, I learned that the owners, the Jin family, hail from Sha County in China, an area renowned for a culinary tradition that dates back to the early days of the Han Dynasty. Though the bulk of Bek-Hee's menu consists of Americanized Chinese food staples like beef with broccoli, the Jins sneak in a few traditional specialties, such as curried Singapore noodles, pork-filled dumplings and those glorious handmade lo mein noodles. They hope to expand these traditional offerings — something they've always dreamed of doing but worry would not be popular. Here's hoping they'll be convinced in 2015.
Full review of Bek-Hee from October 2014.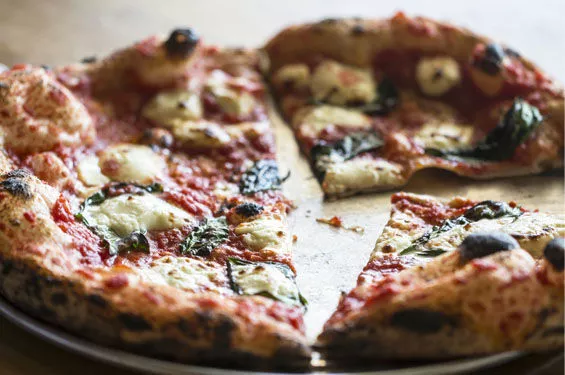 Jennifer Silverberg
"Margherita D.O.P." pizza.
The Good Pie (6665 Delmar Boulevard, University City; 314-899-9221)
When Mike Randolph opened the Good Pie in midtown back in 2008, the St. Louis pizza scene was dominated by cracker crust and Provel cheese. Fast forward six years, and it seems a week doesn't go by without a new Neapolitan pizza joint firing up its Ferrara oven. However, in its new University City digs, the Good Pie remains the standard-bearer, serving up traditional Margherita pizza that is pretty darn close to what is served in the pizzerias of Naples: perfectly blistered crust, crushed San Marzano tomatoes, creamy buffalo mozzarella and fresh basil. The pizza may be the main draw, but the handmade pastas, including some of the tastiest gnocchi in town, make the Good Pie a well-rounded restaurant.
Full review of the Good Pie from April 2014.
Jennifer Silverberg
Turkey nachos.
Grapeseed (5400 Nottingham Avenue; 314-925-8525)
I was overcome with nostalgia when I visited Grapeseed. Like chef and owner Ben Anderson, I too cut my culinary teeth at Cardwell's, and I could see its influence all over the menu. This was well over a decade ago, but Anderson's new SoHa neighborhood restaurant is anything but dated — a testament to the timelessness of the genre and the chef's skill in keeping things fresh. A dish as good as Grapeseed's smoked-turkey nachos will always be in fashion.
Full review of Grapeseed from November 2014.
Jennifer Silverberg
"Buddha Bowl"
Lulu's Local Eatery (3201 South Grand Boulevard; 314-357-7717)
While gazing up at the stars from an organic farm in New Zealand, Lauren "Lulu" Loomis had a vision: Why not open up a restaurant that serves fresh, homegrown vegetarian food stateside? Her original plan was for a brick-and-mortar café, but when she came to St. Louis and saw the bustling food-truck scene, she and husband Robert Tucker decided a mobile eatery would be a better path. In 2014, Loomis and Tucker realized her New Zealand dream — the popularity of their food truck finally allowed them to open a storefront on South Grand Boulevard. Though the restaurant is vegan, Lulu's Local Eatery has crossover appeal to even the most committed of carnivore; her buffalo cauliflower bites nearly convinced me I was eating boneless buffalo wings.