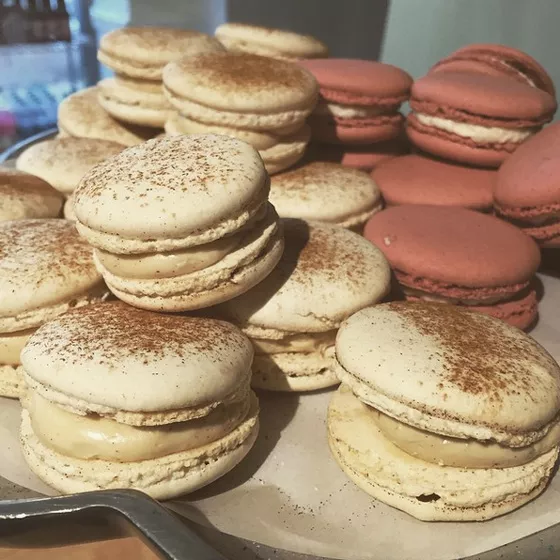 Holiday macarons at Crepes, Etc. | Instagram/@crepesstl
Our week is a bit shorter this time around -- normally we round up our favorite photos on Wednesdays. But since we'll be enjoy Christmas Eve, here's an early gift: mouth-watering food photography.
We've said it before, and we'll say it again: Instagram was practically made for pictures of food. Gut Check has rounded up our favorite foodie accounts in St. Louis, but there are so many cool photos every week, we wanted to share what St. Louis' best chefs, bartenders and eaters are Instagramming. If you see a good one, send it to us!
See also: The 10 Best Food Instagrams in St. Louis This Week: December 9 to 16
1. Pancetta arrotolata at Salume Beddu
Almost too pretty to eat. Almost.
2. Volume #1 at 4 Hands Brewing
4 Hands' Volume #1 varieties are now out, with special pairings from Dave Baileys' 5th Wheel.
3. Bread dough at Niche.
Watch Niche's breadman extraordinaire Brian Lagerstrom pound up some dough.
A video posted by Bmansuniverse (@bmansuniverse) on
4. A Vieux Carré at the Royale
There are few things we enjoy more than an old-fashioned cocktail, and drinking it while at the Royale is one of them.
5. Gift boxes at Pastaria
Wouldn't you love one of these waiting for you on Christmas morning?
6. Eggnog and red velvet macarons at Crepes, Etc.
La Patisserie Chouquette isn't the only place in town to get delicious French macarons.
7. Anne Croy at Pastaria
Hey, even the pastry chef can't resist that delicious pie.
8. Yule log at La Patisserie Chouquette
If you didn't get one, you can gaze longingly at this photo instead.
9. Cheese curler at Larder and Cupboard
Need. Now.
10. Smothered fries at the Shaved Duck
In case you were wondering, we named these some of the best fries in town.
Gut Check is always hungry for tips and feedback. E-mail the author at [email protected].
Follow Nancy Stiles on Twitter:
---