Rich and creamy without the eggs. | Patrick J. Hurley
The Drunken Vegan, a.k.a. Patrick J. Hurley, is a full-time barman at the Civil Life Brewing Company and cocktail enthusiast about town. He's an unapologetic drunkard, a vegan and a bon vivant, and, no, he doesn't think those last two terms contradict each other.
In the winter, especially during the holiday season, cocktails grow rich and heavy to fortify drinkers against the cold. Ingredients like butter, cream and whole eggs start finding their way into your cup of cheer. Must the vegan tippler be relegated to the corner, sipping resentfully at a bonded bourbon? Not if you use a little imagination. Even the season's most famous (and most non-vegan) drink can be nicely approximated.
See also: Banter and Cocktails at the Gin Room
Dedicated nog-heads may be shaking their heads, saying, "You've gone too far this time, Drunken Vegan. Some things are sacred." But here's the thing: eggnog doesn't taste like egg. Eggnog's rich and creamy and boozy and spicy. The key is to come up with a concoction that balances all those elements, without turning to the dairy or the henhouse.
America's first nationally celebrated bartender Jerry Thomas supposedly perfected a famous eggnog called Tom and Jerry while working at the old Planter's House bar right here in St. Louis in the mid-nineteenth century. It involves whisking egg whites "to a stiff froth" and beating yolks "until they are as thin as water," making a batter and mixing that with booze and spice and boiling water. Alas, not much time for chitchat at the holiday party if you're bent over a copper bowl of egg whites all night.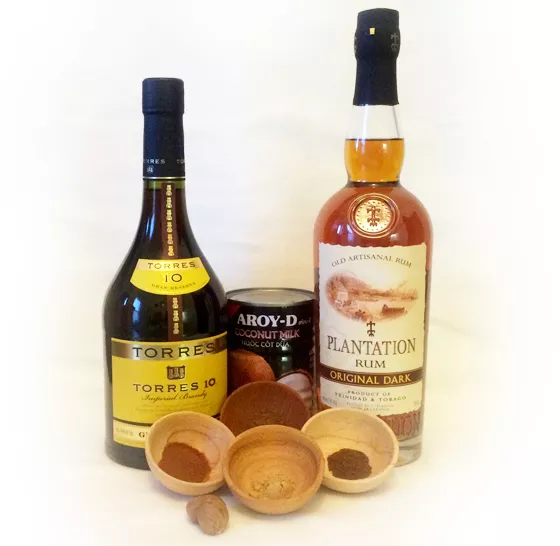 Getting ready to make nog...hold the eggs. | Patrick J. Hurley
There is a surprisingly simple vegan solution. Nothing else in the plant-based world beats coconut milk when it comes to a rich and creamy cocktail ingredient. For each nog (skeptics need not say that there's no such thing as a vegan nog; the word means "strong ale," according to the OED), you will need four ounces of good coconut milk. If you can find Arroy-D brand (sold at many Asian markets), use it. Add a teaspoon of raw sugar and a pinch each of cinnamon, allspice, ground clove and ground ginger. Heat the spiced coconut milk then add it to an ounce each of good dark rum and brandy. Grate a little nutmeg on top.
It doesn't taste like coconut, or egg for that matter. It's rich and creamy and boozy and spicy. Take the money you saved on free-range eggs and organic cream and spend it on some vintage nog mugs. And since you won't be beating egg whites into a stiff froth all night, you can hang out under the mistletoe, lips sweetened with rum and spice and a warm glow in your belly.
Follow Patrick J. Hurley on Twitter at @VeganDrunkard. E-mail the author at Patrick.J.Hurley@HurleyHouse.com.
---