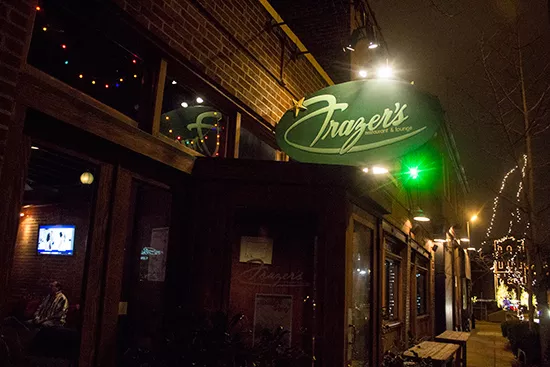 Frazer's in Benton Park. | Photos by Mabel Suen
The Place: Frazer's Restaurant & Lounge (1811 Pestalozzi Street; 314-773-8846)
The Hours: Happy hour is offered Monday through Friday from 3 to 6 p.m. An early-bird happy hour runs Monday through Friday from 11 a.m. to 3 p.m.
The Deals: Regular happy-hour specials include $2 domestic bottles, $3 wells and $5 wines. Early-bird specials include two-for-one domestic bottles, wells and draft beers. Additional specials follow: Mondays feature $2 domestics, $3 wells, $5 select wines and $5 select appetizers from 5 p.m. until close; Tuesdays feature tapas from 4 to 6 p.m.; Wednesdays feature select craft cocktails for $6 from 4 to 6 p.m.; and Thursdays feature a raw oyster bar from 4 to 8 p.m.
The Scene: Since 1992, Frazer's has offered from-scratch cooking influenced by everything from New Orleans to Mediterranean cuisine. At night, the charming space transforms from daylight-infused dining rooms to a glowing lounge filled with colorful hung lights. For happy hour, grab a seat at the bar, or choose a cozy corner couch or seat at a retro table.
A blackened shrimp skewer.
The Food: Monday's "industry nights" feature $5 appetizers including wings, nachos, burgers and pizzas. We visited Frazer's on a Tuesday night to check out its tapas offerings. The menu includes the following options, each for $5 or less: potato and mozzarella croquette, Parmesan pomme frites, oysters on the half shell, shrimp cocktail, pulled-pork taco, blacked shrimp skewer, slider with sauteed mushrooms, marinated olives, and Parmesan and garlic wings.
Did Frazer's make the grade? Find out on the next page.
The Verdict:The fried Parmesan and garlic wings come tossed in housemade sauce and come packed with plenty of flavor. At $5, a blackened shrimp skewer with three pieces seemed a little steep price-wise yet were cooked well with a nice charred Cajun spice. Our favorite dish was the potato and mozzarella croquette, a breaded and fried puck of creamy, cheesy mashed potato served atop a bed of tangy Russian dressing.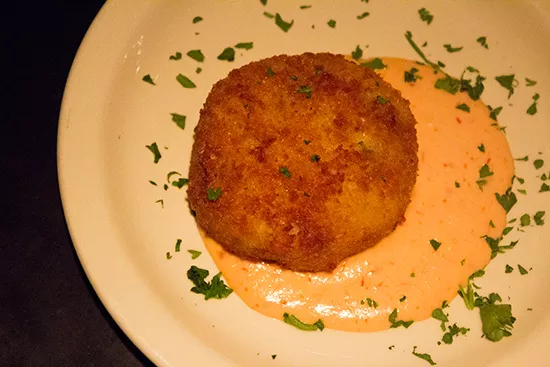 Potato and mozzarella croquette.
For a happy hour that fixates more readily on the beverage offerings, check out Frazer's on Wednesdays for select half-price cocktails. The bar recently implemented a new menu featuring stirred, shaken and classic concoctions. Drink enthusiasts might recall options including the unique "smoke wagon" developed by seasoned mixologist Terry Oliver.
With a little something different each night of the week, Frazer's nuanced touches on its food and drinks combined with its cozy environs make it a varied happy hour worth sampling over and over again.
Bartender Terry Oliver infuses a bourbon-based "smoke wagon" cocktail with French-plum tea smoke at the table.
The Rating: On a scale of one to five...

Previously on Happy Hour Handbook: - The King & I - Sasha's - Nadine's Gin Joint - Juniper - United Provisions - Hammerstone's - Ranoush - Siam - SOHA Bar & Grill - Modesto - Square One Brewery - Cicero's - SqWires - Layla - Five Star Burgers - Central Table Food Hall - Planter's House - Atomic Cowboy - Stella Blues - Triumph Grill - Lola - Basso - Blue Ocean Sushi - Hwy 61 Roadhouse and Kitchen - Gringo - Jax Cafe - Mile 277 Tap & Grill - Sandrina's - Mangia Italiano - Kirkwood Station Brewing Company - Steve's Hot Dogs on the Hill
We're always looking for some more happy hour meal deals. E-mail the author at mabel.suen@riverfronttimes.com.