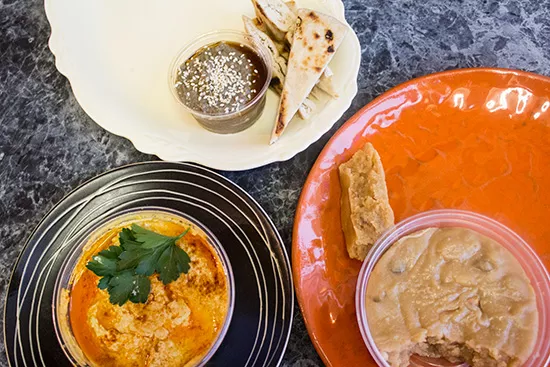 Hummus, black-sesame baba ghanoush, and pistachio halvah from Confluence Artisan Foods now available at Blank Space. | Photos by Mabel Suen
"I just was wondering: Is this a record store, a lounge, or what?" inquires a curious passerby who happened to pop into Blank Space (2847 Cherokee Street) during a recent daytime visit.
"All of the above." responds owner Kaveh Razani without dropping a beat. "We're an art gallery, bar, venue, tea house, record store and coffee shop."
Since its inception two years ago, Blank Space has taken on many identities, earning honors such as best art gallery and best hip-hop club in RFT's best of St. Louis in 2013 and 2014, respectively. As the result of a major expansion that transforms the building into a three-story multiplex, the hybrid community-oriented stomping ground rolled out new daytime hours on November 18 along with a new food and drink program.
See also: Blank Space Begins Major Expansion on Cherokee Street
Blank Space's Kaveh Razani and Confluence Artisan Goods' William Pauley.
"Something that became very apparent to us was that if we wanted to be the type of place that people could sit and read, do work, hang out or have a conversation, we had to have food for our patrons," says Razani.
Without a commercial kitchen available on the premises, Razani sought independent contractors to bring in food that complements the bar's growing beverage program. Chef William Pauley of Confluence Kombucha and Confluence Artisan Goods prepares several grab-and-go options to sate visitors' appetites including bar nuts, veggie chips, granola sweetened with rhubarb syrup, homemade pita and plenty of spreads such as hummus, baba ghanoush and halvah to go with it.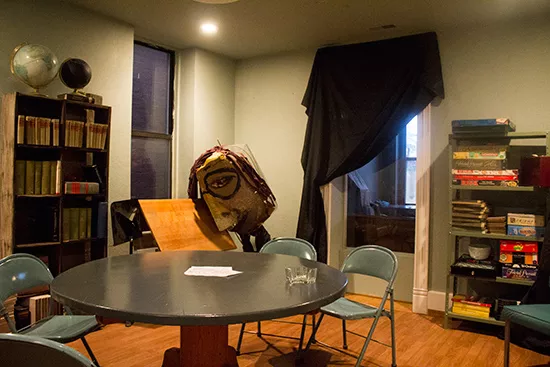 Upstairs seating now available.
Blank Space's once bare-bones bar also now offers an even wider selection of tea, coffee and cocktails to choose from. In addition to tea options from the ReTrailer and bean blends provided by Blueprint Coffee (which is co-owned by Razani's brother, Mazi Razani), recent additions include iced teas, Italian sodas and a selection of draft beers. A new cocktail menu developed by bar manager Joel Clark features drinks that can be served one of two ways -- classically in martini glasses or paired with an herbal tea for a unique hot toddy.
Blank Space's main floor and basement continue to serve as venues for events, while a converted residence upstairs provides additional seating in three separate rooms. Blank Space's current hours are Tuesday through Saturday from 8 a.m. to 3 p.m. and 6 p.m. to 1:30 a.m.; Friday and Saturday from 8 a.m. to 1:30 a.m.; and Sunday from 9 a.m. to 4 p.m. For more information, check out the Blank Space Facebook page.
Click through for more photos.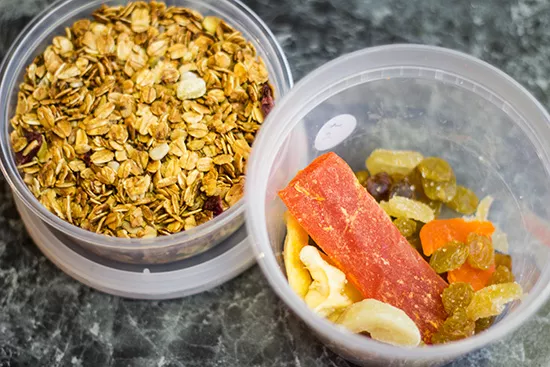 Granola and dried fruit snacks ready to grab and go.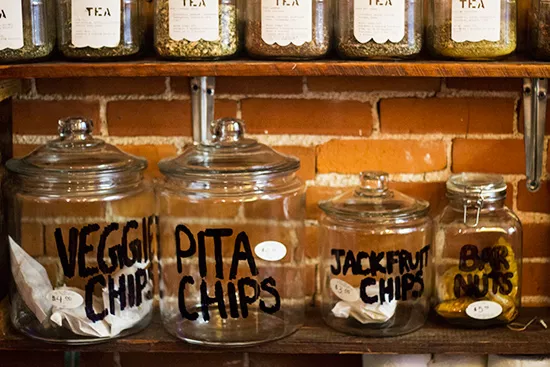 Confluence Artisan Goods available behind the bar.
The main floor at Blank Space.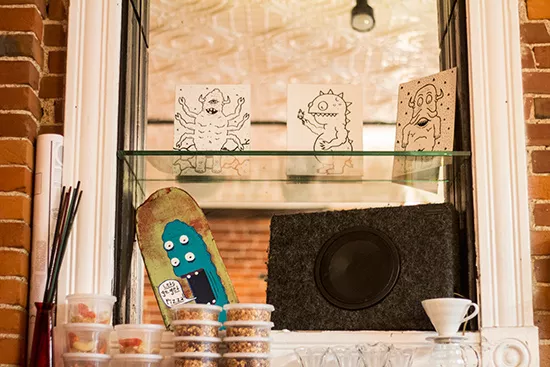 Local art in every nook and cranny.
Razani mixes up a hot toddy.
Pouring freshly brewed tea into the mix.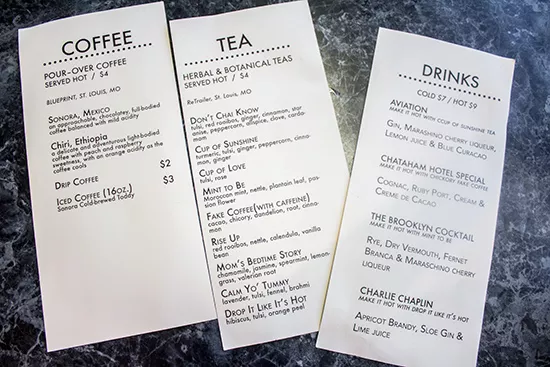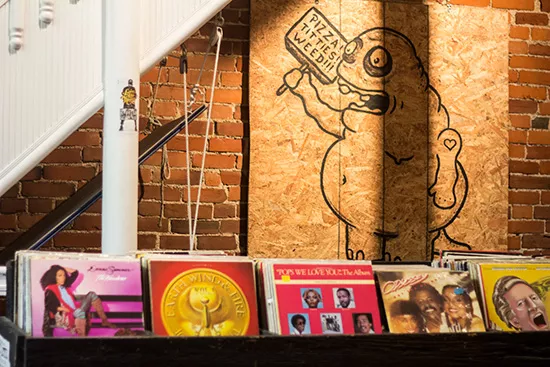 Black-sesame baba ghanoush with from-scratch pita.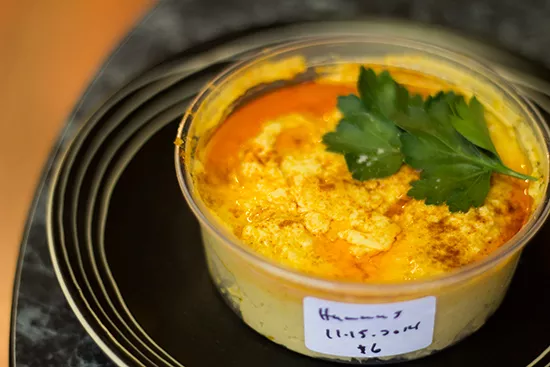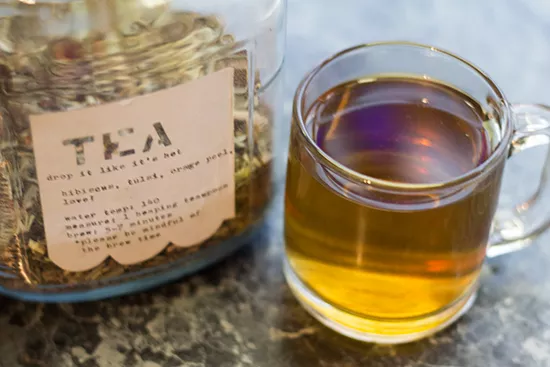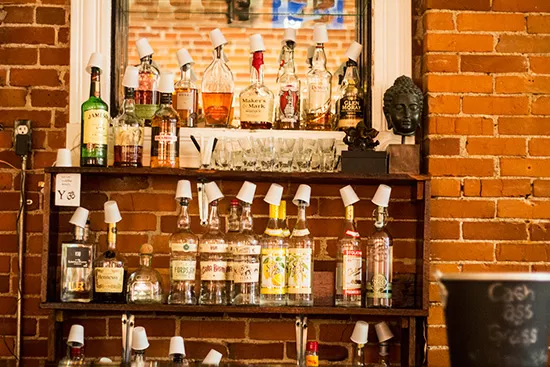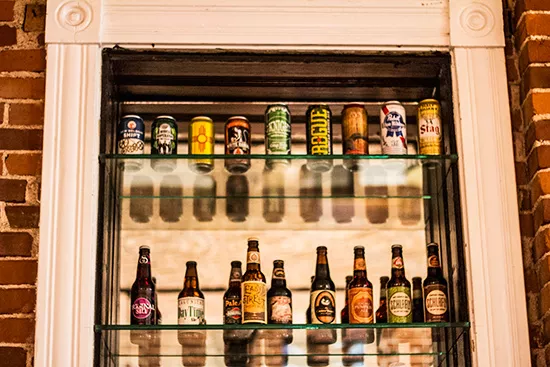 ...and by the can/bottle.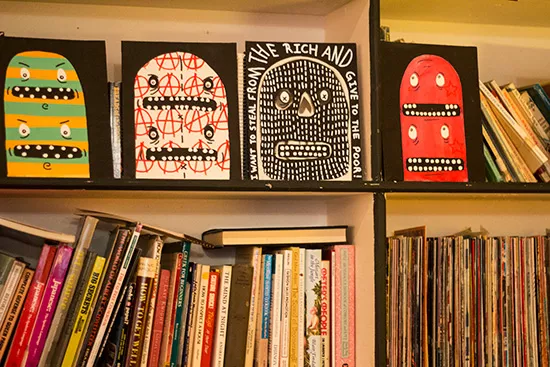 Plenty of books to peruse in the back of the room.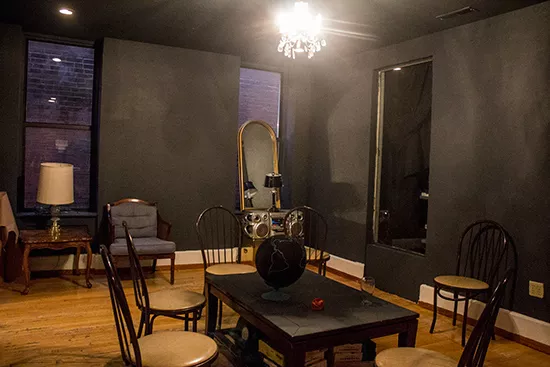 Located on Cherokee Street.
See also: - First Look: River Des Peres Yacht Club - First Look: Larder & Cupboard - First Look: Bolyard's Meat & Provisions - First Look: Fort Taco - First Look: Pizzeoli
Gut Check is always hungry for tips. E-mail us!