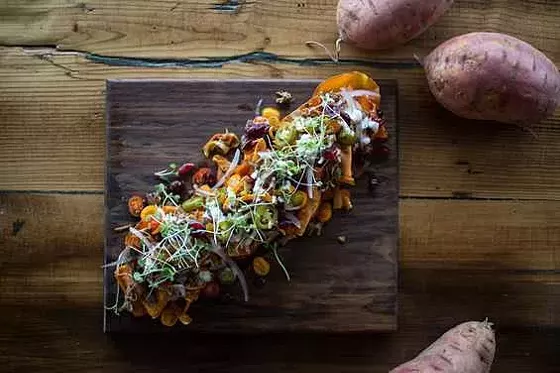 Smoked-turkey nachos at Grapeseed. | Jennifer Silverberg
When the smoked-turkey nachos arrived at our table there was an audible gasp. We had expected to receive a simple twist on bar food. Instead, chef Ben Anderson and his team at Grapeseed (5400 Nottingham Avenue; 314-925-8525) produced one of the most visually impressive dishes of the year. One bite of a turkey-covered sweet-potato chip later, and it became clear that this dish was much more than a pretty plate.
See Also: Review: Grapeseed Serves Earnest, Seasonal American Cuisine in Southampton
Grapeseed's smoked-turkey nachos are not nachos at all. Instead of tortilla chips, thinly cut, crisp fried sweet potatoes serve as the base for a colorful melange of toppings. Savory smoked turkey is generously heaped on top of the chips then topped with diced red peppers, microgreens and creamy buttermilk dressing. House-brewed cranberry "firecracker" sauce finishes the dish with a sweet-hot punch. This is Thanksgiving turned up to eleven.
Follow Cheryl Baehr on Twitter at @CherylABaehr. E-mail the author at Cheryl.Baehr@RiverfrontTimes.com.
---