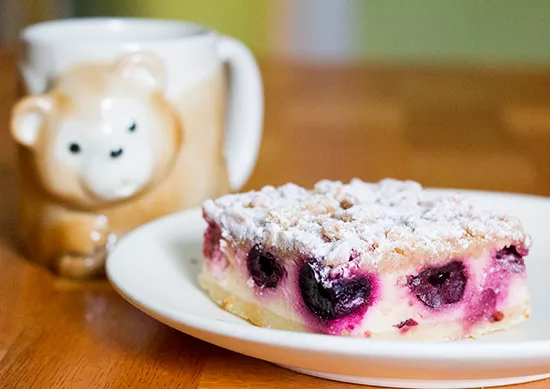 German cherry cheesecake at 4 Seasons Bakery. | Mabel Suen
Husband-and-wife team Aaron and Agi Groff started 4 Seasons Bakery (2012 Campus Drive, St Charles; 314-288-9176) four years ago. It's finally time for an upgrade. They met while training at the Culinary Institute of America, and their output matches the pedigree. We've named them the best pies in St. Louis, and this year, the best bakery overall.
See also: 4 Seasons Bakery's Käsekuchen, A German Dessert That Redefines Cheesecake
4 Seasons has won much community support, but mostly through word of mouth, and the move will give them much more room (the current space is only 660 square feet), but also more visibility. The Groffs have tentatively secured a new location on Fifth Street in St. Charles. It's actually a 19th-century home with a unique layout, which will give them the perfect spread for a kitchen, retail space and cafe, with room for an office upstairs.
"We're really running out of room," Aaron Groff says about the current 4 Seasons Bakery, which they bought back in 2010 when Agi was pregnant with their daughter Alina. "We have one full-time employee and two part-time. When we get five specialty cake orders for the weekend in addition to our regular sales, we're really playing a jigsaw puzzle [back there]."
Agi and Aaron Groff. | Mabel Suen
The $40,000 that 4 Seasons Bakery wants to raise will go toward renovations, equipment and bank funding. The Groffs are working toward a spring 2015 opening, but that of course depends heavily on construction and renovations.
"People [will be able to] come in and sit and enjoy a pastry and a cup of coffee and hang out. It'll have a real cafe-ish feel to it," Groff says. Until then, the current 4 Seasons will be open as usual; ideally, the bakery would close for a week or two when it transitions over to the new space next year.
"We appreciate everyone's support to get us to this point. We've grown slowly, and we just need their support for what we feel is a pretty big step for us," Groff says. "We're looking for support to stay in the community and keep the concept of a community bakery going."
You can check out 4 Seasons' Kickstarter campaign here.
Gut Check is always hungry for tips and feedback. E-mail the author at Nancy.Stiles@RiverfrontTimes.com.
Follow Nancy Stiles on Twitter:
---