Jessica Lussenhop
Owner Michelle Turner Latchison.
Last winter, St. Louis was introduced to Pimped Out Pickles, a one-of-a-kind picklery on Martin Luther King Drive that offered 60 different flavors, including hot-and-sweet, pineapple and even more exotic varieties like "Pimpjuice." But after four short months in business, owner and master pickler Michelle Latchison Turner had to close her doors. So she returned to her old tried-and-true sales method -- vending from a table.
That changed once again about two months ago, when Latchison and her sons were able to open not just one, but two new locations of Pimped Out Pickles: the first at 3109 Vandeventer Avenue and the second at 4213 Delmar Boulevard.
"We're trying to go national now," says Latchison, seated in the spacious commercial kitchen of the Delmar location.
See also: Pimped Out Pickles, Home of the "Haterade" and "Pimpjuice" Pickle, Open for Business
Jessica Lussenhop
The Vandeventer location.
The original inspiration came from pickles Latchison used to make at home, using real candy like Red Hots and Kool-Aid powder for her sweet pickles, and fresh garlic, hot pepper and other vegetables to create her savory varieties. Selecting from her extensive menu can be a bit of an adventure, since some of the flavors have inscrutable names like "Ooh La La" and "This Right Here!" Never fear, Latchison and her sons Bart and Finess are there to explain if necessary.
Technically, Pimped Out Pickles' world headquarters is the Vandeventer location. But a chance encounter with an old friend who just so happened to have an empty building with a commercial kitchen resulted in the storefront on Delmar.
"He just said, 'I did not know that this was you. I love the pickles and I love the concept,'" recalls Latchison. "I had been praying for a partner."
The Delmar Boulevard building once housed the restaurant Yummy Yummy, and Latchison says she is selling out of the storefront rent-free. She characterizes it as "Yummy Yummy featuring Pimped Out Pickles." If her new partnership works out, she hopes they'll reopen as a full-service restaurant serving chicken, fish and -- natch -- fried pickles, in addition to 26 of the 60 flavors. The full lineup of "pick-o-licious" varieties will be available on Vandeventer. She also hopes to begin shipping the pickles nationwide (she already does orders to Arkansas, Kansas, Iowa), and offering them to local schools and church groups at wholesale prices for fundraisers.
Naturally, Gut Check couldn't leave without sampling some pickles, so we selected two holiday-appropriate flavors: the seasonal "Ho! Ho! Ho!" made with "old school, hard Christmas candy" and peppermint. While the Christmas flavor did remind us of Grandma's candy dish, we were blown away by the peppermint flavor, which is available year-round and is one of Latchison's best sellers. The slices had a subtle minty nose and lingering sweet flavor -- positively addictive and like nothing else we've ever tried.
"I don't want to go beyond 60 flavors, but I have so much fun making the pickles," she says. "I'm already at 60 but I keep saying the seasonal -- they shouldn't count so I can make about five more."
Both Pimped Out Pickles locations are open Monday through Saturday, 10 a.m. to 7 p.m. Prices are $4 for four ounces, $6 for sixteen ounces and $8 for 32 ounces. Call them at 314-401-1807 to find out more or request fundraiser orders.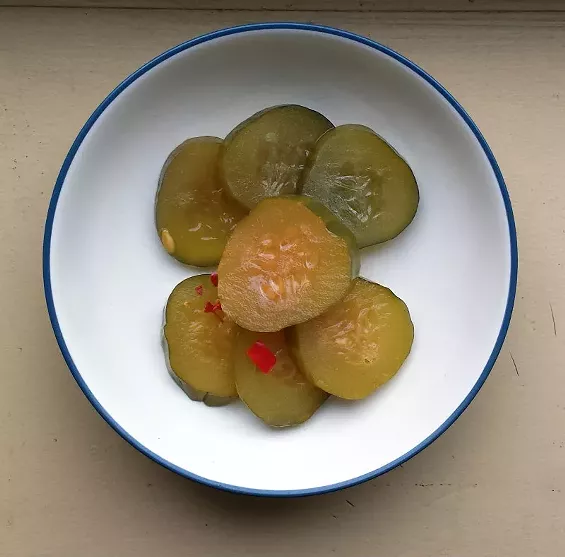 Email the author at Jessica.Lussenhop@RiverfrontTimes.com.