"Fresh rolls" at the King & I. | Photos by Mabel Suen
The Place: The King & I (3157 South Grand Boulevard; 314-771-1777)
The Hours: Happy hour is offered Tuesday through Sunday from 4 to 6 p.m.
The Deals: Pick-two $5 or $8 appetizer combinations. "Happy hour for two" dinner packages are also available that include two drinks and two dinner items for $30-$35. Daily drink specials vary by day including $6 martinis, $5 signature cocktails, $2.50-$3.75 beer specials and $5-$8 sake specials.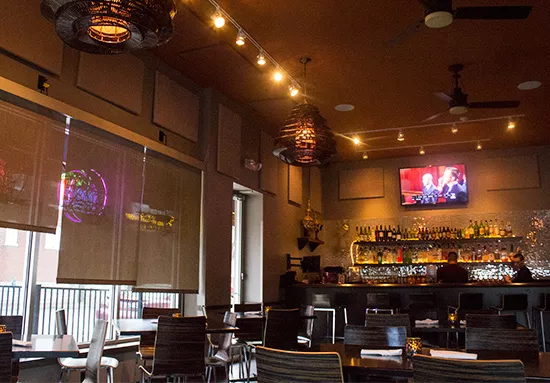 The Scene: The full bar at the King & I features a supplementary dining room with sleek, modern finishes. Located at the corner of South Grand Avenue and Juniata Street, the space provides prime people watching or simply a comfortable spot to hunker down for a hot meal. Named Best Thai Restaurant in RFT's annual Best of St. Louis issue, the restaurant's mainstay is Thai cuisine with menu influences from Chinese, Vietnamese and Japanese eats.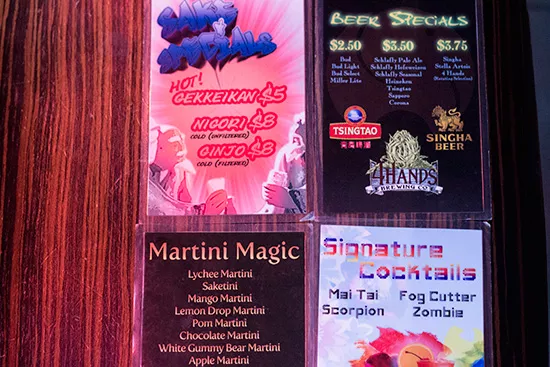 Varying drink specials by day.
The Food: For $5, diners can select two items from an appetizer list that contains spring rolls, pot stickers, crab rangoon, fried tofu and Thai ravioli. For $8, select two items from golden calamari, fresh rolls, fried scallops and crab sticks. The "happy hour for two" menu features three separate categories: "orchid deluxe" featuring Thai dishes, "dragon deluxe" featuring Chinese dishes, and "bento deluxe" featuring Japanese dishes. Options within include pad Thai, orange chicken and tempura.
Did the King & I make the grade? Find out on the next page.
Light and crispy fried crab sticks.
The Verdict: Opting to stick with the more traditional appetizer happy-hour options, we tried a combination platter of fresh rolls and crab sticks as well as fried tofu and Thai ravioli. The fresh rolls, filled with rice noodles and vegetables, were plump yet only topped with a single, solitary shrimp, and the crabsticks -- not unlike your Chinese takeout variety -- came coated with a light and crispy breading. The fried tofu had a pleasing texture but lacked seasoning.
Thai ravioli and fried tofu.
All of the appetizers came served with dipping sauces, but our favorite was a sweet cucumber vinaigrette. The standout dish was the Thai ravioli, a crispy flour pastry stuffed with potatoes, chicken and yellow curry. Crisp yet chewy, the wrapper came fried to perfection and contained the hearty Thai spice we came to the restaurant craving. Everything else, while passable, lacked the depth we expected from one of the area's longest-standing Thai establishments.
For these seeking a variety of options to choose from, the King & I and is a good bet. We'd come back to try to the "Orchid Deluxe" for a full dinner featuring items such as Thai tea or coffee, a mai tai, "Pad Spicy," and red or green curry, but besides that and the Thai ravioli, we'd likely pass on the rest -- after all, the King & I already knows what it does best.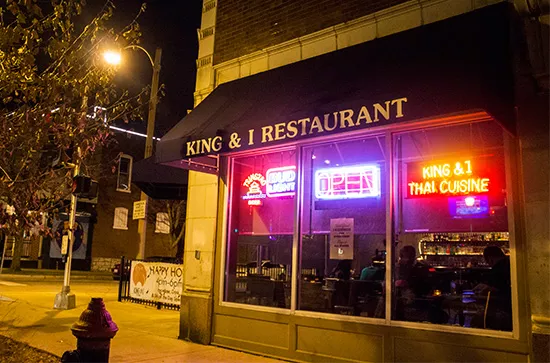 The Rating: On a scale of one to five...

Previously on Happy Hour Handbook: - Sasha's - Nadine's Gin Joint - Juniper - United Provisions - Hammerstone's - Ranoush - Siam - SOHA Bar & Grill - Modesto - Square One Brewery - Cicero's - SqWires - Layla - Five Star Burgers - Central Table Food Hall - Planter's House - Atomic Cowboy - Stella Blues - Triumph Grill - Lola - Basso - Blue Ocean Sushi - Hwy 61 Roadhouse and Kitchen - Gringo - Jax Cafe - Mile 277 Tap & Grill - Sandrina's - Mangia Italiano - Kirkwood Station Brewing Company - Steve's Hot Dogs on the Hill
We're always looking for some more happy hour meal deals. E-mail the author at mabel.suen@riverfronttimes.com.