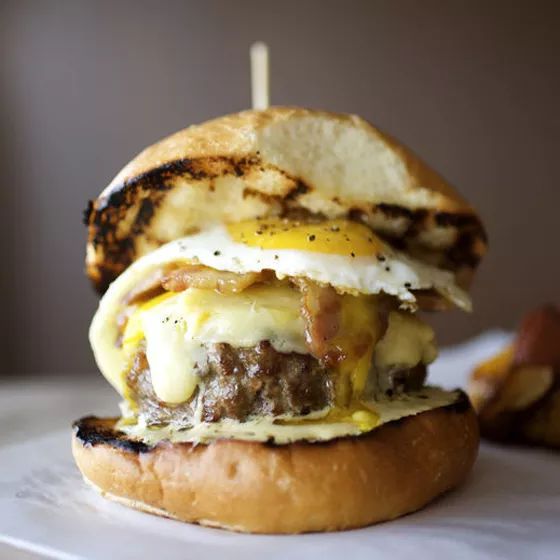 Home Wine Kitchen's famous cheeseburger. | Jennifer Silverberg
In some very surprising and sad news this weekend, chef Cassy Vires has announced that Home Wine Kitchen (7322 Manchester Road, Maplewood; 314-802-7676) will close at the end of the year. The restaurant gained a loyal following since opening in 2011, thanks to a menu that changed weekly and the experimental No-Menu Mondays.
See also: Home Wine Kitchen, Cassy Vires' new Maplewood restaurant, isn't afraid to shake things up
Vires, who owns the restaurant with her husband, Josh Renbarger, also owned the critically acclaimed Table, which shuttered in March 2014. In a statement, Vires and Renbarger said the restaurant has been successful, and the closure is due to "circumstances outside their control."
Vires was up for Food & Wine's Best New Chef: Midwest alongside Ben Poremba earlier this year. We named her Best Chef in 2013, and Home Wine Kitchen's sea-salt biscuits are one of our top 100 dishes in St. Louis. However, both restaurants are in the midst of a lawsuit that alleges illegal tip-pooling practices.
Home Wine Kitchen's last day of service will be December 31. You can make reservations online here or email reservations@homewinekitchen.com. Here's the full statement from Vires and Renbarger:
Chef Cassy Vires and husband Josh Renbarger are extremely disappointed to announce that Home Wine Kitchen will close for business after the first of the year. The last dinner service will be December 31st. This was a difficult decision, but after careful consideration, it has been decided to move forward with this decision now.

Unfortunately for everyone involved, the success of Home Wine Kitchen wasn't enough to avoid this fate. Due to circumstances outside their control, the owners are forced to make the decision to shutter their successful restaurant operation.

"Home Wine Kitchen is our everything. This is our family. Our home. It pains us deeply to make this announcement," says Vires. "As a company, we would like to take a moment to thank everyone who shared in this dream -- our loyal customers, our families and friends and, most of all, our incredible staff. They are truly what made Home what it was."

"We look forward to having a great last month," says Renbarger. "Not everyone gets to go out on their own terms, so we are grateful for that.