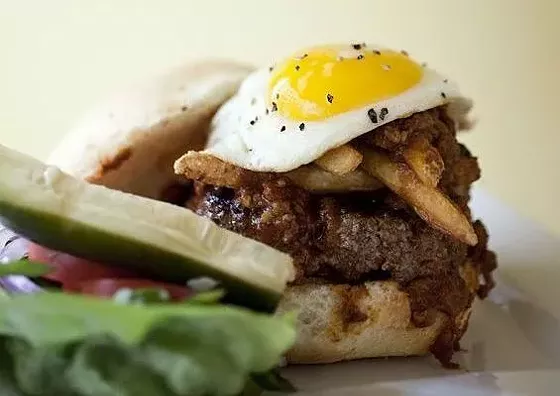 The Slinger at Baileys' Range | Jennifer Silverberg
One of America's most cherished foods, the hamburger, has come into its own in St. Louis. The city now boasts several, from-scratch, burger-only joints and many other restaurants featuring first-class burgers on their menus. All are turning out exceptional tried-and-true classic recipes as well as experimenting with toppings, buns and patty variations to create the ultimate burger experience. Here are our top ten favorites.
See also: The 10 Best Restaurants for Fresh Pasta in St. Louis
Baileys' Range (920 Olive Street; 314-241-8121)
The recipe for a delicious burger at Baileys' Range starts with 100 percent grass-fed Missouri beef, buns baked in-house every day (a beer bun, a pretzel bun and a gluten free bun), and housemade sauces and pickles. Flavor-packed toppings such as arugula pesto and tomato jam (the latter composed of ginger, jalapeño and a hint of brown sugar) are paired with patty — one standout is the tender bison burger accompanied by a tangy local goat cheese. Or, why not simply pile comfort food on comfort food? Try the bacon, fried mac & cheese and housemade cheddar beer sauce combined and served up on a juicy beef patty. Pair one with a whiskey salted caramel milkshake and some fries with "Rooster" sauce and there is no place you'd rather be.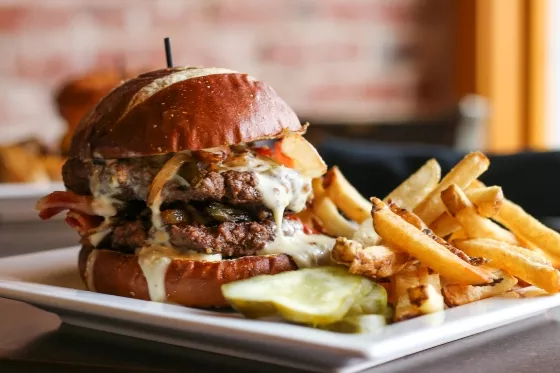 The World's Fair Burger at Sub Zero Vodka Bar | Creative Entourage
Sub Zero Vodka Bar (308 North Euclid Avenue; 314-367-1200)
Sub Zero Vodka Bar has some seriously amazing burgers. There are twenty-one currently on the menu, in addition to an equally extensive sushi list. The World's Fair burger (pictured) is a St. Louis classic. It combines two griddle-style, Midwest-raised, black Angus beef patties, bacon, jalapeno cheese sauce, roasted bell peppers and onions on a pretzel bun. Non-traditional burgers on the menu include the banh mi, a twist on the traditional Vietnamese favorite and the "Sushi Burger" made with terikayi-glazed ahi tuna, mixed greens, pickled ginger and wasabi aioli. The build-your-own burger menu offers hundreds of options. Choose from wagyu beef, lamb with mint or ground pork with lemongrass as a protein, and pair it with mouthwatering accouterments like cranberry-orange relish, ranch dressing or vodka sauce.
A burger at Stacked Burger Bar | Ian Froeb
Stacked Burger Bar (7637 Ivory Avenue; 314-544-4900)
The inventive burger creations on chef Laura Borghardt's regular menu are pretty fantastic. There's also a monthy special, like December's "En Fuego" burger with pepper jack cheese, guacamole, fried jalapenos and chipotle aioli sauce. However, the "Think You Could Do It Better?" build-your-own menu is what sets Stacked Burger Bar apart from the rest. Seventy-two options inspire one-of-a-kind creations sure to satisfy anyone's craving. Patty options include ground chuck, chicken breast, black bean, local grass-fed beef, the "60/40" blend (beef/pork), Sriracha burger and turkey. A lengthy toppings list includes temptations such as bourbon bacon maple jam, fried pickles, guacamole, sauerkraut, sautéed mushrooms, barbecued brisket and a fried egg. A variety of cheeses, vegetables and buns are also available.
The Hog Burger at Quincy Street Bistro | Rick Lewis
Quincy Street Bistro (6931 Gravois Avenue; 314-353-1588)
Chef and owner Rick Lewis' approach to Quincy Street Bistro's burger menu is the simple, classic preparation of good food. Each burger starts with a fresh-baked New York Kaiser or buttery brioche bun. The patty is locally sourced beef, or a blend of beef and pork shoulder ground with salt-cured molasses bacon. Lewis' personal favorite, the "Hog Burger," features the beef/pork patty seasoned with Creole spice and topped with pimento cheese and caramelized onions. The "Smokehouse Burger" features the beef/pork patty topped with house-made smoked catsup, Gruyere cheese and crispy fried onions. The remaining burger on the menu, the "Black and Blue Burger," features a beef patty crusted with quarter-cracked black pepper and topped with whipped bleu cheese mousse and salt-cured molasses bacon.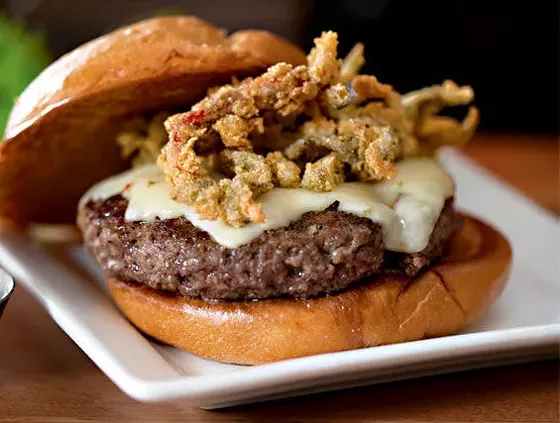 Dad's Green Chili Cheeseburger at Five Star Burgers | Jennifer Silverberg
Five Star Burgers (8125 Maryland Avenue, Clayton; 314-720-4350) The fast-casual Five Star Burgers serves only hormone- and antibiotic-free, pasture-raised Angus beef. The menu offers six burgers, including the "Blue Ribbon Burger" with crisp smoked bacon, port-braised onions and creamy gorgonzola cheese, and the "Dad's Green Chili Cheeseburger" with crispy New Mexico hatch chilies, pepper jack cheese and green chili mayonnaise (pictured). A specialty burger menu ups the ante a bit with selections such as a lamb burger served with a chunky tzatziki, black olive tapenade and fried pickles, and the pot sticker burger with grilled local pork served with Vietnamese-style slaw and a roasted peanut-hoisin sauce.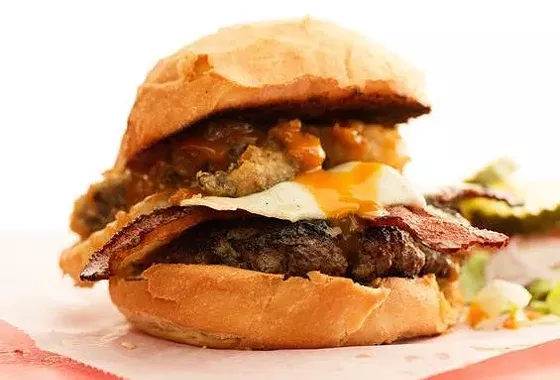 The Midwestern Burger at The Kitchen Sink | Jennifer Silverberg
The Kitchen Sink (626 N. 6th Street; 314-241-5454)
At the Kitchen Sink, quick, easy and simple ingredients come together to make complex St. Louis-style Creole flavor. The hefty burgers here are all half-pound patties. The customer favorite "Al'Key" burger features a beer-battered patty topped with beer-battered bacon and topped with a beer cheese sauce. The "Three Little Pigs" burger is made from andouille sausage and pork, and topped with pancetta, white cheddar cheese, pepper jack cheese and "secret-recipe" sauce. The fiery "Pyro Burger" is topped with jalapeno bacon, hot pepper cheese, fried jalapenos, fried hot banana peppers, habanero peppers, pickled onions and topped with a jalapeno aioli sauce. And don't pass over the "Midwestern Burger," (pictured) topped with white cheddar cheese, bacon, fried portabella mushrooms, fried onion straws and barbecue sauce.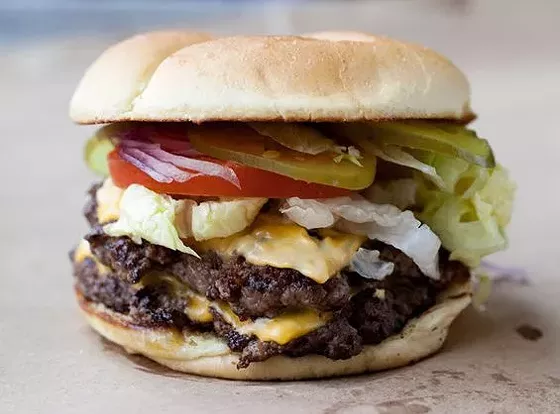 A burger at Sugarfire Smokehouse | Jennifer Silverberg
Sugarfire Smokehouse (9200 Olive Boulevard, Olivette; 314-997-2301)
The burger at Sugarfire Smokehouse starts with three different cuts of Cape Girardeau-based Rain Crow Ranch grass-fed beef. Chuck is used for texture, short rib for flavor and brisket for richness. The patty is seared and flattened on a super high heat stainless griddle for a crisp crust that preserves moisture and fat content. The patty is served up on a split-top bun, sourced locally from Fazio's, toasted in butter. For cheeseburgers, American cheese reigns because of its "meltability." Off the menu specialty burgers include the "WachaBurger," offered every time St. Louis Cardinal pitcher Michael Wacha is on the mound — it's a cheeseburger with smoked brisket, house bacon and Texas hot barbecue sauce. Every few weeks, the "Sweet Baby Cheesus" resurfaces — a double cheeseburger sandwiched between two grilled cheese sandwiches, bacon, a fried farm egg, lettuce, tomato, onions, pickles and topped with garlic aioli sauce.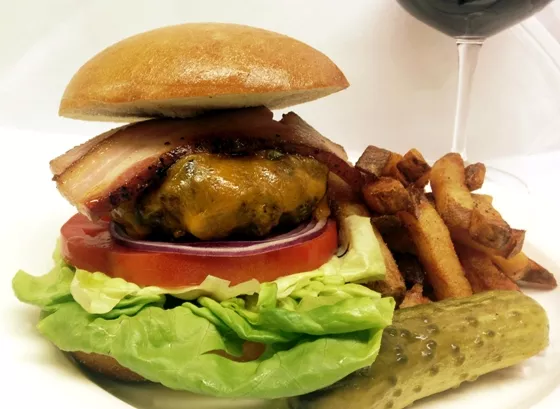 A cheeseburger at Annie Gunn's | Lou Rook
Annie Gunn's (16806 Chesterfield Airport Road, Chesterfield; 636-532-7684)
The half-pound burgers at Annie Gunn's are ground daily from USDA prime strip loin, rib eye, Angus tenderloin and brisket. The "Classic Burger," also featured in chef Lou Rook's cookbook, Rook Cooks: Simplicity at its Finest, is topped with housemade local hog bacon, mustard aioli sauce and served on a brioche bun. Rook's "Ultimate Burger" adds one-year Widmer cheddar and bacon chutney. Other burger toppings include Pannonia cheese from Hungary, Havarti cheese from Denmark, American gorgonzola from Italy, Wisconson jalapeno jack cheese, pecan wood-smoked bacon and sautéed Ozark Forest shiitake mushrooms.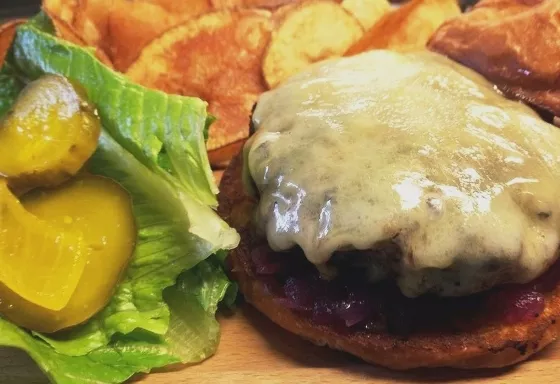 The burger at Dressel's Pub | Mary Mangan
Dressel's Pub (419 North Euclid Avenue; 314-361-1060)
The burger is a staple of the locally-sourced cuisine at Dressel's Pub. The beef comes from Ridgley Farms in Warren County where the cows are pasture-raised and barn-finished. The burger is grilled and served on a Companion brioche bun with aged white cheddar cheese, house-made red onion jam and served with house-made pickles. Order with a barrel-aged cocktail or a Guinness and enjoy your burger fireside next to one of three wall-inset fireplaces.
A bacon cheeseburger at Mike Duffy's | Mark Borella
Mike Duffy's Pub and Grill (124 West Jefferson Avenue #104, Kirkwood; 314-821-2025)
Burgers are the best selling item on the menu at the long-standing Mike Duffy's Pub and Grill. Fifteen varieties are offered on the "Burger Heaven" menu. The "originals" include a hamburger, a cheeseburger, a bacon cheeseburger, a Swiss cheese and mushroom burger, a blue cheese and bacon burger and a three-cheese burger. Specialty burgers include a bison burger, a Cajun burger with jalapenos and pepper jack cheese, a sourdough cheeseburger with mustard relish, a chili rounder with chili and shredded cheddar cheese, a sunrise burger with bacon and a medium fried egg, a veggie burger, a barbecue burger, a patty melt with Swiss cheese on grilled rye bread and a low-carb cheeseburger with bacon served with no bun and steamed vegetables.

Editor's note: The article has since been updated to include The Kitchen Sink's current address and phone number.
Follow Sara Graham on Instagram at @SaraSunshineSTL and Twitter at @SaraSunshineSTL. E-mail the author at saralouisegraham@yahoo.com.
---