"Sasha's shots," an espresso-based special. | Photos by Mabel Suen
The Place: Sasha's On Shaw (4069 Shaw Avenue; 314-771-7224)
The Hours: A late-night happy hour offer is offered from 9 p.m. to close at 1:30 a.m seven nights a week.
The Deals: $6 one-topping pita pizzas, $2.50 4 Hands Brewing Company cans, $5 "Sasha's shots" and $6 sangria. Additional daily specials include half-off wines by the glass Sunday through Thursday after 10 p.m. for open bottles, as well as Monday night "industry night" deals: $3 Jamesons, Fernet and Aguila.
The Scene: At night, Sasha's is a classy yet casual space that welcomes visitors with a warm glow on well-lit corner in the Shaw neighborhood. Fireplaces crackle brightly in the dining room as well as the patio, and two back-lit bars display a large selection of spirits, beer by the can and bottle and, of course, countless bottles of wine. This location is Sasha's Wine Bar's second location following its original flagship in Clayton, and it earned the title of best new bar in the RFT's best of St. Louis in 2009 as well as best outdoor dining in 2012.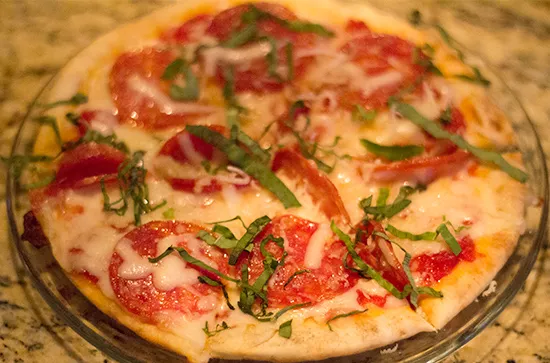 Pita pizza with pepperoni.
The Food: Typically, Sasha's offers a full menu that's available to peruse via handy tablets: cold plates and hot plates for sharing, pizzas and crepes. For its late-night happy hour, guests can snack on one-topping personal-size pizzas baked on top of pitas.
Did Sasha's on Shaw make the grade? Find out on the next page.
Prosciutto and fontina crepe.
The Verdict: Our pita pizza came out on a small glass saucer, cut into delicate little wedges with slices of pepperoni and warm melted cheese topped with fresh basil chiffonade. The small snack serves as a nice accompaniment to your drink of choice, but it isn't quite enough to sate larger appetites. We took to the full menu for something more, and we're glad we did. The bar's number-one selling crepe, the prosciutto and Italian fontina option, is a delicious dish worth taking a happy-hour detour for.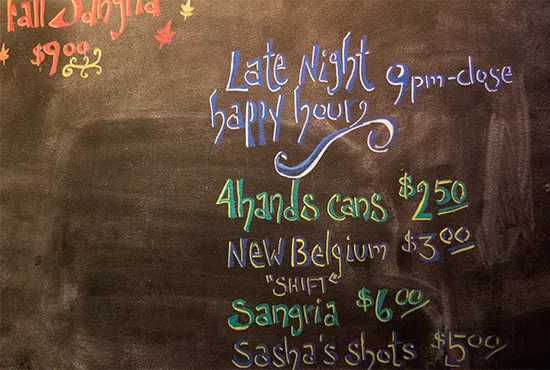 To imbibe with something a little sweet, consider the "Sasha's shot," the bar's signature espresso-based shot. It's slightly creamy with notes of vanilla but certainly not too over-the-top. As our friendly bartender recommended, "It's always better as a pair." Double up with a bud, carve out a corner to get cozy in, and undoubtedly have more excuses at hand to sip and savor Sasha's comfy environs all night long.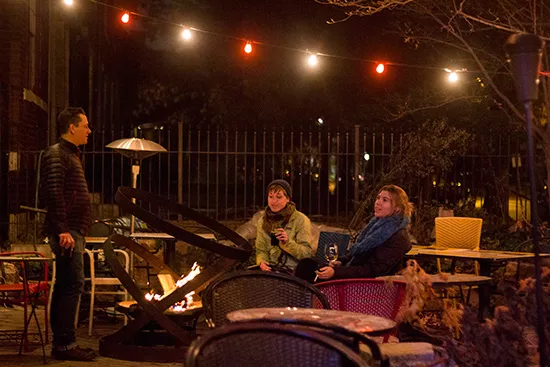 The Rating: On a scale of one to five...

Previously on Happy Hour Handbook: - Nadine's Gin Joint - Juniper - United Provisions - Hammerstone's - Ranoush - Siam - SOHA Bar & Grill - Modesto - Square One Brewery - Cicero's - SqWires - Layla - Five Star Burgers - Central Table Food Hall - Planter's House - Atomic Cowboy - Stella Blues - Triumph Grill - Lola - Basso - Blue Ocean Sushi - Hwy 61 Roadhouse and Kitchen - Gringo - Jax Cafe - Mile 277 Tap & Grill - Sandrina's - Mangia Italiano - Kirkwood Station Brewing Company - Steve's Hot Dogs on the Hill
We're always looking for some more happy hour meal deals. E-mail the author at mabel.suen@riverfronttimes.com.