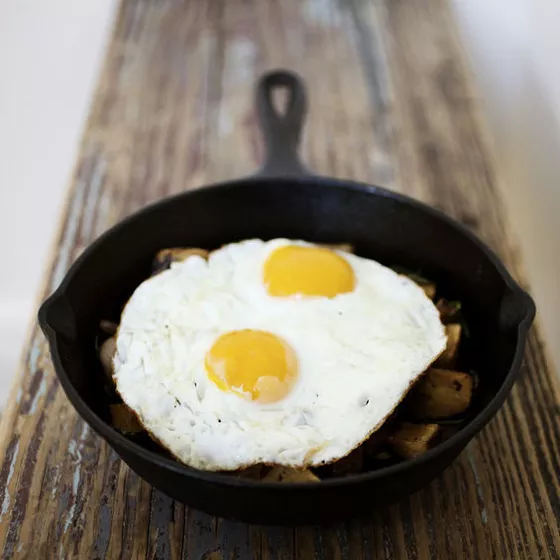 Veggie hash at Half & Half. | Jennifer Silverberg
Following fellow daytime-only restaurant Death in the Afternoon, Clayton breakfast hotspot Half & Half (8135 Maryland Avenue, Clayton; 314-725-0719) will add dinner to its repertoire this month. The restaurant has previously had next-door dinner thanks to Medianoche and Little Country Gentleman.
See also: Death in the Afternoon to Add Dinner Service, Tasting Room
As first reported by Sauce, owner/chef Mike Randolph will re-open Half & Half from 5 to 9 p.m. The space has been empty at night since Little Country Gentleman closed last December. The Half & Half breakfast and lunch menu will be available, plus more dinner-appropriate dishes including fried chicken, pot roast, and fish and chips. Wines by the glass and classic cocktails will also be served.
Since December, Randolph opened the Good Pie (6665 Delmar Boulevard, University City; 314-899-9221) and is preparing to open Mexican restaurant Pùblico a few steps away. Half & Half will open for dinner beginning December 16.
Gut Check is always hungry for tips and feedback. E-mail the author at Nancy.Stiles@RiverfrontTimes.com.
Follow Nancy Stiles on Twitter:
---