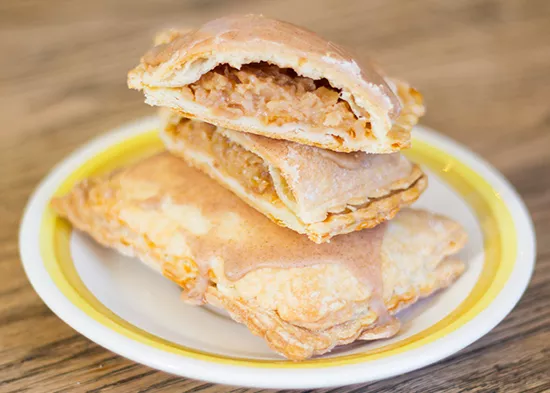 Whisk's "Apple-cinnamon pop tartlet." | Mabel Suen
We're keeping the snow and below-zero temperatures at bay for now, so get that holiday shopping done and then treat yo self. Learn to bake flawless holiday cookies or celebrate the intersection of food and art. Continue on for this week's food-related recommendations.
See also: The 10 Best Children's Menus in St. Louis
Monday (Dec. 8):
Ho! Ho! Holiday Cupcakes @ Kitchen Conservatory
The Kitchen Conservatory is offering three cupcake classes over the next few months. In this one, learn to make cranberry cupcakes with white chocolate buttercream frosting dusted with pistachios, gingerbread cupcakes with spiced cream cheese frosting, almond-orange cupcakes with marshmallow frosting rolled in toasted almonds, white chocolate-mint cupcakes with chocolate buttercream and crushed peppermint, plus dark chocolate cupcakes with eggnog frosting. From 6:30 to 9:30 p.m. It's currently sold out, but you can call 314-862-2665 to be added to a wait list. The next classes are January 29 and February 4.
Tuesday (Dec. 9):
Feast Your Eyes @ Contemporary Art Museum St. Louis
Cassy Vires is preparing a five-course meal with cocktail pairings inspired by the Contemporary Art Museum's current exhibition, Mel Chin: Rematch. Start with black walnut bread with pawpaw butter and elderberry jam paired with an Elderberry Spritzer. Then it's Cushaw bisque with Missouri pecan brittle, followed by foraged mushrooms with corn mush, poached egg, and hickory smoked salt paired with Chaumette Chambourcin. The entree is braised rabbit with juniper berries, sorghum, wild greens, and groats paired with Spiced Brandy Muscadine. For dessert, it's persimmon pudding with fresh cheese curds, wild ginger and honey comb paired with a Honey-Ginger Cocktail. From 6:30 to 9 p.m. Tickets are $50 for members and $75 for non-members, available here.
Wednesday (Dec. 10):
Winter Wonderland Wine Party @ Pepper's Bar & Grill
Get out of the cold for a complimentary wine tasting at Pepper's. It's a night of wine and relaxation -- there will be representatives from 31, Scentsy, It Works! and Park Lane, plus one of Pepper's own bartenders will be sampling her facial products. Head to the back bar from 7 to 10 p.m. Admission is free.
Thursday (Dec. 11):
reMAKE @ Whisk: A Sustainable Bakeshop
Perennial's rotating craft event, reMAKE, stops by one of our favorite bakeries this month. Whisk will provide hot tea and pastries while you create a handmade garland, cat toys and a scented heating pad. From 5:30 to 7:30 p.m. Tickets are $5 for crafting supplies; RSVP to classes@perennialstl.org.
Gut Check is always hungry for tips and feedback. E-mail the author at Nancy.Stiles@RiverfrontTimes.com.
Follow Nancy Stiles on Twitter:
---