Pizzeoli's "Baba" with fresh tomato sauce, house cashew ricotta, fresh basil, garlic, vegan Parmesan, extra virgin olive oil and vegan ground beef. | Photos by Mabel Suen
As reported by Gut Check in August, Pizzeoli (1928 South 12th Street; 314-449-1111) would fill the space formerly housed by Arcelia's in Soulard, serving up Neapolitan-style pizza in a custom-built Naples oven. The concept comes from owner and chef Scott Sandler, who has studied breads and pizza for several years, including completing a training session with the Associazione Verace Pizza Napoletana -- the U.S. arm of Naples' pizza-governing body -- in Los Angeles. At Pizzeoli, Sandler strives to perfect the art of the authentic pie, with his own twist: All the options on the menu are vegetarian or vegan.
"I've been a vegetarian for twenty years," he says. "This is an extension of my home. I don't have any meat in my home, so I don't have any meat here."
See also: Pizzeoli to Add Neapolitan-Style Pizza to Soulard
Dough is made from scratch daily, then matures for a couple of days to achieve the desired flavor, and it's finally all cooked up in a brick, wood-burning oven fueled consistently by flames -- "It's sort of a like a living thing," says Sandler. A quick bake -- typically between 60 and 90 seconds -- at a temperature of 800 to 900 degrees gives the crust softness with some chew, as well as its signature "leopard" spotting.
Twelve-inch pizza options ($9.95-$13.95) -- nine altogether -- include classics such as "Marinara" and "Margherita." Additional options include a "the New York" with four cheeses; "Funghi" with sauteed crimini, shitake and trumpet mushrooms as well as artisan vegan ground beef; and the "Baba" with fresh tomato sauce, house cashew ricotta, vegan Parmesan and more.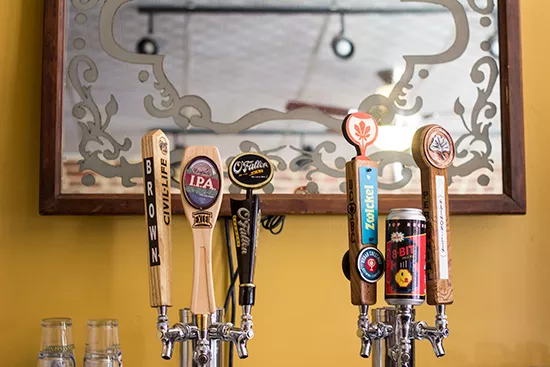 The menu also features a mixed-greens salad ($5.95), pure cane-sugar sodas, a selection of Italian wines and craft beers on tap. For dessert, Pizzeoli offers gelato from Gelato Di Riso.
Pizzeoli's current hours are Tuesday through Thursday from 11 a.m. to 9 p.m., Friday from 11 a.m. to 9:30 p.m. and Saturday from 4 to 9:30 p.m. Sandler someday hopes to offer classes. For the full menu and more information, visit the Pizzeoli website and follow it on Facebook.
Click through for more photos.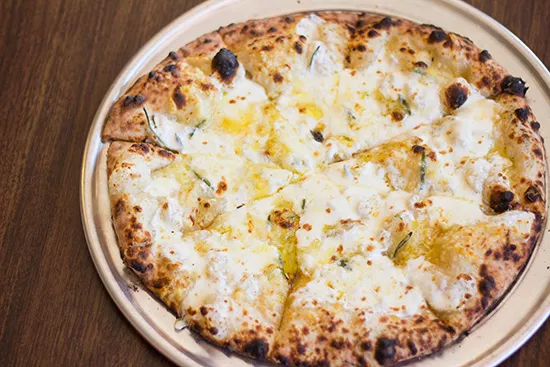 Pizzeoli's "Bianca" with house bechamel sauce, extra virgin olive oil, fresh mozzarella, fresh garlic, fresh rosemary and Parmesan-reggiano.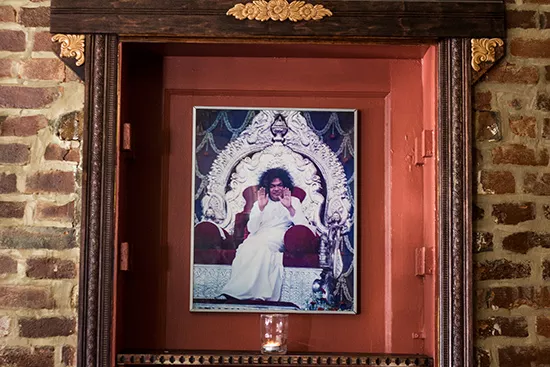 Decor in the dining room.
Sandler pulls a hot pizza from the oven.
A close-up of the "Baba."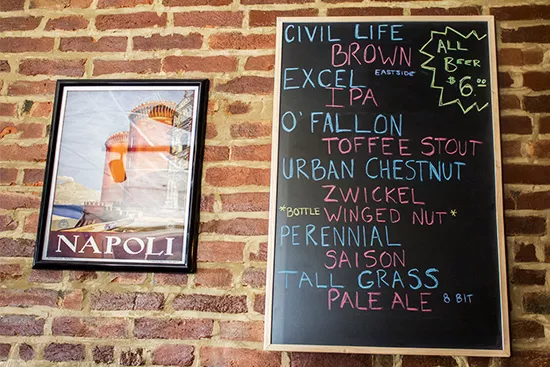 Some beer options available.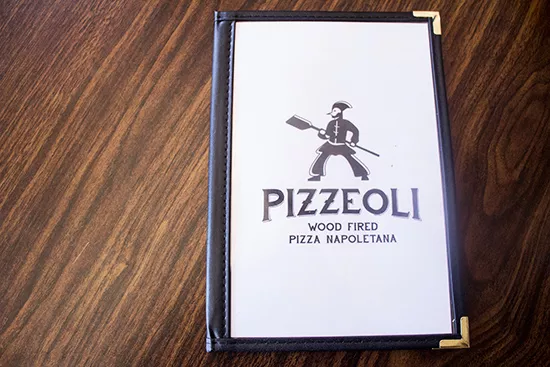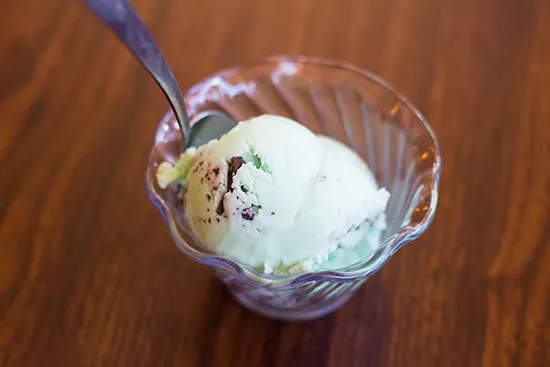 Mint chocolate-chip gelato.
See also: - First Look: Gooseberries - First Look: Racanelli's in the Delmar Loop - First Look: Riverbend Restaurant and Bar
Gut Check is always hungry for tips. E-mail us!