A slice of Racanelli's veggie pizza. | Photos by Mabel Suen
Racanelli's New York Pizzeria (6314 Delmar Boulevard; 314-727-7227) recently made a return to its roots in the Delmar Loop, opening a location of the local pizza chain that originated in the area twenty years ago. As reported by Gut Check last month, this is the fifth location of the New York-style pizzeria. The Racanelli family also owns Market Pub House (6655 Delmar Boulevard) -- in the space which once housed Racanelli's Cucina -- down the street.
See also: Racanelli's Pizza to Open in the Loop
The menu boasts dough and sauces from scratch, topped with fresh ingredients. Patrons can dine in, carryout or partake in delivery from the small storefront, which offers appetizers, salads, hot or cold sandwiches, calzones and stromboli in addition to entire pizza pies or portions by the slice.
Sandwiches include options such as "parmigiana heroes" smothered in mozzarella and Parmesan cheese as well as concoctions that feature roast beef, roasted turkey and more. Hand-tossed, brick-oven baked pizzas start out at $7.95 for a ten-inch personal-size cheese pie or $2.50 per slice. Additional toppings include everything from standards including Italian sausage and black olives to specialty options including roasted eggplant and breaded-chicken meatballs.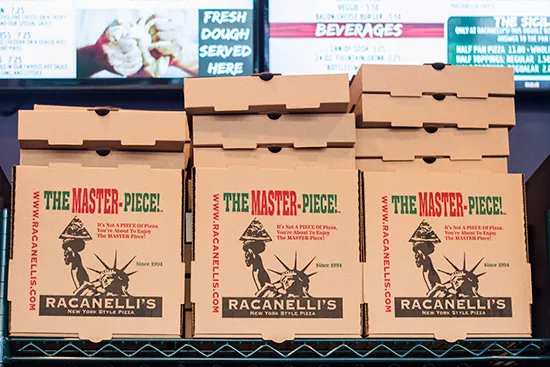 By-the-slice options also include a tomato and basil, spinach, veggie, and bacon-cheeseburger toppings, with additional whole pizza specialty options including barbecue chicken and "the Bronx bomber" -- all eleven standard toppings topped with mozzarella. Lunch specials paired with soft drinks are available from 11 a.m. to 4 p.m.
Racanelli's University City location is currently open from Sunday through Thursday from 11 a.m. to 10 p.m. and Friday through Saturday from 11 a.m. to 11 p.m. For the full menu and more information, visit the Racanelli's website or follow it on Facebook.
Click through for more photos.
A slice of bacon-cheeseburger pizza.
The "Racanelli's Special" sandwich with roast beef, Genoa salami, provolone, lettuce, tomato, oil and vinegar, dressing and fire-roasted sweet red peppers.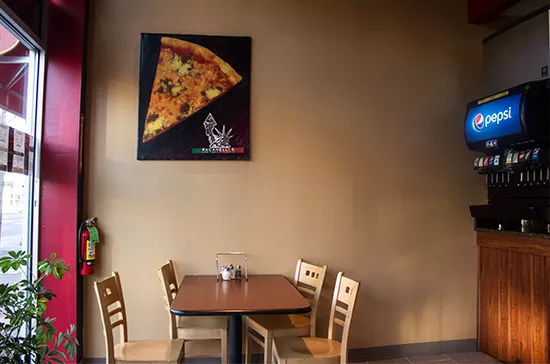 A closer look at a portion of the menu.
The other side of the dining room.
Fitz's root beer available.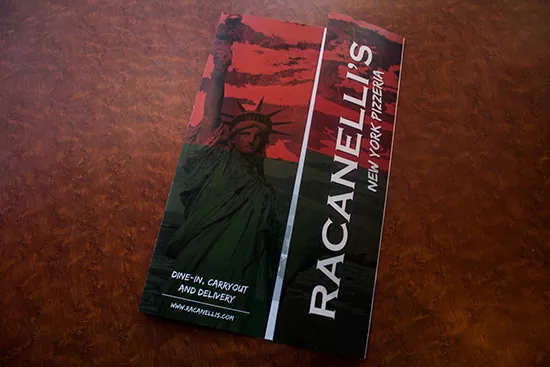 Now open in the Delmar Loop.
See also: - First Look: Riverbend Restaurant and Bar - First Look: Las Palmas on Washington Avenue - First Look: Insomnia Cookies - First Look: Lucha
Gut Check is always hungry for tips. E-mail us!