At least ten of the large windows at Rooster on South Grand were smashed into last night. | Mabel Suen
Last night the protests took a violent turn after the announcement that officer Darren Wilson would not be indicted. While several businesses on West Florissant were literally burned to the ground, a number of restaurants in the thriving district on South Grand also had their windows smashed or were otherwise damaged. There were 21 window smashings on Grand alone, per the St. Louis Police Department's report.
See also: MoKaBe's Slammed By CopTalk Message Board for Serving as "Safe Space" for Protesters
Update, 11:42 a.m.: Hunan Chop Suey on West Florissant was also completely burned.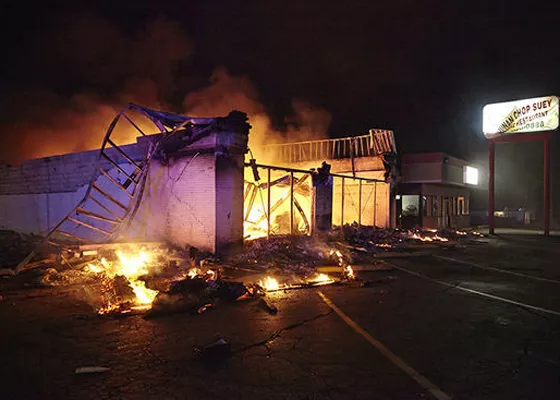 Hunan Chop Suey at 9806 West Florissant Avenue. | Steve Truesdell
Qdoba, Saint Louis Bread Co., Rooster South Grand, King & I, Basil Thai Cuisine, Baida Moroccan Restaurant and Cafe Natasha all had their windows smashed; the International Market had broken windows and a fire.
A Little Caesars on West Florissant was completely burned down, and at least thirteen other Ferguson businesses were set on fire. A number of restaurants across the city and county had closed early last night ahead of the decision. Here's who is closed Tuesday, November 25 as of this morning:
We'll update as the day goes on.