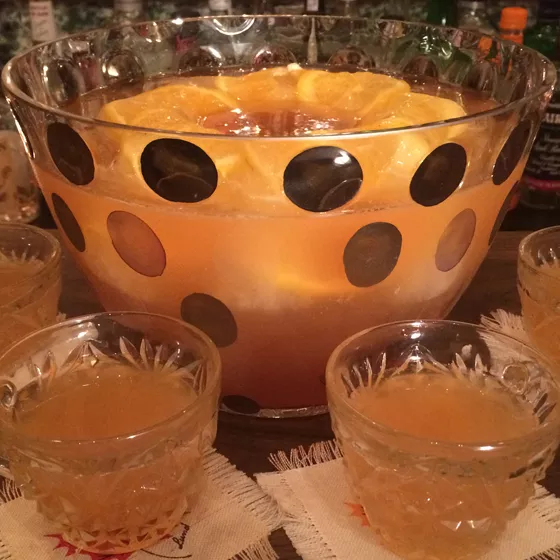 Bourbon punch. | Patrick J. Hurley
The Drunken Vegan, a.k.a. Patrick J. Hurley, is a full-time barman at the Civil Life Brewing Company and cocktail enthusiast about town. He's an unapologetic drunkard, a vegan and a bon vivant, and, no, he doesn't think those last two terms contradict each other.
For many, Thanksgiving is the holiday of friends and family reunited to share food and drink and fine fellowship. For others, the holiday is a stressful occasion marked by mediocre riffs on Betty Crocker mid-century classics and some very unsavory political discussions. In either case, strong drink is required.
See also: Exploring Cocktail Shrubs at the Good Pie
Sazerac. | Patrick J. Hurley
A little advance planning will set you up for a full day of fitting libations. First off, a boozy mood-lifter can raise spirits all around. You can't go wrong with a Sazerac. First, chill a cocktail glass. Put some ice in a mixing glass, then add two ounces of good rye whiskey and one half an ounce of simple syrup. Shake two to three dashes of Peychaud's bitters into the glass. Swirl absinthe around in your cocktail glass to coat it. Stir your cocktail well (do not shake it) and strain it into your rinsed glass. Add lemon peel to garnish then enjoy. Repeat as needed.
Bourbon and ginger beer highball. | Patrick J. Hurley
When it's time to sit down to the meal, you have a couple of good options. This is not the time to interrupt the conversation every few minutes by loudly shaking complicated cocktails. Either go with a classic, easily replenished highball (bonded bourbon and ginger beer should complement most of the menu), or mix up a big batch of bourbon punch. Here's a simple recipe that even non-whiskey lovers can enjoy. Those who simply don't drink spirits will be huddled around the boxed wine like hogs at a trough, so you don't have to dumb things down.
Early punch recipes are pretty straightforward. You start with booze (whiskey, rum, brandy or a combination), add lemon juice, sugar, and water or black tea. You want to keep it cold for a long time without diluting it, so the first step is to make a big ring of ice for your punch bowl. Place a layer of thinly sliced oranges in the bottom of a Bundt pan or Jello mold. Fill it about half full with crushed ice. Pack it down well. (Hint: You can buy a bag of crushed ice from Sonic for $1.69.) Add another layer of orange slices, and then pack down some more crushed ice. Slowly pour in cold water to fill. Freeze overnight. While you're at it, throw your bottle of bourbon in the freezer and brew a cup of strong Earl Grey tea and chill that, too. You want all the ingredients to be very cold.
A fun ice ring. | Patrick J. Hurley
Assembling the punch Thanksgiving Day is easy. Juice four to five big lemons and two to three big oranges -- the orange juice will really complement and emphasize the bergamot in the tea. You should end up with one cup each of strained lemon and orange juice. Put the juices in your punch bowl along with one cup of very strong Earl Grey tea and one half cup of agave nectar (a liquid sweetener will work better in cold fluid than granulated sugar). Add a bottle of decent bourbon; we used Four Roses Yellow Label. Stir well. Run some warm water over your Bundt pan or Jello mold to loosen the ice ring. Carefully place the ring in the punch bowl. Pour about a quart of cold soda water into the center of the ice ring. Grab a ladle and some cups. Now that's a proper centerpiece.
This punch is balanced and very drinkable. There's a bottle of whiskey in there, but you wouldn't know it. However, you should probably watch Aunt Ethel so she doesn't end up under the dining room table with cranberry sauce smeared on her cardigan.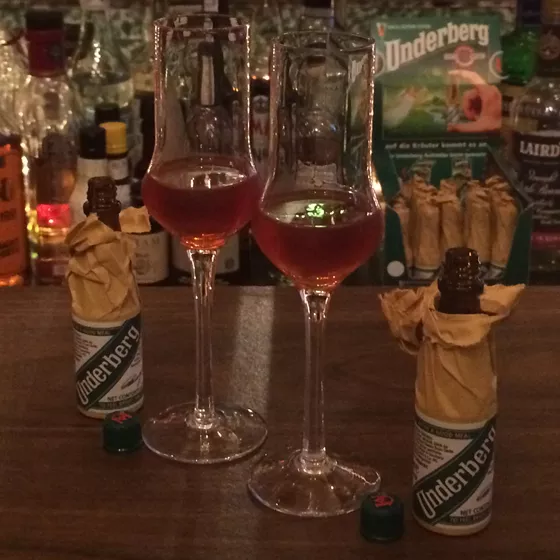 Digestif | Patrick J. Hurley
When dinner's over, you need a proper digestif so you don't end up in a catatonic stupor in front of the TV. Pick up enough Underberg for everyone. It comes in single-serving bottles (available at Randall's as well as Jay International Foods). Underberg's motto is "Nach gutem essen," which is German for "after eating well." Well in this context means "way too much." It's best chilled. Serve it in little cordial glasses and down it in a gulp. This stuff works.
Don't worry: After the Underberg does its job, you'll be ready to raid the fridge or have another piece of pie -- or maybe just finish that tasty punch.
Follow Patrick J. Hurley on Twitter at @VeganDrunkard. E-mail the author at Patrick.J.Hurley@HurleyHouse.com.
---